Cramer's Deep Dive Into Snap: A Stabilizing Or Still Broken Stock?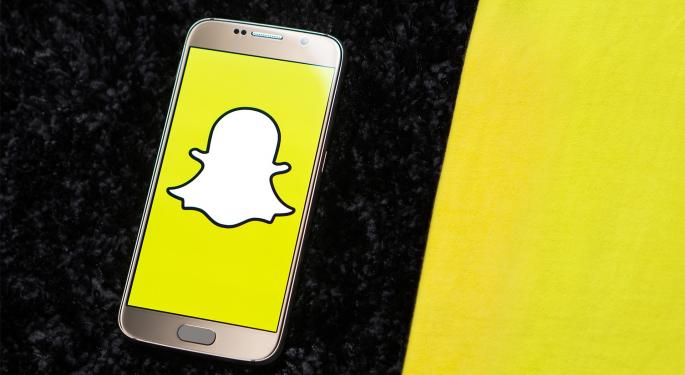 By nearly every measurable metric, Snap Inc (NYSE: SNAP)'s initial public offering was a failure. Shares of the social media company peaked at $29.44 on its second day of trading back in March and have steadily fallen to an all-time low of $11.28 in August.
The stock closed at $15.68 on Monday and the four dollars per share upside has gotten "very little attention," CNBC's Jim Cramer said during his daily "Mad Money" show Monday. This may be due to the fact that the high level of hype coinciding with the IPO has since dissipated and any existing enthusiasm has now disappeared.
Part of the lack of enthusiasm from investors is that it was obvious from the beginning that Snap's 589-percent revenue growth in 2016 would have to slow down, Cramer said. The problem is it slowed down a lot faster than many investors had hoped.
In fact, Snap's two most recent earnings report showed a 286-percent revenue growth and 153 percent revenue growth — numbers that are terrific yet still weaker than what Wall Street expected. Meanwhile, the company's financial discipline is questionable, especially stock-based compensation costs, marketing, research and development and operational costs.
As such, one of investors biggest concerns at the time of the IPO, namely when will Snap be profitable, remains even less certain today than it did months ago.
"If anything, it's just more murky now," Cramer said. "Snap's stock may have stabilized, but I think it's still too soon to give this one our blessing as an investment."
Bottom line, Snap's stock has very much stabilized but investors need to see more signs that management has figured out what needs to be done to turn the business around.
"I remain open-minded and I want to believe, but my discipline tells me it's soon to recommend the stock of Snap," he concluded.
Related Links:
Headline Risk Grows For Snap Ahead Of Q3 Print
Snapchat Stories Usage Down 33% In 6 Months Among Influencers
Posted-In: CNBC Mad Money Snap IPO social media Jim CramerMedia Best of Benzinga
View Comments and Join the Discussion!