Remember The '50 Cent' Options Trader? Well Someone Is Making Even Bigger Bets On Volatility Spikes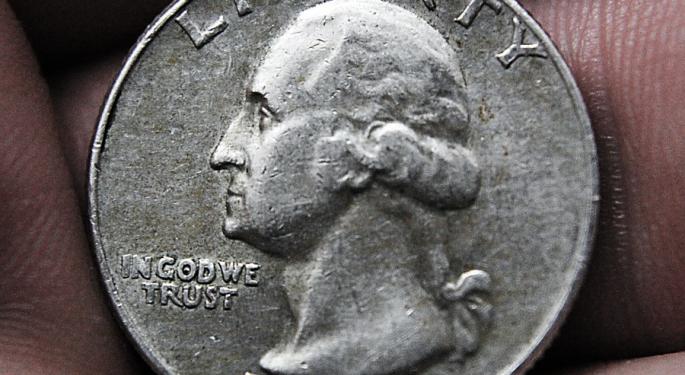 A trader or institution has been hoarding call options on the volatility index for quite some time and earned themselves the nickname "50 Cent" as they bought large quantities of options, regardless of the duration or strike price, worth 50 cents a piece.
At one point, the total value of call options on the volatility index was worth tens of millions of dollars, and each time they likely expired worthless, as the volatility index continues to remain near multi-year lows.
But now a new mysterious trader is making an even bigger bet that a volatility spike is forthcoming, Pravit Chintawongvanich, head of derivatives strategy at Macro Risk Advisors highlighted during a recent CNBC "Trading Nation."
The trader is making a large bet that the volatility index, currently sitting just below 10, will rise to at least the high-teens if not mid-20s, he explained. Specifically, the trader exchanged 2.1 million contracts on the index on Monday, which merely brings the total number of contracts traded to 3.15 million on the year.
However, it may be a mistake to assume that the trader's position isn't part of a broader hedging strategy.
"I think the person who is doing this isn't necessarily just betting outright that volatility is going to go up," Chintawongvanich said. "I think they probably own a lot of stocks, a lot of things that would go down if North Korea risk escalates, or maybe something else, tech stocks pull back."
Bottom line, this mysterious trader most likely needs protection for their overall portfolio and with the volatility index hovering at "extremely low levels" this may be the best option available.
Related Links:
'50 Cent' Trader Returns, Loading Up New Hedge Bets Against A Selloff
Posted-In: 50 Cent CNBC Pravit Chintawongvanich Trading Nation Volatility volatility indexMedia Best of Benzinga
View Comments and Join the Discussion!