Just How Much Money Did Bill O'Reilly's Show Make? This Analyst's Estimate Might Surprise You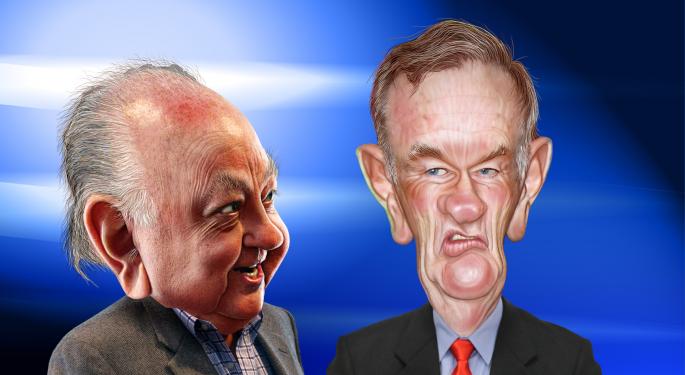 Bill O'Reilly's departure from Fox News is a concerning headline for its parent company Twenty-First Century Fox Inc (NASDAQ: FOXA).
A CNN report from earlier this month suggested O'Reilly's daily show, "The O'Reilly Factor" generated $446 million in total ad revenue from 2014 through 2016, or more than $200 million per year. But according to Anthony DiClemente, a media analyst with Nomura, this figure is over-inflated.
DiClemente told CNBC his analysis suggests O'Reilly's show brings in likely less than $80 million in annual ad sales but "definitely" less than $100 million.
DiClemente continued that Fox News will still be able to draw in the "passionate" viewer and it still boasts a strong roster of hosts. In fact, when Megyn Kelly left the network she was replaced with Tucker Carlson who even managed to boost ratings for that time slot.
"If the platform continues to be powerful, they will be able to develop other personalities that hopefully don't have sexual harassment issues," he said. "I think it is more like the platform being the kind of engine that drives the creation of that personality."
Reputation Expert: Fox Had Little Choice
Nir Kossovsky, CEO of Steel City Re, a firm that analyzes companies' reputation risks, said in a brief report that Fox could have lost its credibility, advertising, talent and money had it not parted ways with O'Reilly.
"When you do something wrong, you need to acknowledge it, take responsibility, and take clear steps to prevent it from happening in the future," he said. "FOX couldn't make a credible case that it had done that while the [sexual harassment] accusations continue to mount."
As for O'Reilly himself, Kossovsky believes he needs to avoid "deflecting blame" and take responsibility, apologize and explain what he is doing to make amends and restore confidence.
Related Links:
President Trump Binges On Fox News And CNBC
Fox News Benefiting Most From Trump-Inspired Bump In Prime-Time News Ratings
________
Image Credit: By DonkeyHotey (Caricatures Roger Ailes and Bill O'Reilly) [CC BY 2.0 (http://creativecommons.org/licenses/by/2.0)], via Wikimedia Commons
Posted-In: Anthony DiClemente Bill OReilly CNBC CNBC FoxNews Media Trading Ideas Best of Benzinga
View Comments and Join the Discussion!