Trump's Border Tax Represents An 'Existential Threat To Retailers,' Former Retail CEO Says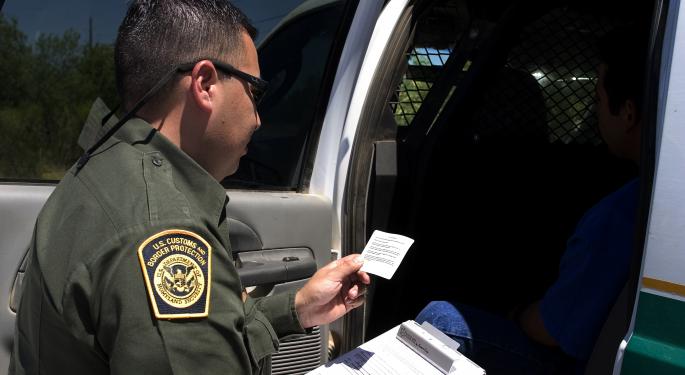 President Donald Trump hosted retail CEOs at the White House Wednesday. While details of the talks remain scarce, it is reasonable to assume the discussions focused on Trump's proposed border tax, which will levy an import duty on items manufacturing outside of the United States.
Steve Sadove, former CEO of Saks Incorporated (since acquired by Canada's Hudson Bay Company), was a guest on CNBC's "Squawk Box" segment Thursday to share his expertise.
Sadove, a member of the executive committee and board of the National Retail Federation, had nothing positive to say as he argued the border tax is not only "war" against retailers but an "existential threat."
Related Link: Trump's 20% Border Tax Could Be A Tactic Referenced In 'The Art Of The Deal'
'This Is A Major, Major Threat'
"It could have a major impact on the consumer," he argued. "I think the consumer will have to pay as much as $1,700 more per year for their products. I don't believe that the retailers are going to be able to pass that kind of increase on to all of the consumers."
Sadove added that retailers will see their profitability "killed." Moreover, even if the border tax is accompanied by a reduction in corporate tax rates, retailers won't have much profit to be taxed on.
"This is a major, major threat," he emphasized.
Poor Earnings Cast Shadow On Sector
Finally, Sadove noted many retailers reported poor earnings results in the fourth quarter, and the addition of a border tax will merely "accelerate the rate of closures" of brick-and-mortar stores.
Since Election Day, SPDR S&P Retail (ETF) (NYSE: XRT) is up 4.16 percent. The ETF is also enjoying a 10.56 percent bump since Inauguration. However, year-to-date, the ETF is down 1.13 percent.
Image Credit: By Gerald L. Nino, CBP, U.S. Dept. of Homeland Security - http://www.cbp.gov/xp/cgov/newsroom/photo_gallery/afc/bp/29.xml, Public Domain, via Wikimedia Commons
View Comments and Join the Discussion!
Posted-In: News Politics Events Global Economics Movers Media General Best of Benzinga