Apple May Provide Local Programming On Its Web TV Service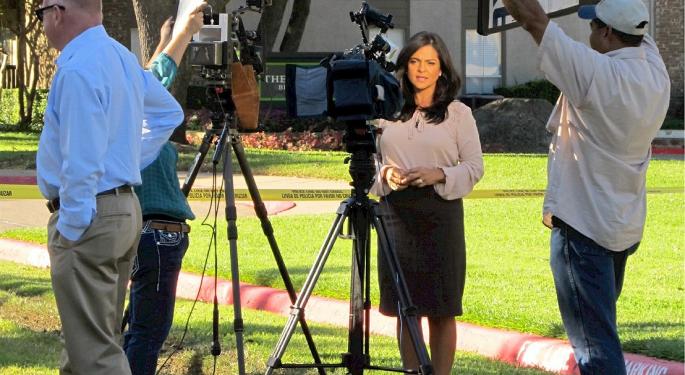 Re/code recently reported that Apple Inc. (NASDAQ: AAPL) might be planning to launch its own web TV service as early as September this year. Not only that, the company might also offer consumers programming from local TV stations on its service.
Dawn Chmielewski, Re/code senior editor, was on CNBC recently to share her insight on this matter.
Something Unique
"As of the moment, Apple is now engaged in negotiations with the major broadcast networks, trying to secure rights to stream or provide by the Internet local programming as well as the network programming," Chmielewski said.
"And Apple is thinking this is a great way to differentiate its over-the-top or Internet delivery TV service from some of the others that are in the marketplace like Sling. Dish's Sling service does some of this, as does Sony's similar service."
She continued, "So, Apple is looking for a way to expand what it already offers and provide something that's a little different, something that's unique."
Related Link: JPMorgan: Apple Will Launch New AppleTV Hardware At WWDC
But Why The Delay?
Chmielewski was asked why local programming would delay the launch of the Apple's web TV service. She replied, "Apple is smartly thinking this would be a great feature to introduce with the new fall season, which starts in September.
"It's smart thinking. But because Apple is looking to carry these local— the programming of local affiliates, that would include local news and other sorts of programming that are available in local markets, this is a complex negotiation," she explained.
"The networks don't necessarily own the local stations; they may be affiliated, but they may not be owned by the networks. So, the networks have to go about assembling the rights to deliver the local programming in this way and also get the legal clearances to be able to carry the local broadcast and even the local commercials that are carried by local stations," Chmielewski concluded.
Image Credit: Public Domain
View Comments and Join the Discussion!
Posted-In: CNBC Dawn Chmielewski dish re/code Sling SonyMedia