Why Apple Needs To Educate Consumers About The Apple Watch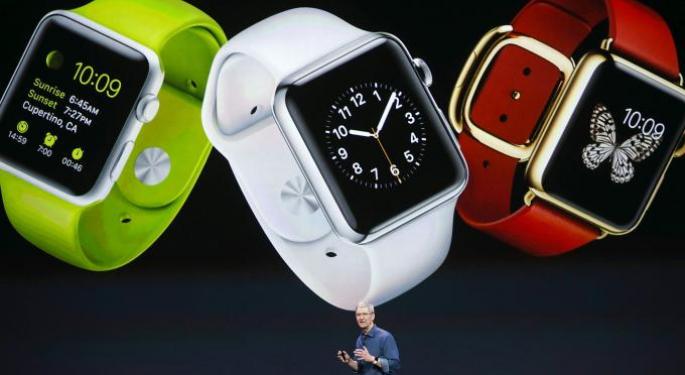 With just a few days remaining for the retail launch of Apple Watch, Apple Inc. (NASDAQ: AAPL) is leaving no stone unturned in order to make this device a success like the company's previous products. It recently launched tutorial videos explaining the functionalities of the watch on its website.
Re/code Co-Executive Editor Kara Swisher was on CNBC recently to explain why Apple needs to educate consumers about the watch and to discuss the competition that the Apple Watch could face.
Not As Intuitive
"Apple devices in general have been very intuitive. This one is not, because it's a new area for Apple. It is not as intuitive as other devices, and it's not hard to use, necessarily. It's just, it's different to use," Swisher said.
"Using that crown thing, touching it [...] when I was using it just for a very short amount of time, I didn't immediately figure it out. And so they need to teach consumers how to use these things, because once you use it, you get used to it."
She continued, "There's all kinds of parts to it that [...] an Apple user wouldn't have necessarily had experience with. And how you squinch things, how you use the crown, clicking it versus turning it, and things like that [are all new]."
Related Link: Gene Munter: "Fanboy Effect" Will Make Apple Watch Sales Hit 1 Million Units
The Competitors
Swisher was asked who will really turn out to be a competition for Apple in this area. She replied, "There is no one that has done this extensive of a watch, so I am curious who the competition is.
"There's competition in various pieces of it, and I think that they will lower. They always lower prices with everything that Apple does with its devices.
"The question is where they are going to see the buying. Is it going to be on the high-end of the thousand dollar watches – which is a very big expense, or is it going to be the lower end – which is 300 and some dollar devices?" Swisher concluded.
Posted-In: Apple Watch Kara Swisher re/codeCNBC Media Best of Benzinga
View Comments and Join the Discussion!