Why Alibaba's Stock Collapse Is Investors And Analysts' Fault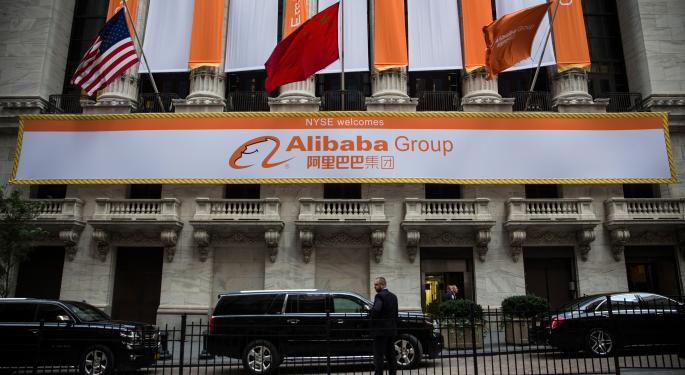 Stock of Alibaba Group Holding Ltd (NYSE: BABA) took a massive hit on Thursday after the company declared worse-than-expected quarterly results. However, according to Henry Blodget, CEO and editor-in-chief of Business Insider, the real reason of this slump is the optimism on part of investors and analysts.
Blodget was on CNBC discussing Alibaba's stock reaction after the results.
Related Link: Dr. Stoxx Says Alibaba Is A "Sell The News Play"
Whose Fault?
"I think most of the fault, sorry to point fingers, lies at investors and analysts for being a little too optimistic," Blodget said.
"This is a company [that] hasn't been public that long. We don't have a pattern on what they are likely to do quarter to quarter, and [it] certainly makes sense to look about and think about what it means in terms of the slowdown. But this stock was up 45 percent to $120 after the IPO."
The Downturn Isn't Out Of The Blue
He continued, "It's been on a downturn for a few weeks. Still very nice valuation, massive company, mind-bogglingly successful, growing, everything is good. Just that folks got a little out of hand."
Regulatory Pressure Over Counterfeit Goods
"Well, this is a risk around the company that's this big and this powerful and China is obviously going through a big move towards anti-corruption, and so forth. That is good for the long haul, but they are exposed and it's a single market and it's a market that lots of the Americans don't know a lot about," Blodget said.
"So, you got risks like these, but overall they seems to be doing fine despite that."
Related Link: Stifel Downgrades Alibaba On Counterfeit Issue
The Larger Picture
Blodget also cautioned investors about risks that Chinese businesses face, saying, "The government risk in China is far greater than it is here. You have got a government that has much more control then we are used to in the Europe and the United States."
"Alibaba has got a lot of power, but it could be taken away from them instantly."
View Comments and Join the Discussion!
Posted-In: Business Insider CNBC Henry BlodgetMedia Best of Benzinga