#PreMarket Prep Guest List For The Week of July 14, 2014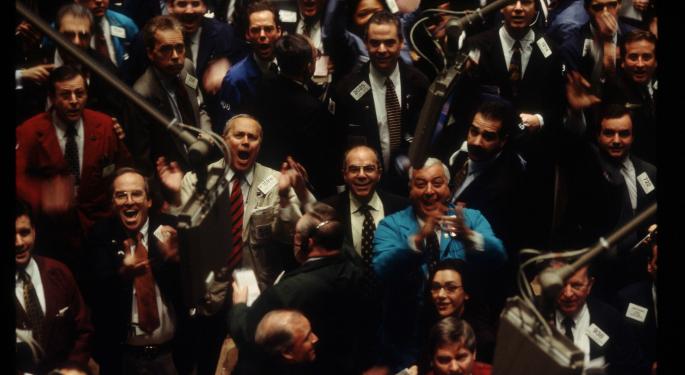 Peter Schiff, Larry Tabb and Eric Hunsader are just a few of the great guests that will be on Benzinga's #PreMarket Prep broadcast, sponsored by OptionsHouse.
There will also be another book giveaway! But you have to tune in at 8:00 am EST Monday-Friday here to find out which day.
Monday, July 14, 8:35 a.m.
Eric Scott Hunsader (@nanexllc), Founder and CEO of Nanex
Eric Scott Hunsader has over 25 years of hands-on experience developing successful real-time trading software including high performance trading applications and compression techniques. Hunsader has been an outspoken critic of high frequency trading, and his views have been cited in numerous financial publications.
8:50 a.m.
Brian Peery, Co-Portfolio Manager of the Hennessy Cornerstone Mid Cap 30 Fund
Brian Peery has more than 20 years of experience in the financial services industry, having held institutional sales, trading, research and analyst positions.
9:05 a.m.
Scott Leonard, Author of "The Liberated CEO"
Scott Leonard is the owner of Navigoe, Inc., a Registered Investment Advisor with offices in Nevada and California.
9:20 a.m.
Kiana Danial (@KianaDanial), CEO of Invest Diva
Kiana Danial is the CEO of Invest Diva and author of "Invest Diva's Guide to Making Money in Forex." She is a multilingual forex analyst, award-winning speaker, TV personality and entrepreneur based in Japan.
Tuesday, July 14, 8:35 a.m.
Nic Chahine (@racernic), Creating income with options spreads
Nic Chahine will join the show every Tuesday to discuss the week's options outlook.
9 a.m.
Nolan Watson (@sandstormSSL), Founder, President and CEO of Sandstorm Gold Ltd
Since the company was founded in 2008, Sandstorm has acquired a portfolio of 37 gold streams and royalties with a market value of over $650 million.Watson is a Chartered Professional Accountant, holds the designation of Chartered Financial Analyst.
9:15 a.m.
Serge Berger (@SteadyTrader), Head Trader and Investment Strategist at The Steady Trader
Serge Berger has been an active trader since 1998. During his career, he's been a financial analyst, dealt in fixed income instruments at JP Morgan, and was a proprietary trader in equities, equity options and futures.
9:30 a.m.
Rick Ackerman (@RickAckerman), Technical Forecaster and Author of Rick's Picks
Rick Ackerman is a trader and technical forecaster whose daily service, Rick's Picks, attracts veteran traders from around the world.
Wednesday, July 16, 8:35 a.m.
Harlan Pyan (@AllAboutTrends), Co-Founder of All About Trends
All About Trends is a subscription-based newsletter service focused on helping individuals secure consistent profits in the market by trading what they see, not what they think, hear or fear.
9 a.m.
Chris Kaufman (@kauf), Founder and Chief Creative Officer of UpTo
As an entrepreneur and product designer his work has been featured by the Wall Street Journal, Forbes, and BusinessWeek, among others. He has worked with numerous Fortune 500 clients, including Ford, Lowe's, Chrysler, Audi, American Standard, and Pulte Homes.
9:20 a.m.
Ryan Detrick (@RyanDetrick), Independent Trader and Market Technician
With nearly 15 years of financial industry experience in the investment and financial services area, Ryan Detrick's strengths include short-term trading with an eye toward timely technical- and sentiment-based trading opportunities, and advanced option trading strategies.
Thursday, July 17, 8:35 a.m.
Fari Hamzei (@HamzeiAnalytics), Founder of Hamzei Analytics
Fari Hamzei joins the show every Thursday, bringing his wealth of knowledge on aggressive equity options and index futures trends.
9:05 a.m.
Dirk Friczewsky (@FXDIRK), Professional Trader and Technical Analyst
Dirk Friczewsky brings 15 years of experience in the financial industry and is located in the Frankfurt/Rhine-Main metropolitan region in the center of Germany.He provides daily trading signals for asset classes like stocks, bonds, currencies, indices, commodities and interest futures.
9:25 a.m.
Riad Younes, President of Derivative Strategy Consultents, Co-Portfolio Manager at RSQ International Equity Fund
Riad Younes co-founded R Squared Capital Management in May of 2013. Prior to that, he was Head of International Equities at Artio Global Management LLC, having been with the company since 1993 when the firm was part of the Julius Baer Group.
Friday, July 18, 8:35 a.m.
Peter Schiff (@PeterSchiff), CEO and Chief Global Strategist at Euro Pacific Capital
Peter Schiff is the chairman of Euro Pacific Precious Metals and Euro Pacific Bank, Schiff's international brokerage firm. He is also the radio host of the nationally syndicated Peter Schiff Show, heard daily from 10am to noon at SchiffRadio.com, as well a New York Times Best Selling Author of numerous books.
9 a.m.
Nick Fenton (@nickfenton), Founder of TickerTank
TickerTank is a trade alerts and education service focused on high probability Options strategies. Preferred strategies include Short Strangles, Volatility Skew Spreads, Naked Puts, Naked Calls, and Iron Condors.
9:20 a.m.
Larry Tabb (@ltabb), Founder and CEO of TABB Group
Larry Tabb is an expert in automated trading and market structure. Prior to TABB, he was vice president of TowerGroup's Securities & Investments practice where he managed research across the capital markets, investment management, retail brokerage and wealth management segments.
View Comments and Join the Discussion!
Posted-In: Benzinga #PreMarket Prep Brian Peery Chris Kaufman CNBC Dirk FriczewskyPre-Market Outlook Media General Best of Benzinga