Alan Greenspan Sees Skills Gap, Not Low Demand In Jobs Market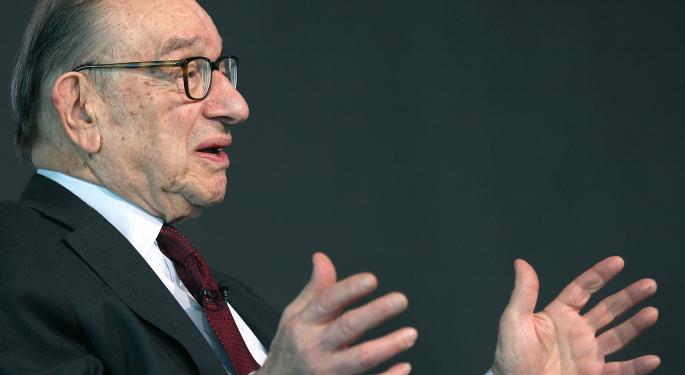 Former chairman of the Federal Reserve Alan Greenspan appeared on CNBC's Squawk Box Friday morning, where he discussed the state of the jobs market as he sees it as well as what can be done to help boost competitiveness and activity.
"You're looking at an issue really of the working age population and employment. And the ratio of employment to the working age population has barely changed in recent years. A goodly part of that, however, are opening, the opening surge that's occurring in baby boomer retirements, so that's something to be expected. Nonetheless there is no doubt that there is a very considerable number of people who are on the disabled list; there are just a number of people who can no longer find work. So this is a very distorted labor market, one I've never seen before in this context. And it suggest to me…the issue here is skills," said Greenspan.
Related: Herb Greenberg Thinks Green Mountain Isn't Much Without Coke
"And one of the things we're missing in this particular work structure is a very large imbalance between skills. I've argued strenuously for revising our H1B immigration quotas, because there is a huge number of people outside our boarders who would love to come here. In fact, many come here, get well-educated, and then are required to leave. We can fill in the gaps that are appearing, which are causing severe problems in our labor market, if we would address this issue."
 Jason Cunningham had no position with the mentioned entities while writing this article. Visit Jason on Twitter at @JasonCunningham and @Benzinga.
View Comments and Join the Discussion!
Posted-In: Alan Greenspan CNBC CNBC CNBC's Squawk on the StreetPolitics Economics Media General Best of Benzinga