Barron's Recap: Sizing Up The New Tech Bubble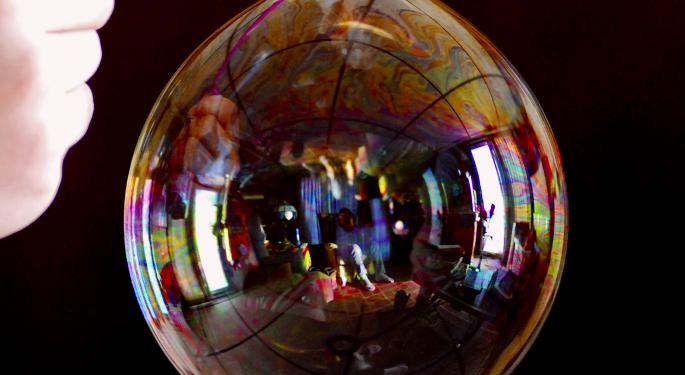 This weekend in Barron's online: the likelihood of another dot-com crash, predictions for 2015, as well as the prospects for Google, Wabtec, Masonite and more.
Cover Story
"Tech Stocks: This Time It Is Different" by Jack Willoughby and Alexander Eule.
This week's cover story in Barron's suggests that investors worried about another dot-com type stock crash are missing the point. While there are some prominent overvalued, money-losing Internet companies out there, including Twitter, the situation today is fundamentally different.
Some 15 years ago, Barron's warned of the coming dot-com bust with a cover article titled "Burning Fast." Now Barron's looks back to see what has changed and what looks similar. How is the stock market priced now, compared to 2000, and how similar are today's Internet giants to their counterparts back then?
The article includes an exclusive look at tech IPOs, as well as how some big asset managers are getting into the game earlier than ever before.
See also: Is Samsung The Next BlackBerry?
Feature Stories
"Time to Buy Google" by Jack Hough says that the dominant Internet search firm has problems born of its success. Yet, Google Inc (NASDAQ: GOOGL) (NASDAQ: GOOG) continues to be innovative and free-spending. See why its shares could rise 20 percent.
Sandra Ward's "All Aboard Wabtec" takes a look at how locomotive maker Westinghouse Air Brake Technologies Corp (NYSE: OAK) has seen healthy growth in the United States and abroad. The industry's safety focus is the company's sweet spot, says the article.
In "Price Hikes Open Door to Stock Gains for Masonite," David Englander points out that door maker Masonite International Corp (NYSE: DOOR) has a healthy a 40 percent market share. See why its prospects look bright as the U.S. housing market revives.
Roger Morley of MFS Investment Management is profiled in Simon Constable's "Chasing Stable Growth." See why this fund manager prefers the solid over the flashy, as well as why he likes Disney, Honeywell and other picks now.
Check out "Why Beijing's Troubles Could Get a Lot Worse," in which Jonathan R. Laing interviews Anne Stevenson-Yang, co-founder of J Capital Research. Stevenson-Yang shares why bank rate cuts and the anti-corruption campaign in the People's Republic are unlikely to have much effect.
In Jim McTague's Penta article "Pistol-Shooting School: At Home on the Range," discover how a private shooting lesson delivered lots of bang for the buck and led to a new hobby. And see why corporate and marketing events on the pistol-shooting range are growing more popular.
Morgan Stanley advisor Deborah Montaperto offers her best advice in "The Case for Hedge Funds" by Steve Garmhausen. Montaperto boosted her assets under management sixfold in six years, and she shares why she is such a big fan of hedge funds.
"Pentagon Promotion" is an editorial commentary by Thomas G. Donlan that discusses whether the new defense chief's vast experience will help him in the top job.
See also: Gilead Sciences Spikes Higher As Barron's Suggests Looking Beyond Hepatitis C
Columns
Columns in this weekend's Barron's discuss:
How machines are taking over
Whether hedge funds roiled Apple's shares
How cheaper oil could spur more acquisitions
Why advertisers remain cautious about online video
A bond benchmark losing its relevance for funds
The major drawbacks of a deep value exchange traded fund
Whether legalizing illegal immigrants will cost the U.S. trillions
What unemployment at 5.8 percent for two straight months means
When REITs and their dividends leave the financial sector
Online Exclusives
Barron's online exclusives this weekend include:
"Byron Wien's Predictions and Worries for 2015." In his review of the past year, this Wall Street veteran indicates "there is reason to think that the present favorable trends will continue." See why he feels that major uncertainties at this time seem more geopolitical than economic, after he spent some time in the Middle East meeting with bankers, insurance company executives, entrepreneurs, corporate leaders and government officials.
At the time of this writing, the author had no position in the mentioned equities.
Image credit: Tim, Flickr
Posted-In: Apple Barron's disney Google Masonite twitterBarron's Media Best of Benzinga
View Comments and Join the Discussion!