Barron's Recap (8/25/12): Best and Worst Run States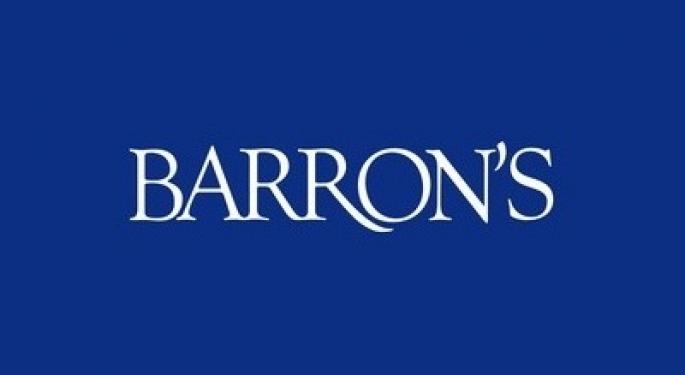 This weekend in Barron's online: the state of the states, the 100 best independent advisors, and the prospects for Hormel (NYSE: HRL), Weyerhaeuser (NYSE: WY) and a new muscular dystrophy drug.
Cover Story
"State of the States" by Andrew Bary.
Long considered the best issuers in the municipal bond market, states now are struggling with the likes of mounting pension shortfalls and high debt. Berkshire Hathaway (NYSE: BRK-A)(NYSE: BRK-B) has been moving out of municipal bonds, and CEO Warren Buffett has warned about rising municipal bankruptcies and of the risks of insuring tax-exempt debt. Barron's examined the combined debt and unfunded pension liabilities relative to gross domestic product in each of the 50 states. By these measures, South Dakota, Iowa, Tennessee and North Carolina came out on top, while Connecticut, Illinois and Hawaii were at the bottom of the list. Turns out the risk of investing in the debt of some of the country's least financially sound states, compared with the most sound, is not always reflected in the price of their bonds. While Connecticut is not likely to default on its debt, investors are not rewarded for taking any risk.
See also: Some New, Obscure Bond ETFs Merit Consideration
Feature Stories
Suzanne McGee's "The Top 100 Indy Advisors" identifies America's top independent financial advisors, ranked by the volume of assets overseen by the advisors, revenues generated for their firms and the quality of their practices.
In "Taking Stock of Taxes," Stephen Garmhausen points out that some advisors are suggesting clients sell investments now before tax rates rise in 2013 while rates are low. But other advisors advocate waiting. How are investors to decide if, when and how to sell?
A recovery in housing could boost the top and bottom lines at Weyerhaeuser, says "A Fine Time for Timber" by Christopher C. Williams. The stock is up 50 percent in the past year, and the rally could be just beginning.
"Addition by Subtraction in Tokyo" by Kopin Tan suggests that the rising number of buyouts of Japanese companies by management will reduce the number of stocks, and that is good news for investors. Some experts see 3,500 publicly listed companies as too many.
In Erin E. Arvedlund's "Bullish on America," portfolio manager Jason Cross explains why Whitebox Multi-Strategy Partners has been buying big, dividend-paying U.S. companies, including unloved banks. He also discusses a novel play on Japan's Nikkei Index.
See also: Buyers Beware: Dividend Stocks Becoming a Crowded Trade
"Hope Grows for a Muscular Dystrophy Drug" by Andrew Bary takes a look at the prospects for eteplirsen, a drug from Sarepta Therapeutics (NASDAQ: SRPT) that could offer the first effective treatment for a particular form of muscular dystrophy.
Few people pay much attention to the potential risk of failed trades, or "fails," says Jim McTague in "Stand and Deliver." But they should. Some hedge funds and money managers still communicate with the big brokerage houses via fax machines and e-mailed spreadsheets.
Leslie P. Norton's "Five Stocks That Could Jump 20% in 18 Months" is an interview with Jerrold Senser, Institutional Capital's lead manager, who has outperformed the S&P 500 by finding catalysts likely to drive shares higher.
The CEO spotlight is turned on Hormel's Jeffrey Ettinger in "Spam's Biggest Fan" by Lawrence C. Strauss. The meatpacking company has moved beyond canned ham, expanding its high-margin grocery business and building a bulkhead in Mexican foods.
"A Long Dry Spell" is an editorial commentary by Thomas G. Donlan about the farm belt's need for relief from misguided government policies.
Columns
Columns in this weekend's Barron's discuss:
Big hedge funds' attraction to gold
Risks in investing in overvalued dividend stocks
What Apple (NASDAQ: AAPL) TV will mean for cable operators and content providers
The growing popularity of iPhone photography
Hedge funds move into bonds
Why tech stocks are excluded from many dividend-specific ETFs
Reasons for the sluggish economic growth in the United States
Overlooked Curtiss-Wright (NYSE: CW)
A projection of likely electoral vote counts
See also: Will Apple Abandon its TV Plans to Build a Cable Box?
Online Exclusives
This weekend's Barron's online exclusives include:
"Gap CFO Sells Entire Direct Stake " by Grace L. Williams. Four executives, including Chief Financial Officer Sabrina Simmons, racked up sales at the Gap (NYSE: GPS) recently in the wake of the stock's multiyear high. Simmons cashed in her entire direct stake of the San Francisco-based apparel company, selling 11,344 shares for $408,384. But she was not the top seller in this round. Division president Arthur L. Peck sold 130,796 shares for $4,609,473, and then exercised options and sold 218,750 shares for $7,709,975.
See also: Gap Announces Q2 Earnings Beat
Posted-In: Apple Barron's Berkshire Hathaway Curtiss-Wright GAP HormelBarron's Media
View Comments and Join the Discussion!