Blockchain Is Changing Every Facet Of The Entertainment Industry, Here's How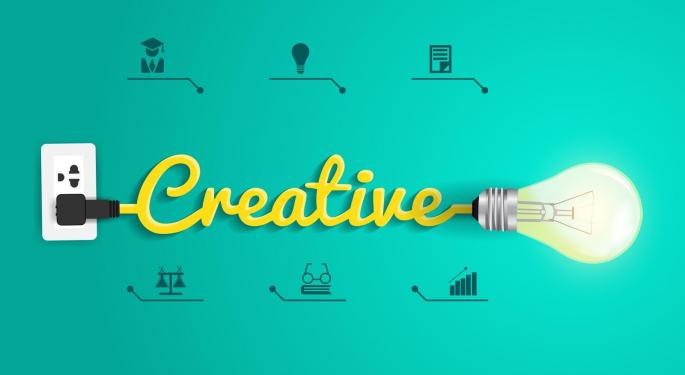 With blockchain technology making its way into nearly every industry in the global economy, there are a few sectors undergoing a more significant significant disruption than others. Financial Technology (fintech) gets the most attention, but there's another segment that gets overlooked.
The entertainment industry is experiencing the introduction of blockchain technology in the form of solutions across issues from proper scaling to the handling of ownership and usage rights. Blockchain initiatives are spreading innovation throughout the creative field, here's a few examples of how.
Distributed Solutions for Rendering
One of the key factors driving the blockchain movement is the capacity to process information through distributed networks. This decentralized structure can serve as valuable resource for projects that require a large amount of processing power, such as rendering processes in film and animation production. This could be vital in a rapidly growing VFX market, particularly among smaller studios attempting to handle large, computationally intensive productions.
Grand View Research anticipates the 3D animation market alone to reach $28.31 billion by 2025, with a compound annual growth rate (CAGR) of 10.7 percent. Research indicates that much of the growth in the need for rendering film and 3D animations can be attributed to a growing film and gaming market.
With a lot of infrastructure already in place for the ever-developing BTC and ETH networks, there's a substantial amount of processing power ready to be put to use in alternative ways, and some blockchain-based projects are taking advantage of that.
Startups like Tatau and Leonardo Render are creating systems that allow for companies to connect with those who have computational power for hire like cryptocurrency mining operations. Rather than spending large sums of money to invest in the hardware required for high speed rendering and processing, companies will be able to use a distributed network of miners who can handle projects more efficiently and essentially pay for "compute on tap" for their projects.
Property Rights and Usage
Besides a focus on distributed networks, blockchain technology has continued to change industries with its ability to immutably record and store data and transactions on a public ledger. Because of that, blockchain plays a major role in other parts of the entertainment industry as well.
One area in particular that an immutable record is key in happens to be one of the fastest growing parts of the entertainment industry: gaming.
According to market research from Newzoo, the gaming industry is on track to grow to $180.1 billion by 2021 with a CAGR or over 10.3 percent between 2017 and 2021. With the current market, it doesn't look like growth is slowing down anytime soon.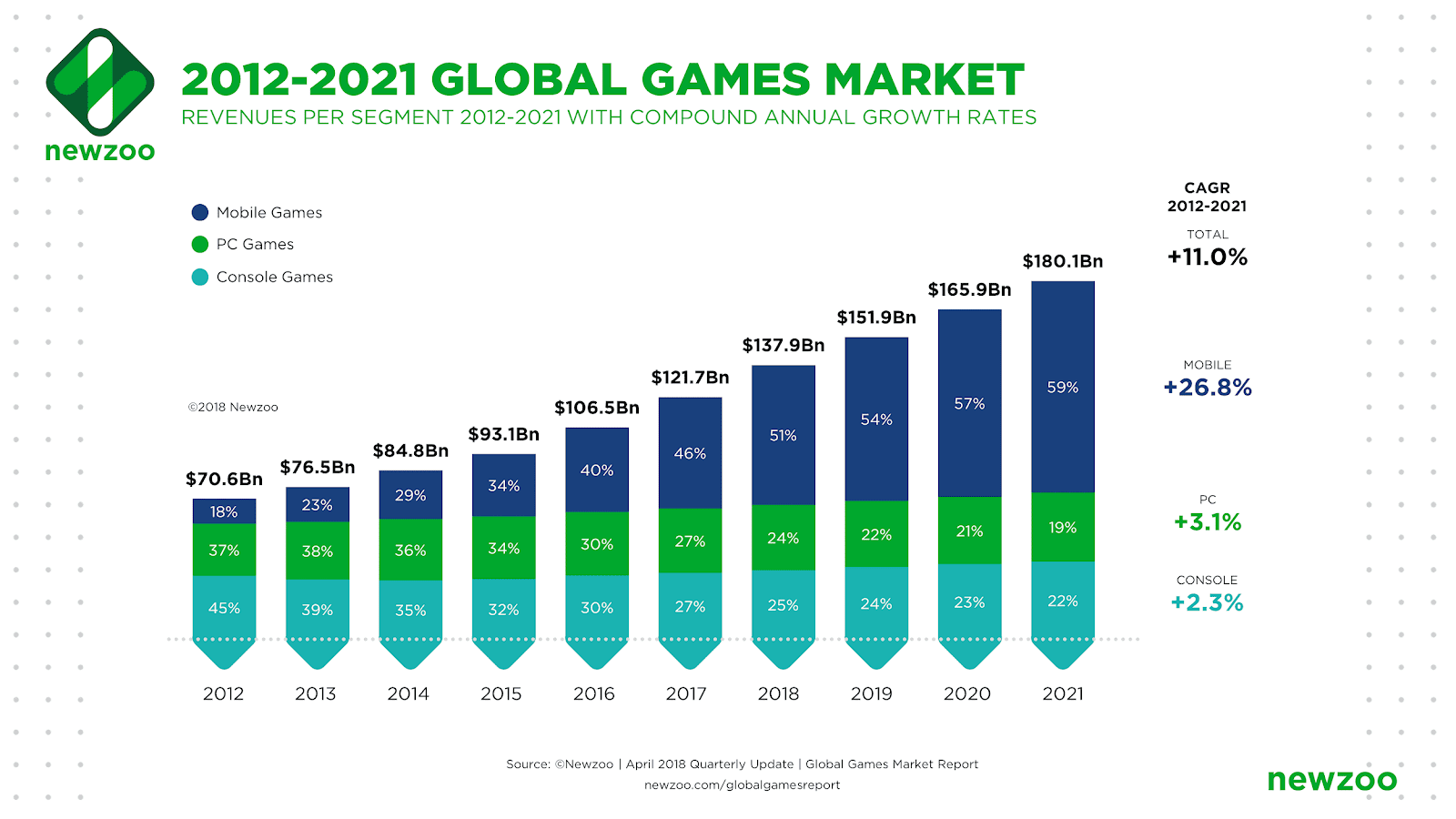 2012-2021 Global Games Market, Newzoo
For the gaming industry, blockchain technology offers the ability to track ownership of digital goods and ensure provably fair outcomes. An example of this can be seen with one blockchain-based startup, XAYA, which is creating the environment needed for game developers to build entire ecosystems completely on blockchain technology. With an immutable record and what the XAYA team calls "atomic trades," users can verify ownership of digital items (many of which have real-world value outside of the game) and record proper ownership of digital goods. Additionally, gamers will be able to trade different items, coins, and other in-game goods across different games on the XAYA platform, something that doesn't exist in the traditional gaming micro economies yet.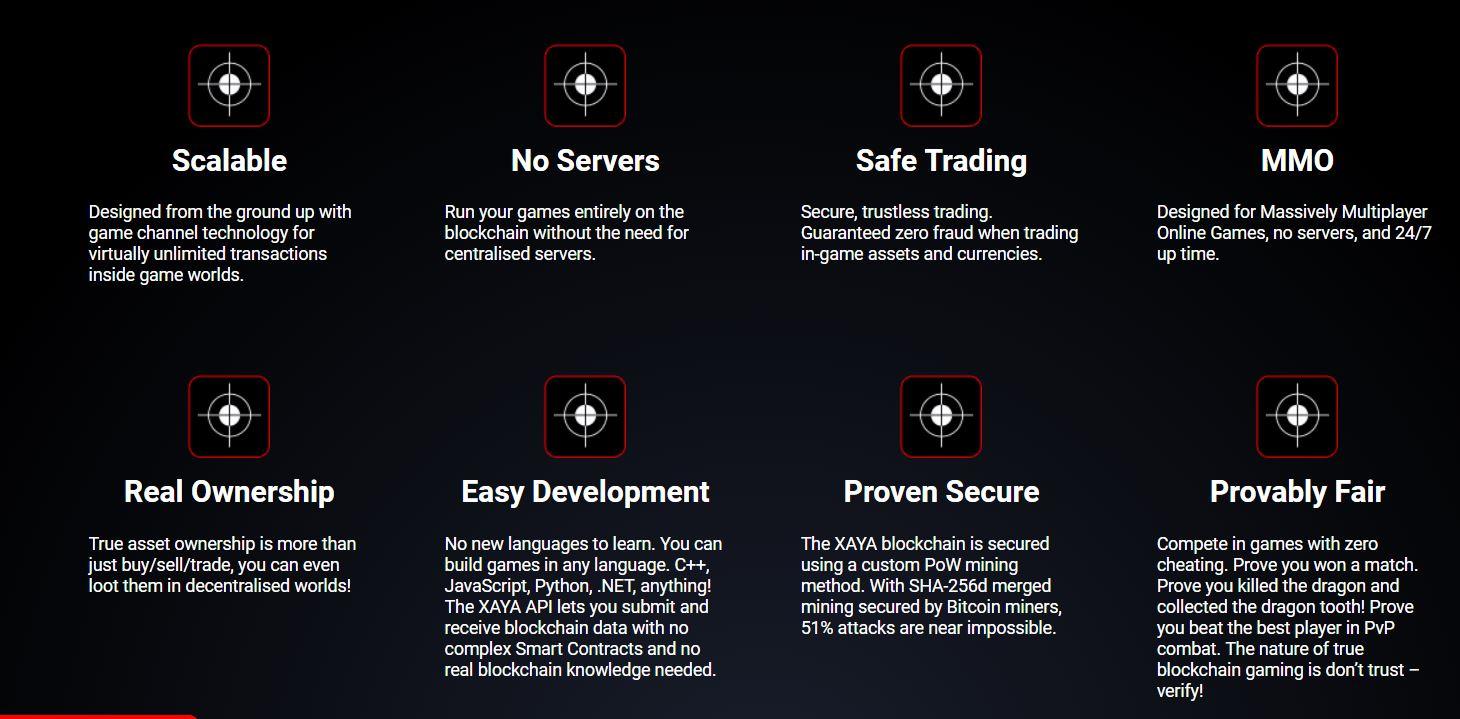 Illustration: The blockchain-gaming value proposition | Source: XAYA
Gaming isn't the only industry concerned with property rights and usage either. Much of the entertainment industry is full of freelancers and individual artists who are constantly having to fight those looking to use their work unfairly or without usage rights. Perhaps the most well-known example of blockchain integration in the image rights area is Kodak's new blockchain-based platform, Kodak One. By integrating blockchain technology into their platform, artists and photographers are able to manage usage rights for their work. Using the platform's native token, creators can take control of their content and accept payment for use, distribution, etc. with all transactions and usage rights recorded (immutably) on the blockchain. Blockchain technology empowers creatives in the entertainment industry to track their own assets and ensure fair compensation for their efforts.
Funding Entertainment
Lastly, blockchain technology is likely to play a major role in the future of raising funds for projects in the entertainment industry. Over recent years, crowdfunding has proven to be a disruptor in its own right, now it's poised to go further by cutting out the middleman with blockchain technology.
In a similar way that GoFundMe and KickStarter operate, blockchain technology and smart contracts can lead to an improved crowdfunding model. Blockchain-based solutions allow for those in the entertainment industry to lead a global crowdfunding effort without the hassle of dealing with fiat currency and cross-border payments. Instead, those looking to fund a new project can spread the news and issue a currency of their own, not for equity or utility, but simply for patronage in the entertainment industry. We're already seeing this taking place with projects like Starbase and Acorn, where teams can launch projects of their own whether it's a business plan or a new short film.
Blockchain is already known as being a disruptor coming to various industries, but the more one studies the new technology, the more one sees applications across the global economy. Fintech may have been the beginning, but blockchain technology is making its way into nearly every corner of the markets. Where will is disrupt next?
Posted-In: Cryptocurrency Fintech Markets General
View Comments and Join the Discussion!