For Cryptocurrency Traders, The (Down)trend Is Still Your Friend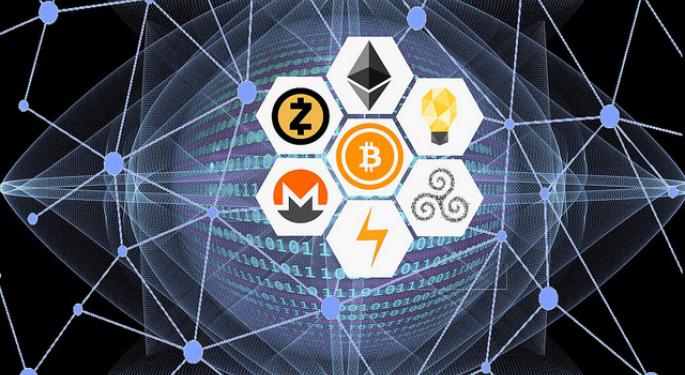 Well, that was fast.
An 18 percent rally during July had Bitcoin investors feeling good for the first time in months. The world's largest cryptocurrency briefly broke above $8,000 and exceeded 6 billion in 24-hour trading volume late in July. That marked the first time it reached those numbers since late-May.
But that appears to have been short-lived. Bitcoin has given back nearly all its July gains over the last two weeks, falling 17 percent since the calendar turned. You can see this in the three-month chart. The trend essentially reversed with that big red candle to end July.

Image courtesy of VantagePoint
What made bitcoin's July rally unique was, unlike in December when bitcoin rallied to a high of $19,783, other cryptos like Ethereum and Ripple did not follow suit this time.
Ethereum, the second largest cryptocurrency by market cap, was down 5 percent in July. Ripple, the third largest, was down just under 6 percent. You can see below how neither had sustained uptrends in July (unlike bitcoin), but have continued downtrends in August.
Here's a three-month chart of Ethereum:

Image courtesy of VantagePoint
And here's XRP:

Image courtesy of VantagePoint
In the charts above, the blue line represents a predicted moving average, while the black is a simple, 10-day moving average. An uptrend is indicated by the blue line crossing above the black line and staying above it, and vice versa for a downtrend.
In other words, the two lines would have to diverge for any trend to gain momentum.
Not only have both continued lower in spite of bitcoin's recent rally, but they are actually forecasted to continue lower according to VantagePoint Software, which uses artificial intelligence to analyze relationships between markets and forecast moves 1-3 days in advance with up to 86 percent accuracy. The same can be said for Litecoin (down over 3 percent in July), Dash (down over 8 percent), Monero (down over 5 percent), and NEO (down 1 percent).
However, there were a couple of exceptions to this trend.
Ethereum Classic was up 6 percent during the month, at one point reaching its highest price since May. Notice the red-green bar on the chart below. That's a neural index, which forecasts strength or weakness over the proceeding 24 hours.
While the currency has been a little more volatile in August, it hasn't succumb to the same downward pressure that has overwhelmed other cryptocurrencies.
Image courtesy of VantagePoint
July was also a good month for Zcash, which was up over 20 percent. On this chart it's clearer that the market was in an uptrend. But the key word there is "was." Zcash has precisely followed Bitcoin's July, falling 26 percent in the last two weeks.

Image courtesy of VantagePoint
It's important to remember when trading or investing in cryptocurrencies that, in terms of mainstream adoption, they are still in their infancy. As more use cases become available there will likely be more volatility, but it's impossible to say when it might happen or which currencies will feel it.
In the short-term however, keep an eye on whether the secondary cryptos have a trend change. While July showed that they won't all move together, it did show there is still alpha to be had on the upside. And the good news for traders is volatility does not appear to be in short supply.
VantagePoint is a content partner of Benzinga. To get a free demo click here.
View Comments and Join the Discussion!
Posted-In: Bitcoin cryptocurrenciesCryptocurrency Long Ideas Short Ideas Markets Trading Ideas General Best of Benzinga