The Best And Worst Cryptocurrencies So Far In 2018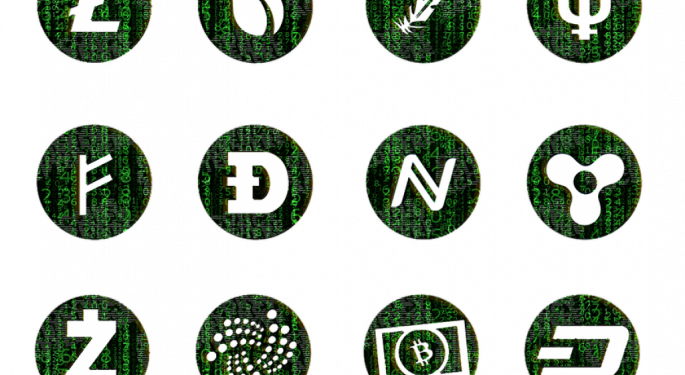 The crypto boom came to a screeching halt in 2018, with most major cryptocurrencies down more than 40 percent on the year. Investor fears over global regulatory crackdowns and dozens of cryptocurrency security breaches have spooked investors that were so enthusiastically buying last year.
Brutal First Half
Cryptocurrency bulls argue a consolidation period after last year's parabolic run higher is part of a healthy long-term trend. Just because traders are taking profits on their 2017 gains doesn't necessarily mean cryptocurrencies are down for the count.
However, there's no way to sugar-coat crypto performance in the first half of the year. The global crypto market cap has fallen from $598.5 billion to just $234.9 billion, meaning more than $360 billion of cryptocurrency wealth has disappeared year-to-date. Cryptocurrency trading volume has also plummeted as traders have lost interest in the market. Daily trading volume peaked at around 70 billion back in late December, but it has been consistently below 20 billion since mid-May, even dipping below 10 billion on slow days.
Bitcoin prices, which peaked near $20,000 in December, have dipped below $6,000 heading into July. The Bitcoin Investment Trust (OTC: GBTC) is down 61.5 percent year-to-date.
The Big Ones
Here's a look at how the five largest cryptocurrencies have performed year-to-date:
Bitcoin declined 55.3 percent to $5,914;
Ethereum declined 41.9 percent to $413;
Ripple declined 79.9 percent to 43 cents;
Bitcoin Cash declined 73.1 percent to $662;
EOS declined 14.6 percent to $7.39.
2018 Winners And Losers
Of course, some cryptocurrencies have performed worse than others, and many cryptos have lost almost their entire market value in first half of the year. Here's a look at the five worst-performing cryptocurrencies and tokens of the year which still have market caps above $1 million:
Bitconnect: $4.0-million market cap, 99.8-percent decline.
CasinoCoin: $17.2-million market cap, 99.5-percent decline.
MyBit Token: $3.2-million market cap, 98.7-percent decline.
OP Coin: $1.0-million market cap, 98.3-percent decline.
Rise: $5.5-million market cap, 97.1-percent decline.
Any trader knows there are always outliers that buck the trend. Here are the five best-performing cryptos and tokens of 2018 (minimum $1 million market cap):
PACcoin: $16.7-million market cap, 794,356.8-percent gain.
Hexx: $6.9-million market cap, 3,604.7-percent gain.
Electra: $34.8-million market cap, 3,409.8-percent gain.
B3Coin: $2.4-million market cap, 1,915.7-percent gain.
AurumCoin: $5.4-million market cap, 452.0-percent gain.
Looking Ahead
As the best- and worst-performing cryptos and tokens above demonstrate, there's been at least one consistency in the crypto market between 2017 and 2018--volatility. Volatility has died down a bit among some of the largest cryptocurrencies in 2018, but there is still plenty of action out there for traders to have some major opportunities on both the long and short side.
Looking ahead to the second half of the year, the cryptocurrency market is as unpredictable as ever. Investors will be looking for signs that the cryptocurrency bubble has burst or paying attention to any evidence that the market has bottomed and the bull market is back on.
Related Links:
Is The Price Of Bitcoin Becoming More Or Less Volatile After Security Breaches?
View Comments and Join the Discussion!
Posted-In: Bitcoin Bitcoin Cash BitConnectCryptocurrency Top Stories Markets Movers Trading Ideas Best of Benzinga