Today In Cryptocurrency: EOS ICO Raises $4 Billion, Wikipedia Founder Calls Cryptos 'Absolutely, Definitely' A Bubble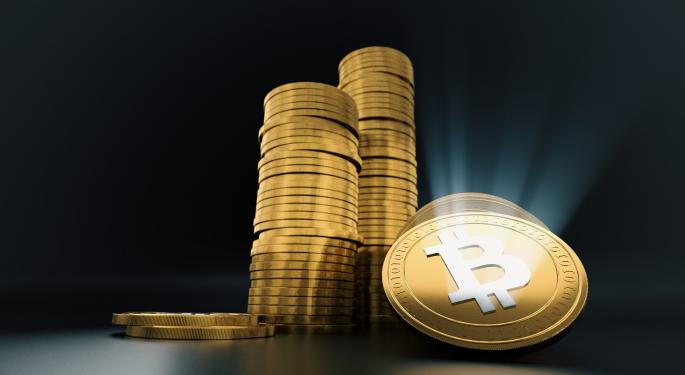 After a brutal couple of weeks, the cryptocurrency market bounced back a bit on Tuesday, with most major cryptocurrencies trading higher by more than 3 percent. Here's a look at some of the headlines that were moving the cryptocurrency market today — and which currencies were on the move.
Headlines
According to the Wall Street Journal, the ICO for blockchain project EOS has now raised nearly $4 billion. Surprisingly, EOS creator Block.one has revealed very little about what the company plans to do with all the funds it has raised and has even said it will not be developing or maintaining EOS software.
Allianz chief economic advisor Mohamed El-Erian said global governments may eventually issue their own cryptocurrencies as society continues its transition away from traditional cash. El-Erian said the transition from government currency to government cryptocurrency will likely not happen within the next three to five years because it will take people a long time to trust digital currencies enough to use them.
At the Blockshow conference in Berlin, Wikipedia founder Jimmy Wales said the cryptocurrency market is "absolutely, definitely in a bubble." Wales also said the cryptocurrency industry needs some "real journalism." Last year, Wales warned ICO investors that many offerings are "absolute scams."
Price Action
The Bitcoin Investment Trust GBTC (OTC: GBTC) traded at $11.92, down 1.8 percent.
Here's how several top crypto investments fared Tuesday. Prices are as of 3:45 p.m. ET and reflect the previous 24 hours.
Bitcoin gained 3.2 percent to $7,481;
Ethereum gained 7.0 percent to $566;
Ripple gained 5.6 percent to 60 cents;
Bitcoin Cash gained 6.3 percent to $984;
EOS gained 0.8 percent to $12.31.
The three cryptocurrencies with at least $1-million market caps that have made the biggest gains over the past 24 hours are:
Version: $1.3-million market cap, 81.3-percent gain.
Anoncoin: $4.7-million market cap, 46.8-percent gain.
Universe: $1.4-million market cap, 40.0-percent gain.
The three cryptocurrencies hit hardest in the past 24 hours were:
BunnyCoin: $1.1-million market cap, 72.3-percent decline.
Obsidian: $1.1-million market cap, 20.5-percent decline.
Photon: $2.7-million market cap, 19.6-percent decline.
Related Links:
Today In Cryptocurrency: UK Regulators Confirm Investigation of 24 Crypto Businesses; Crypto Publicity Stunt Turns Deadly
Riot Blockchain's 10-Q Sheds Light On Crypto Mining Operation
View Comments and Join the Discussion!
Posted-In: Block.one EOS Jimmy WalesCryptocurrency News Top Stories After-Hours Center Markets Best of Benzinga