A Micro-Cap Gold Company That Could Provide Major Return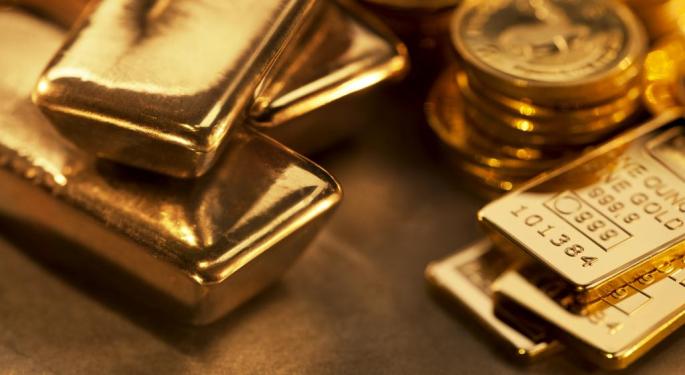 There's no doubt that gold is a big business. The total value of the world's gold at current prices comes in at more than $5 trillion. But in Washington state, there may be an under-the-radar investment opportunity brewing in an industry dominated by big-name, international miners like Barrick Gold Corporation (USA) (NYSE: ABX).
LKA Gold Inc. (OTC: LKAI) is a micro-cap mining and exploration company with one ongoing project. The firm has only mined 140,000 ounces in its history.
The stock is trading around $0.45 per share, but President Kye Abraham talked to Benzinga about why he thinks his company could be onto something big.
The Strategy
"LKA is not like other gold companies in that it doesn't have multiple projects," Abraham said. "The majors are always looking for widely disseminated, extremely expensive projects that [returned] low-grade [gold]."
LKA, on the other hand, has opted for a narrower focus in hopes of finding higher quality ore. High grade and low costs, he said, can insulate a company like his from things like increased regulation and plummeting commodity prices.
Related Link: Leveraged Gold Miners ETFs To Host Reverse Split Party
But there's a catch. LKA has only had one major find in its 30-year history. The company was only actively searching for deposits for a fraction of that time, but 140,000 ounces doesn't amount to much of a track record.
The find came in the late 1990s, when LKA explorers ran across a vast volcanic ore deposit in its Golden Wonder Mine in the northwest United States. According to Abraham, his team realized that volcanic vent systems often become gold vein networks. "When you find areas at which all these veins converge, you'll find something akin to major vent systems and huge concentrations of gold."
The ore from that deposit was extremely high grade at more than 12 ounces of gold per ton. Furthermore, the average cost of extraction was only $150 per ounce. The entire job was done by a team of just four people.
Repeating The Play
Now, Abraham is looking to repeat the process that once flooded LKA with cash.
LKA has partnered with Kinross Gold Corporation (NYSE: KGC), the seventh-largest gold producer in the world, to explore its vast property holdings. According the deal, Kinross will use its vast resources to explore 80 percent of LKA's land, which the micro-cap company can't afford to do itself.
If Kinross produces less than 50,000 ounces over the next five years, they will have to surrender it all to LKA. However, if they find more than 50,000, LKA will reimburse 40 percent of the costs associated with the exploration in exchange for a 35 percent cut of the gold.
Meanwhile, LKA's own team will continue to search a "carve-out" area for volcanic deposits like the one they found in the 90s.
"From the LKA perspective, this is exactly the way to good a good look at the wider area...without spending millions of our own money and diluting our shareholders," Abraham wrote in an email to investors.
Speculation Not Investment
When asked about the volatility in LKA's stock over recent years, Abraham countered that his company is less of an investment and more of a speculative opportunity. "The volatility is telling you that investors are speculating on how close we are to making the next discovery. Once that discovery is made it's like hitting the ATM."
Investing in LKA is not like investing in Kinross or Barrick, Abraham said. "If they find the next ore shoot, it won't move the needle for them; but it will move the needle a ton for us."
The president was confident in the prospects of his company's newly initiated venture: "We're experienced. We've done it. This is a unique property….Once we hit it, the price of the stock will rise dramatically."
Posted-In: Gold Kye AbrahamCommodities Top Stories Exclusives Markets Trading Ideas Interview Best of Benzinga
View Comments and Join the Discussion!