The US Is Well Positioned To Lead Globally On Medicinal Cannabis: How The Biden-Harris Win May Finally End Prohibition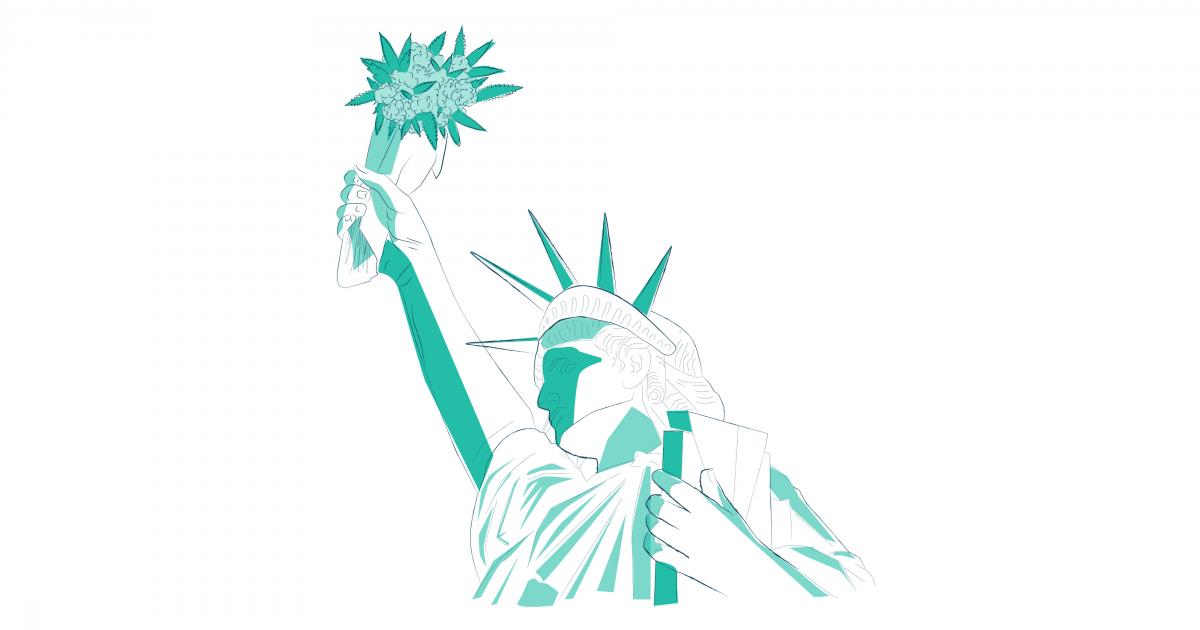 By Osagie Imasogie, Chairman of Zelira Therapeutics Ltd.
Every measure on state ballots this month to expand or legalize cannabis passed, often by a huge margin. This confirmed the continuing and growing acceptance of cannabis among Americans. Already in the vast majority of US states, cannabis is legal, in one form or another.
To pharmaceutical executives like myself, cannabis is neither avant garde nor scientifically controversial. The research and development of cannabis medicine squarely falls into the sphere of traditional pharmacology — where more than about 80% of pharmaceuticals currently on the market are derived from natural (plant, fauna, marine, etc.) sources. In fact, cannabis medicine should arguably be the gold standard in legitimizing and integrating ancient plant medicine into modern medical applications — how many other medications are rooted in the history of literally centuries of documented medical use?
Four Key Signs Pointing Toward Federal Legalization
I was recently asked about the possibility of a nationwide cannabis legalization (medical) in my native country of Nigeria, and I did not share the conventional wisdom that — despite the fact that recent data showed that Nigeria had the largest cannabis consuming population in the entire world — such legislation would easily pass. I am, however, more sanguine about that happening on a federal level here in the US, my home country for the last few decades. Here are some reasons why:
There may yet be a Democrat-majority Senate. Final control of the Senate will not be determined until January 2021 based on who wins the dual Georgia Senate race runoffs. With Biden declared President-elect and Democrats maintaining control of the House, if Georgia elects two Democrats to the Senate, the party will have full control of the federal government for the first time in 11 years. In that case, the leverage will never be greater on the pro-cannabis side.
Biden-Harris will be the most pro-cannabis White House to date. Both President-Elect Biden and Vice President-Elect Harris have overtly signaled their support for decriminalization of cannabis and further research into its value as a federally regulated medication. This is unprecedented. Vice-President elect Harris has in particular campaigned on legalizing cannabis, at least for medicinal purposes, maybe, in part, due to her reflection on her past as a former prosecutor and her role in incarcerating people for possessing relatively small amounts of cannabis.
Politics is the art of compromise and the exploration of the possible. This is the definition of American democracy at its finest, and those dynamics will be back at the forefront of national politics in January 2021. Both Biden and Harris are experienced and skilled politicians and have hard-earned relationships in the Senate on both sides of the aisle. They will be able to access those relationships to effect change and progress on many fronts.
This year's ballot measures reflect the will of the people, and their representatives must and will take notice. People are waking up to the economic absurdity and moral incongruity of cannabis criminalization. In the United States, we lead the world in per capita incarceration, with a jaw-dropping 2.3 million Americans currently in jail — that's a staggering rate of almost 700 people per 100,000 Americans. And the overwhelming majority of that number is made up of people of color, particularly African American men. At an average cost of almost $40K to house and feed each prisoner for a year, the monetary cost alone is staggering.
Also, the epidemic of opioid addiction and overdoses laid bare the hypocrisy of cannabis criminalization. Even among Americans who are still learning about cannabis amid the generations of ingrained bias and social stigma, there remains a higher level of comfort, from a safety standpoint, for cannabis than for opioids. Even in this hyper-informed technological age, the CDC has not confirmed a single documented case of an overdose death caused by cannabis. Compare this to opioids, which are extraordinarily addictive and lethal–yet FDA-approved and several companies have mass-produced opioids, which cause tens of thousands of overdose deaths every year. Even more common, as a cause of over dose deaths, are low-cost, over-the-counter NSAIDS that Americans use every day — which are responsible for thousands of deaths every year (often caused by kidney damage or gastrointestinal bleeding, two common side effects of that drug class).
Additionally, some data suggests there may be a drop in opioid use, and even in overdose deaths, in states where cannabis is legally available. By that measure, cannabis legalization, in addition to making available a safe and effective medicine to millions of Americans, would certainly be a powerful weapon in fighting the opioid epidemic.
Totaling Costs of Prohibition
For multistate operators (MSOs) in the cannabis industry, having to fragment US operations by state is a cumbersome and expensive undertaking. Being able to consolidate or centralize operations through interstate commerce would improve quality control, track and trace abilities, and reduce both overall costs and the environmental impact.
Also, the end of federal prohibition will surely see the passage of the Secure and Fair Enforcement (SAFE) Act, proposed legislation created to ensure access to financial services to cannabis businesses and service providers. As the National Cannabis Roundtable (NCR) explicitly laid out the benefits and protections such new legislation will provide:
Not only will this lead to more economic growth and jobs, it will make our communities safer. Access to banking services for cannabis businesses will secure billions of dollars in revenue by providing states with the means to bank, track and tax the legal cannabis economy. More transparency will also give law enforcement and financial services providers the ability to prevent money laundering and keep illegal money out of our financial system.
Lastly, there's the brain drain. The best and the brightest academics and institutions are barred from taking part in important research and development lest they be at risk for losing vital federal government grants and support. This can have profound implications to the medical cannabis landscape, financial investment in research, and our ability to treat patients.
America Still Has a Chance to Lead
Clearly, the United States still wields incredible cultural influence on the world stage; in spite of our federal prohibition, we still have the largest and most profitable legal/medical cannabis market in the world. However, that market is state-driven and segregated across state lines. This neuters the power of our interstate commerce–a deficiency that other countries like Canada and Australia are successfully avoiding. Other countries, like South Africa and parts of the Caribbean and Latin America, are expanding their cultivation capacities with an eye on exporting.
Many of our scientists and researchers are disappointed with the fundamental resistance to cannabis in the US and around the world rooted in false or inaccurate perceptions and racist historical implications, born of ignorance and prejudice rather than facts and science. But in a record-setting voting turnout this year, the people are speaking — and it is clear that they want cannabis legalized.
Osagie Imasogie is a co- Founder and Chairman of Zelira Therapeutics, a leading global therapeutic medical cannabis company with access to the world's largest and fastest-growing cannabis markets.
Benzinga's Related Links
Lead image by Ilona Szentivanyi. Copyright: Benzinga.

The preceding article is from one of our external contributors. It does not represent the opinion of Benzinga and has not been edited.
© 2020 Benzinga.com. Benzinga does not provide investment advice. All rights reserved.
---