Think Big Or Go Home: Cannabis, Music And Creativity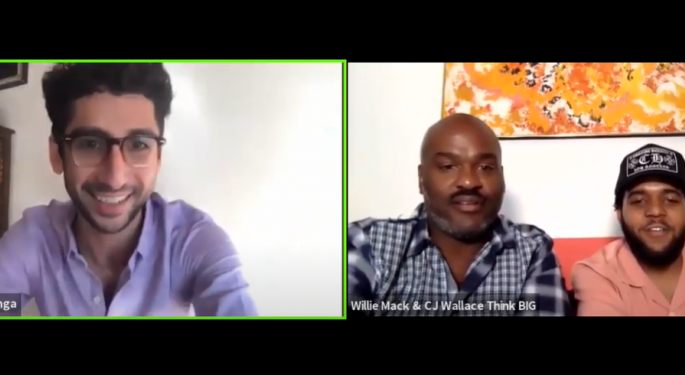 Think BIG was born as a cannabis company, but soon mutated into something grander: a brand, an organization and a social movement.
Founded by entrepreneur Willie Mack and CJ Wallace, the son of late rap artist "The Notorious B.I.G." Christopher Wallace, Think Big encompasses a team of like-minded people fighting for cannabis legalization, criminal justice reform and economic restitutions for communities most harmed by the war on drugs.
"It's something way bigger than I could have imagined, now, honestly," says Wallace, looking back at the last two years since the project launched.
Wallace and Mack joined Benzinga's own Javier Hasse on the virtual stage at the Benzinga Cannabis Capital Conference on Tuesday.
Cannabis and Social Justice: Willie Mack said that Think Big started as an idea for a brand that ultimately grew into a conversation about cannabis' healing potential. Since the plant's prohibition disproportionately affected black and brown communities throughout history, the organization also shifted its mission in an effort to build an equitable and fair industry.
Mack and Wallace started a coalition with former NFL player Marvin Washington, the Marijuana Policy Project, the Minority Cannabis Business Association, Last Prisoners Project and Autism Speaks in order to take those ideas into action.
In March of this year, the coalition traveled to Albany, New York state's capital, to meet with Governor Cuomo's office and state legislators. The goal was to lobby for equitable laws and ways of implementing a legal industry in the state that takes action to build a fair environment for communities most affected by cannabis law enforcement.
'The Frank White Story': Frank White was one of The Notorious B.I.G's rap aliases, and has carried significant emotional value for his son CJ throughout his life. This prompted him to give the name a new meaning and make it his own personal brand.
"Frank White is everything for me. It's my passion project, my love for fashion, my love for media, it's gonna be everything," said CJ Wallace.
Under the Frank White label, Wallace is launching a House tribute to his father's music, and will soon launch CBD and hemp-derived consumer products, as well as an apparel and accessory line, health and wellness products, content and more music.
"Cannabis, music, fashion, entertainment, it's the brand that consumers connect to. It celebrates creativity and cannabis' ability to get to a creative place," adds Mack.
View Comments and Join the Discussion!
Posted-In: Benzinga Cannabis Capital Conference Cannabis Capital Conference CJ Wallace Frank White Think Big Willie MackCannabis Markets Best of Benzinga