New Cannabis Products: Curated Weed Sets, Resin-Infused Joints, Effect-Based Terpene Blends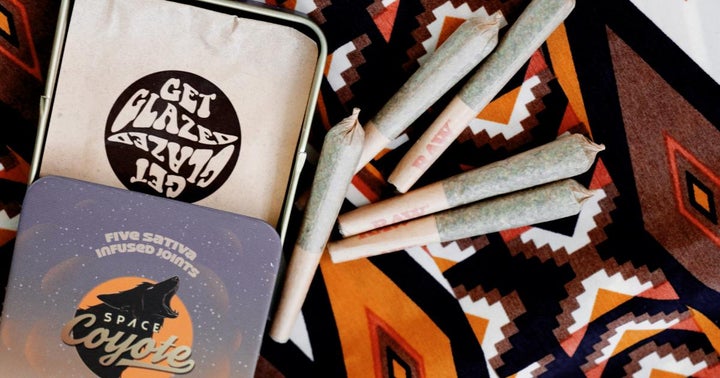 As the cannabis market expands, it's hard to keep track of the many products that launch every week. Benzinga put together a short list of some of the most interesting new cannabis products.
A Golden State's Curated Sets
A Golden State launched two limited edition curated sets of premium, craft cannabis.
"Dawn" will energize and spark creativity for the day, while "Dusk" is designed for a wind down to enjoy the lazy summer nights.
The keepsake boxes are decorated using a Japanese water art technique called suminagashi, and retail for $179 each.
"I couldn't be more excited to present our first curated box set featuring an assortment of my favorite distinct strains," said Nishant Reddy, CEO and co-founder of A Golden State. "These sets will help you find your golden state of mind for any activity or experience."
Space Coyote's Live Resin-Infused Joints
California-based infused joint maker Space Coyote debuts a new collaboration: Sativa and Indica 5-pack of live resin-infused joints featuring Field Extracts.
"We see a strong consumer demand for high quality, high potency products, and Field Extracts was the perfect brand partner to bring this to market," said Scott Sundvor, president and co-founder of Space Coyote.
Space Coyote's 5-pack collaboration with Field Extracts is available in both Sativa and Indica versions, each with delicious strain specific bud and extract pairings, enclosed in beautifully packaged, collectible, environmentally friendly tins.
"The market's already appreciating this launch — half of our first batch sold-through in just two weeks," added Sundvor. "While the industry is saturated with brands competing on price at the expense of quality, Space Coyote is 100% committed to delivering a superior product."
True Terpenes' Effect-Based Terpene Blends
True Terpenes and cannabis research veteran Dr. Ethan Russo have launched a line of effect-based terpene blends under the Terpology by Dr. Ethan Russo monicker.
The three unique blends were designed to enhance consumer quality of life in target areas: relaxation, energetics, and focus.
"When terpenes are combined with cannabinoids, like CBD or THC, a phenomenon known as the entourage effect, occurs," said Chris Campagna, CEO of True Terpenes. "The theory, popularized by Dr. Russo, explains how cannabis components, like terpenes, interact synergistically to create a variety of therapeutic and subjective effects for which the plant is well known. The science-backed, effect-based new line of terpene blends were designed to help product manufacturers in any category create more differentiated and efficacious products. This is only just the beginning of what is to come from the joint development project between Dr. Russo and True Terpenes."
Courtesy images
© 2021 Benzinga.com. Benzinga does not provide investment advice. All rights reserved.
---