Infused Or Sprayed? How Gummies Innovator Wana Brands Tackles The Tricky Edibles Space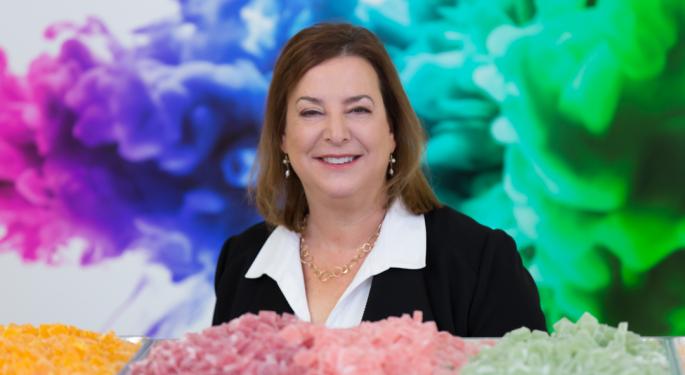 When Wana Brands launched in 2010, Colorado and Washington were still two years away from becoming the first two states to legalize the recreational use of cannabis.
Today, it's a different scenario.
In the U.S., CBD is medically legal in 33 states plus Washington, D.C. Eleven of those states allow recreational use. Boulder, Colorado-based Wana Brands is in eight of those markets and onboarding in four, plus Canada.
Business is good under the helm of CEO Nancy Whiteman, who has earned the moniker "the Martha Stewart of edibles." Wana's 2019 revenues were $25.1 million and the company is "on track" to meet or exceed its 2020 goals, she told Benzinga.
What aren't good for business are certain federal regulations, she says. The hurdles affecting Wana Brands are different in every state. There are also thousands of other companies saturating the market — a headache unto itself.
So while consumers enjoy easy access and the widest variety of palliatives to date, companies like Wana Brands are busy navigating a complicated landscape littered with rules and stipulations not found in any other industry.
Whiteman, along with Wana Brands' Director of Innovation Mike Hennesy, recently spoke to Benzinga about their unique approach to edibles (including a "secret" hire) and how it differentiates the company from its rivals.
The Biggest Challenge
"In terms of the success of the gummy sector, Wana Brands has been producing cannabis-infused gummies since 2011," Whiteman said. "This was before market research companies for cannabis, such as BDSA and Headset, even existed."
Today, there is plenty of data to show the upward trend of cannabis products, especially edibles. That particular category is expected to be worth more than $4.1 billion in Canada and the U.S. by 2022.
On the surface, this is an ideal sector for a company to be in, especially during a pandemic and an economic downturn. Stressful times have led to an uptick in sales.
Still, "there are plenty of challenges operating in the infused cannabis products space," Whiteman said. "The biggest challenge is operating state-by-state."
Since cannabis is still not recognized as legal on a federal level, everything Wana Brands does with the plant has to originate within state borders.
"Any product sold in Colorado is grown and produced in Colorado, any product sold in Illinois is grown and produced in Illinois," Whiteman explained. "When the Illinois adult-use market came online in a state with three times the population of Oregon, we needed to have enough plant material to produce enough cannabis oil for our products. We can't just buy plant material from Oregon. It has to be grown in Illinois. And the cultivation process to get the oil needed takes months."
See Also: Wana Brands Exec Predicts Cannabis Market Will Consolidate, Finally Get 'Critical Acceptance'
The fact that the federal government doesn't recognize cannabis as legal also means Wana Brands can't produce all of its products from centralized locations like typical confectionery companies, such as Mars Inc. or Haribo.
"Many of the mass production machines would only need to be switched on for 10 minutes a month to service an entire state," she added.
Additionally, regulations for labeling, stamping and dosing of edibles varies from state to state and internationally. So Wana Brands has to redesign labels for every market.
"For example, we can show fruit on the label in Colorado but not Illinois," Whiteman said. "A 'serving size' in Colorado is 10 milligrams. In Oregon, it's five milligrams."
In the U.S., most adult-use markets allow 100 milligrams in a package. In Canada, each package can only contain 10 milligrams out the door.
"This patchwork of regulations means that we have to recreate everything from labels to recipe revisions for each market we are in," Whiteman says.
Innovation
For Wana Brands' Hennesy, federal rules are especially problematic.
"We can't forget that cannabis is still federally classified as a Schedule I drug, which by definition is a designation to stifle innovation on drugs deemed to have no medical use and a high potential for addiction," Hennesy said.
Per the U.S. Drug Enforcement Administration, marijuana is lumped into the same category as heroin and LSD — "with no currently accepted medical use and a high potential for abuse." For that reason, there's no federally recognized research to support cannabis use for medicinal purposes.
"Other nations are far outpacing the U.S. in research and development with cannabis, regularly making meaningful discoveries that are changing the way we understand the plant and develop new products," Hennesy said. "Until we can open up research facilities and public universities to do more than observational research without a DEA Schedule 1 license, the U.S. is going to lag behind."
Meanwhile, the private sector in legal states has breathing room to create new and innovative products, often leaning on the science being conducted in other countries, he explained, citing the need for "a better federal regulatory framework."
Despite those challenges, Wana Brands is carving out its own corner of the industry with a novel technique.
'Secret' Gummy Expert
Wana has plenty of rivals in the edibles space — each one angling for the top spot in their own right. Companies like Bhang Corp., Kiva Confections and Organigram Holdings Inc. are flooding stores with one product line after another.
For Wana Brands, separating itself from the competition is tricky, but a priority.
"The truth is that gummies are a surprisingly complicated product," Whiteman said. "Creating a product with great taste, the perfect texture, and the ability to scale and hold its form in hot weather takes a lot of work."
Some competitors spray their gummies with hash oil, and the result is an uneven coat. Wana Brands opted for something different.
"We knew we could do it better by infusing the recipe with cannabis oil and investing in refining the recipe," Whiteman said. "We invested in a gummy expert who helped us select the perfect pectin for our vegan gummies and stabilize the recipe so that it could be scaled to large volumes. And over the course of the past decade, we have continued to upgrade and fine-tune our recipe."
Wana Brands would not reveal who the so-called gummy expert was, but we're told that person is still within the company's ranks.
"Now all of our ingredients are all-natural," Whiteman added. "And with our Wana Quick Onset Sour Gummies, we shifted to a recipe with no high-fructose corn syrup. We will be following suit for our classic gummies as well."
Wana's Mantra
Infused versus sprayed is an important differentiation in edibles especially for novice consumers.
"First of all, when a gummy is infused, the end product is going to be homogenous and consistent throughout," Whiteman said. "Some of our customers — especially novice consumers — cut our Wana gummies in half or in quarters. They can count on getting five milligrams of THC and a consistent experience when they cut a 10 milligrams Wana gummy in half. This is not always the case with products that are sprayed."
Consistency is the core mantra, Whiteman says, so that the experience is predictable for the consumer.
The second aspect of "infused" gummies is taste.
"Most sprayed edibles have a hashy aftertaste," she says. "Wana Gummies are known for delicious flavor and very little, if any, hash aftertaste because the products are infused and the recipe is optimized for the best possible flavor. This isn't possible with sprayed edibles."
What's Next?
We are eventually going to see edibles designed for specific experiences and effects, according to Hennesy.
"The research that is going to drive tomorrow's products will grow from our rapidly evolving understanding of the endocannabinoid system," he says. "The potential that this system of the body is capable of unlocking could be unprecedented, leading to the demand for constantly evolving products."
In the meantime, Wana Brands will continue vetting potential technologies to see which edibles work best and pivot when new discoveries are made.
"Innovation is not going to be limited or capped by the current notion of what edibles are today," Hennesy said. "I'm curious to see where edible innovation won't go."
View Comments and Join the Discussion!
Posted-In: Cannabis Government Regulations Entrepreneurship Health Care Exclusives Markets Interview Best of Benzinga