NJ Assembly Passes Cannabis Decriminalization Bill Months Ahead Of Legalization Ballot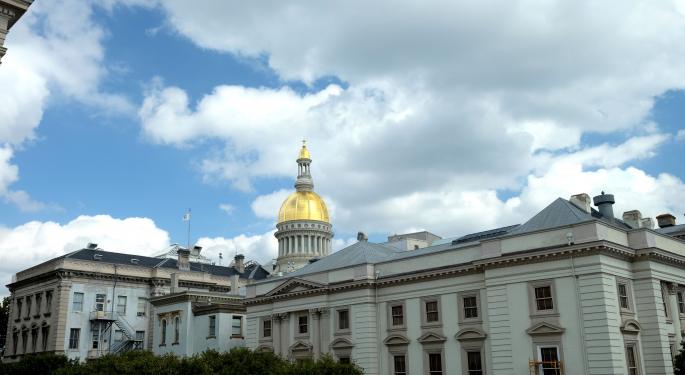 As the time approaches for registered voters in New Jersey to decide on the legalization of adult-use cannabis, the state's assembly passed a bill that, if signed, would decriminalize possession of small amounts of marihuana.
On Thursday, the New Jersey Assembly voted yes on A1987, a bill that would decriminalize possession, manufacture, and distribution of up to 2 ounces of marijuana by reducing these penalties to a $50 fine.
Under the current law, punishment for these charges is up to six months in jail or up to $1,000 in fines.
The assembly voted 63-10, with five abstentions.
'A Vital And Necessary Interim Step'
The A1987 bill establishes the legal presumption that possession of two ounces or less is considered to be for medical cannabis use, which is legal in the state under a medical cannabis program.
It also imposes a "virtual" expungement process for prior arrests and convictions, under which criminal records are removed and convictions and sentences can be postulated for review by the court for no charge.
Lastly, the bill takes measures to prevent discrimination of people affected by marijuana convictions when facing housing and employment situations.
While the measure marks a progress in the state's road to legalization, it was met with hard scrutiny from activists in the field.
DeVaughn Ward, senior legislative counsel of the Marihuana Policy Project, said in a statement that his organization believes cannabis should be legal for all adults, but decriminalization is a vital and necessary interim step.
"However, we encourage the Senate to pass a stronger decriminalization bill. If the legislature fails to enact decriminalization, more than 30,000 individuals in New Jersey will face traumatic arrests and prosecutions while voters wait for Election Day," said Ward.
The organization emphasized the bill fails to remove existing penalties that can be used to criminalize people engaged in the personal use of marijuana, such as possession of paraphernalia, being under the influence of the drug, and not giving one's cannabis to police, all of which are would remain separate crimes punishable by possible jail time.
Not A Standalone Measure In New Jersey
Legalization in the Garden State is gaining momentum. In November of 2020, registered voters will have the opportunity to decide on recreational legalization across the state in a ballot vote.
For activist groups, the need for legalization becomes more urgent every year.
A recent report by the American Civil Liberties Union of New Jersey stated that the number of cannabis arrests has been on the rise in the last decade. Some 95 individuals are arrested every day for cannabis in New Jersey.
A second decriminalization bill was also introduced this month in the Senate. S.2535 would decriminalize up to one pound of cannabis. People caught with these amounts would receive a warning and would only have to pay a $25 fine on a second occasion.
The bill would also eliminate law enforcement's right to detain or arrest someone based on the smell of cannabis, and complement A1987 in the process of reducing risk of discrimination for citizens charged with possession, manufacturing or distribution.
New Jersey State House in Trenton, NJ. Photo by Lowlova, from Wikimedia Commons.
View Comments and Join the Discussion!
Posted-In: cannabis legalization DeVaughn WardCannabis Government Regulations Politics Markets General Best of Benzinga