The Options Market Suggests Tilray's Huge Gains Might Not Last Long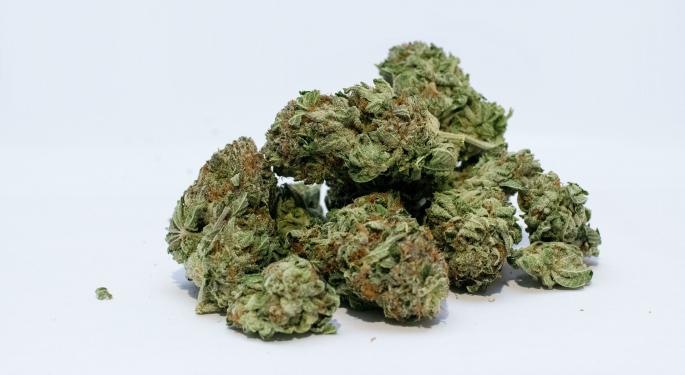 The unbelievable run in Tilray Inc (NASDAQ: TLRY) found a new gear Wednesday when the stock traded up more than 50 percent after the company's Tuesday announcement that it had gained approval from the DEA to import marijuana to the U.S.
Another huge day put Tilray stock up a mind-boggling 612 percent in the past month, but the options market is indicating Tilray stock may soon return to earth.
Options Market Skeptical
A look at the Dec. 21, 2018 put option prices for Tilray reveals that the option market is extremely skeptical of the stock's move to around $220 per share.
As of midday trading on Wednesday, the ask price for a single December Tilray put contract at a $220 strike price was $126. At that price, Tilray shares would need to trade down to $94, a 57-percent drop, just for put buyers to break even on their trade. To earn a 20-percent return on the trade, investors would need the stock price to drop to around $69, or nearly a 70-percent drop.
But the volatility priced into Tilray options isn't exclusively to the downside. The asking price for December call options at a $220 strike price is now $54.50. Call buyers need a share price of $274.50 — a 24.7-percent gain — to break even on the trade. To achieve a 20-percent gain, call buyers would need the stock to rise another 30 percent, which is a tall order for a stock that is already up more than 600 percent in a matter of weeks.
Market Dynamics In Play
Tilray's extraordinary gains are likely being driven in large part by market dynamics, suggesting the stock could experience a large pull-back once volume dies down. As of 11:30 a.m. on Wednesday morning, Tilray's daily trading volume was above 6 million, more than a third of its 17.8 million-share float, according to Yahoo. The stock is being propelled higher in large part due to a lack of available shares on the market to meet the massive demand.
Related Links:
Tilray's First Earnings Print Gives Cannabis Stocks Another Boost
Cronos Group Plummets After Citron Calls It The 'Dark Side Of Cannabis'
Posted-In: Cannabis Short Sellers Education Short Ideas Options Markets Trading Ideas General Best of Benzinga
View Comments and Join the Discussion!