What Is Each Fed President Saying About A Rate Hike?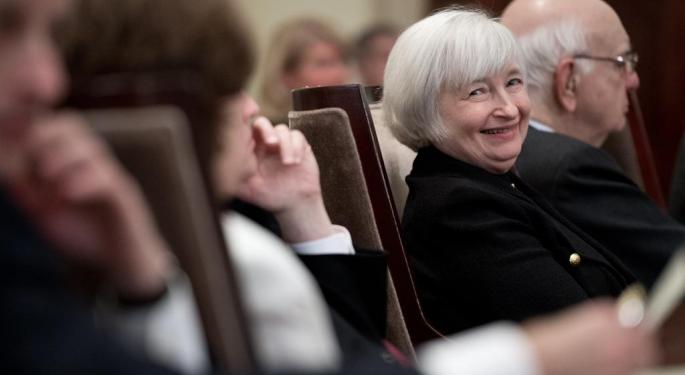 While global financial markets try to determine if the turmoil resulting from China's economic weakness is enough to put a potential September Federal Reserve rate hike on hold for the time being, now is a good time to take a careful look at what 11 of the 13 Federal Reserve Bank Presidents have said about raising rates in recent months.
Philadelphia's Patrick Harker's stance regarding the possible Fed interest rate hike is currently unknown.
1. Boston Fed President Eric Rosengren, July 9, 2015
"If we do continue to get improvements in labor markets, if we do become reasonably confident that we're moving back to 2-percent inflation, it may be appropriate as early as September."
2. New York Fed President William Dudley, June 29, 2015
"If we hit 2.5 percent growth in the second quarter and it looks like the third quarter is shaping up for something similar, then I think you are on a firm enough track that you would imagine you would have made sufficient progress… certainly by the end of the year."
3. Cleveland Fed President Loretta Mester, May 25, 2015
"If the data comes in according to my forecasts then the time is near where we're going to be wanting to raise rates."
4. Richmond Fed President Jeffery Lacker, April 10, 2015
"Unless incoming economic reports diverge substantially from projections, the case for raising rates will remain strong at the June meeting."
5. Atlanta Fed President Dennis Lockhart, August 10, 2015
"I think the point of 'liftoff' is close… The economy has made great gains and is approaching an acceptable normal… conditions are no longer extraordinary."
6. Chicago Fed President Charles Evans, July 9, 2015
"I just don't see why we should be in a hurry with all the risks that we face… A little more time doesn't hurt."
7. St. Louis Fed President James Bullard, July 31, 2015
"We are in good position to make the first normalization move. My sense is that a 25 basis-point move would essentially be a nonevent in financial markets."
8. Minneapolis Fed President Narayana Kocherlakota, August 18, 2015
"I am confident that the time will come when economic conditions will be appropriate for the FOMC to raise the federal-funds rate from its current low level. But that time is not now."
9. Kansas City Fed President Esther George, August 17, 2015
"It's time. You have to have some dose of courage… The situation in the European Union and in China, at this point, [does] not change the trajectory of the U.S. economy, but you will have to wait and see."
10. San Francisco Fed President John Williams, July 8, 2015
"I still believe this will be the year for liftoff, and I still believe that waiting too long to raise rates poses its own risks."
11. Chair of the Federal Reserve Janet Yellen, July 29, 2015
"It will be appropriate to raise the target range for the federal funds rate when [the Fed] has seen some further improvement in the labor market and is reasonably confident that inflation will move back to its 2 percent objective over the medium-term."
With the economic turmoil in China playing out on a day-to-day basis, it remains to be seen if the Fed will in fact pull the trigger on a September rate hike.
Posted-In: Bonds Futures Previews Top Stories Economics Federal Reserve Markets Trading Ideas Best of Benzinga
View Comments and Join the Discussion!