Trade The SNB Interest Rate Decision Report
Each quarter, the Swiss National Bank (SNB) conducts an in-depth policy assessment. This results in an interest rate decision and the publication of a medium-term conditional inflation forecast. The SNB gives the reasons for its decisions in a press release.
On Thursday, September 14, at 3:30 AM ET, the SNB will release this quarter's report. As stated previously, since the governing board members have come to a consensus on where to set the target range for the interest rate, traders watch any interest rate changes closely. Short-term interest rates are the primary factor in how the currency will be valued.
If the report comes out higher than expected, it is considered positive or bullish for the CHF. If it is lower than expected, consider it negative or bearish for the CHF.
However, it is not expected to change. The previous rate was -0.75 percent and the forecast rate remains the same. In fact, the last change in the interest rate occurred in January 2015.
With an importance rating of High, this type of report will undoubtedly cause some movement in the market, but the direction is not known. A proven strategy for a release such as this is an iron condor using Nadex USD/CHF spreads. This strategy is accomplished by entering two spreads, simultaneously buying a lower one and selling an upper one. Make sure the ceiling of the lower one meets the floor of the lower one and is where the market is trading at the time of entry.
Here is an example of what an iron condor looks like if the spreads are shown side by side on a chart. The lower bought spread is 2450.0-2490.0. The upper sold spread is 2490.0-2530.0.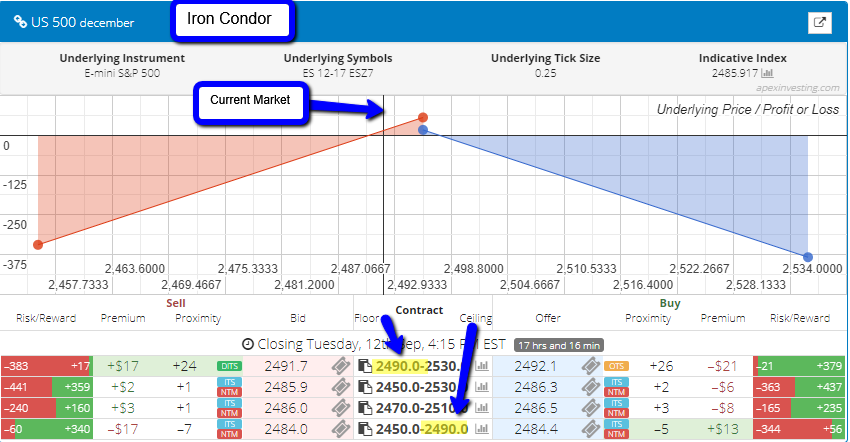 It resembles a bird with its wings outstretched downward. You can see highlighted near the bottom, the floor and the ceiling are both 2490.0. Ideally, have the current market closer to the floor and ceiling levels when entering the trade.
Traders would want to allow enough time for market movement on both sides of the release of the report. Since it is released in the middle of the night US time, the trade could be entered as an overnight trade.
Visit Apex Investing for free day-trading education.
Posted-In: apexinvesting binaryBinary Options Eurozone Futures Commodities Options Forex