A Window Into Future Construction Is An Opportunity To Trade
At 8:30 AM ET on election day in the U.S., Statistics Canada will release its monthly Building Permits news, which measures the total value of new permits and provides a potential indication for future construction projects.
Market reaction trends to this news have consitantly leaned towards rapid activity followed by swift pullback. This pattern could allow for a high probability trade using an Iron Condor strategy trading Nadex spreads. These spreads generally provide a defined risk up front, the strategy using stops to keep risk realistic and to a 1:1 risk reward ratio.
To set the Iron Condor up, entry can be as early as 8:00 AM ET for 10:00 AM ET expiration looking for a profit potential of $30 or more. One spread is bought below the market with the ceiling where the market is trading at the time. A second spread is sold above the market with its floor where the market is trading at the time. The ceiling of the bought spread and floor of the sold spread should meet as well.
A simple way to find an effective spread is to use the Apex spread scanner for trading. The filter brings up spreads for the desired market and expiration while the profit potential is organized by color and amount in the risk/reward columns. Finally, clicking the ticket icon brings up an order ticket and clicking enter inserts the trade.
To view larger image click HERE.
USD/CAD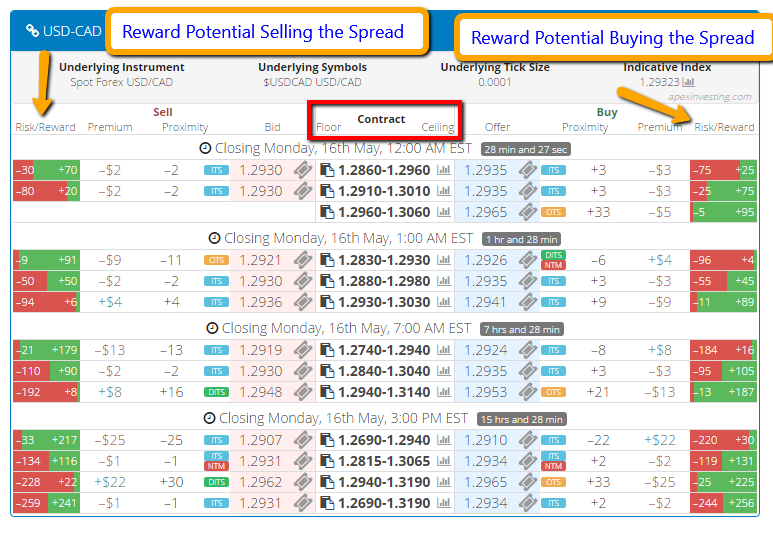 Placing stops at 60 pips above and below where the market would hit the 1:1 risk reward ratio points will keep the risk realistic in the event the market takes off after the news and doesn't pull back. When the market settles anywhere between the two breakeven points, 30 pips above and below, the spread will show profit. Maxiumum profit is achieved when the market settles exactly between the two spreads. Free access to the spread scanner is available to all traders, as well as free day trading education and a news calendar full of events for trading. Just visit Apex Investing.
Posted-In: apexinvestingBinary Options Eurozone Futures Commodities Options Forex Markets