Robinhood CEO On Trading Halts: 'We Made The Correct Decision'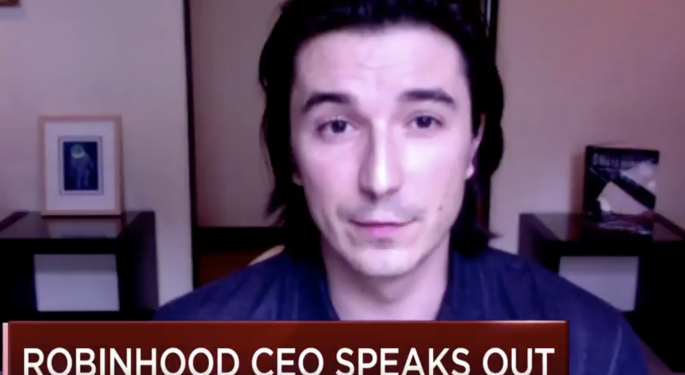 Vlad Tenev, a co-founder of Robinhood, has spoken to CNBC host Andrew Ross Sorkin on today's show.
What Happened: Tenev said he thought Robinhood had made the right decision today to halt trading on several stocks.
"In order to protect the firm and protect our customers, we had to limit buying in these stocks," Tenev said.
He added that the safety of the platform's users is a priority for tomorrow, expressing his surprise over "such interest in a few stocks."
Why It Matters: Earlier today, Robinhood announced it had restricted trading on certain stocks, including GameStop Corp. (NYSE: GME), AMC Entertainment Holdings Inc (NYSE: AMC), others, sparking an outcry on social media.
"As a brokerage firm, Robinhood has many financial requirements, including SEC net capital obligations and clearinghouse deposits. Some of these requirements fluctuate based on volatility in the markets and can be substantial in the current environment," Tenev clarified in a series of tweets.
What's Next: Tenev said the platform plans to "allow limited buys of these securities," continuing to monitor the situation and make necessary adjustments.
"We're doing what we can to allow trading in certain securities tomorrow morning," the CEO also said on the CNBC show.
Several lawmakers have expressed their concern and criticism following Robinhood's announcement.
Representative Alexandria Ocasio-Cortez called the move "unacceptable" and said she would "support a hearing if necessary."
This is unacceptable.

We now need to know more about @RobinhoodApp's decision to block retail investors from purchasing stock while hedge funds are freely able to trade the stock as they see fit.

As a member of the Financial Services Cmte, I'd support a hearing if necessary. https://t.co/4Qyrolgzyt

— Alexandria Ocasio-Cortez (@AOC) January 28, 2021
A U.S. Representative from Silicon Valley Ro Khanna suggested an investigation into RobinhoodApp's decision" and who might have been behind it.
"This shows the need for a financial transaction tax on hedge fund shorting and SEC regulations on short selling practices."
Image: Screenshot of a live stream
View Comments and Join the Discussion!
Posted-In: CNBC RobinhoodMarkets Media Best of Benzinga