Chipotle vs. Panera Bread - Which Will Stuff Your Wallet?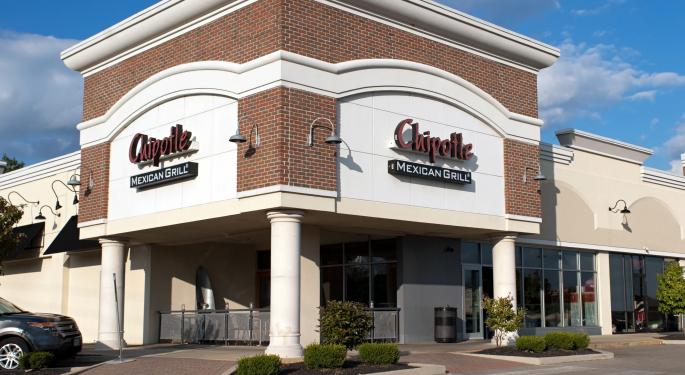 Fast-food stocks are generally highly visible due to the nature of the business, which involves frequent contact with the public. While there are plenty of fast-food stocks to choose from, so-called "fresh" fast-food concepts, including Chipotle (NYSE: CMG) and Panera Bread (NASDAQ: PNRA), provide alternatives to the traditional "burger and fries" model.
Here we will take a look at how the stocks for these two fast-food alternatives fared in 2013, and into 2014.
It is hard to look at the past year's stock charts for Chipotle, from the perspective of an investor, and not feel something. If you held the stock for the year, you doubtlessly feel giddy, elated, lucky, or a combination of all three. If you didn't hold the stock last year you may be kicking yourself.
Chipotle began 2013 at $305 and shot higher, going above $400 in July, and then jumping above $540 in October. In fact, the company's stock jumped from $440 to $520 in one week - October 17 to 23.
Chipotle never pulled back, and finished the year strong at $532. This increase represented a gain of 74 percent for the year. Going into the 5th trading week of January 2014, however, the company's stock is beginning to lose steam, falling under $500 in recent trading.
Related: Anheuser Busch Or Molson Coors: Which Is The Better Bet?
Panera began 2013 trading at $160. Trading up to a yearly high of $194.77 in late May, investors would have been wise to sell and collect a 22 percent profit.
For those who decided to stick with the stock, there would be a few more opportunities to sell the stock above $190, before Panera permanently fell under the $190 mark in July. For the rest of the year, Panera underperformed, reaching a low of $151.90 in October and closing the year at $176. Those who held the stock throughout the year saw a paltry 10 percent return, in a year that the broader market averages closed with gains above 25 percent.
The food service businesses can rise and fall on the sometimes fickle attitudes of the public. Food and restaurants that were in demand yesterday may quickly fall from grace tomorrow. Panera's 2013 returns are a good example of this.
The company reported profits in 2013, which were in line with industry expectations. But the company's shares were penalized because customer visits to corporate-owned stores did not grow in line with analysts' expectations. Third quarter filings showed that the company had grown same-store (opened 18 months or more) visits by 1.7 percent, instead of the 2.7 percent that analysts had predicted.
As we go into 2014 and are in the midst of a mild broad market sell-off, both Panera and Chipotle shares are feeling the pinch. What will ultimately determine these companies' fates is their abilities to continue to grow in popularity with customers – which translates to more visits and greater profits.
View Comments and Join the Discussion!
Posted-In: Chipotle Panera BreadMarkets Best of Benzinga