Electronic Arts or Activision: Which is the Better Bet?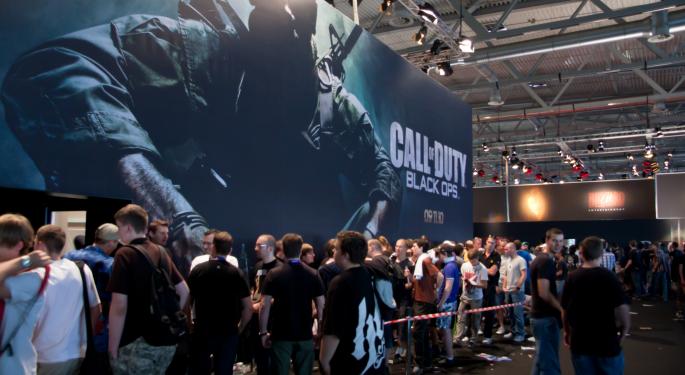 2013 saw major console manufacturers Sony and Microsoft finally release their long-awaited consoles, the PlayStation 4 and the Xbox One. The real action, however, was in the producers of the video games that run on the systems. In fact, 2013 saw the release of Grand Theft Auto V, which was the fastest-selling media product in history – grossing $800 million in the first 24 hours, and over $1 billion in the in just 3 days.
2013 was a banner year for video games. Here we will look at a couple of the industry's most important video game producers, Electronic Arts(NASDAQ: EA) and Activision Blizzard(NASDAQ: ATVI).
Those who invested in Electronic Arts stock at the beginning of 2013 were in for a pleasant surprise. The stock traded at just $15.00 on January 2, on the low end of its 24-month range at the time. 2013 turned out to be a great year for stocks in general, but Electronic Arts far surpassed both the Dow Jones and the S&P.
Related: Best Buy or HH Gregg: Which is the Better Bet?
The stock had a pretty steady climb through the year until the heat picked up, hitting a yearly high of nearly $28.00 in late summer. Investors who sold at the top would have nearly doubled their money. The stock couldn't hold on to the highs and fell to $22.94 to close out the year. Those who held the stock until the end of the year saw returns just over 50 percent – far outstripping the major index averages.
Activision began 2013 at about $11.00. The stock jumped to $18.27 by mid-summer and never gave back its gains, closing the year at $17.83. According to a report by Amazon.com, Activision is riding high on its Call of Duty gaming series.
Activision had about 20 percent of the video gaming market in 2013, and Call of Duty accounted for about 70 percent of that market share. At 62 percent, Activision's overall yearly return was not only better than that of Electronic Arts, but as the stock traded in a more stable range throughout 2013, major investors would have undoubtedly suffered fewer sleepless nights due to stock volatility.
Many market insiders predicted that the end of the console, and hence the end of the dominance of major video game producers, was nigh. They pointed to the rise of mobile gaming and cloud-based gaming services as proof.
But the popularity of newer video games and of the new consoles, which promptly sold out in nearly all venues, lends credence to the idea that gamers are still willing to shell out big bucks in order to play high-quality games on a top-notch gaming system.
This portends well for game makers like Electronic Arts and Activision.
Posted-In: Markets Trading Ideas Best of Benzinga
View Comments and Join the Discussion!