China Aims To Curb Youth Video Gaming By Adding Time Restrictions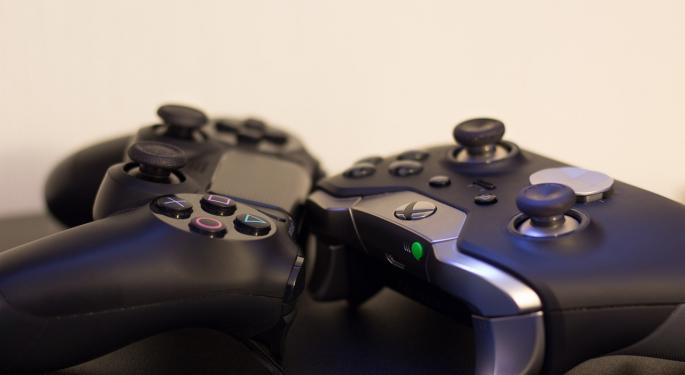 The Chinese government says it will restrict how long kids there can play video games, when they can play and how much they can spend.
The government education ministry announced late last week it's working to develop a registration system that will require gaming companies to check the true identity of players. Kids under 18 will be limited to 90 minutes of playing time on weekdays and three hours per day on weekends and holidays.
The system will also have a limit on spending – with kids under 18 limited to just under $60 a month and kids under 16 capped at spending about $30 a month.
"Some minors are addicted to games and excessive consumption, which are worthy of high attention," the government said in an announcement on state-run Xinhua News Service.
The government acknowledged that it may not be able to completely regulate all minors' game use, at least without the help of parents.
"Without the effective supervision and support of accompanying guardians, the implementation of the relevant system will inevitably be greatly reduced," the announcement said.
Tencent Impact
The government announcement already was affecting the top Chinese internet company. Hong Kong-listed shares of Tencent Holding /ADR (OTC: TCEHY) dropped almost 5% after the announcement on Friday.
Tencent has a stake in Epic Games, the makers of "Fortnite," as well as a minority stake in Activision Blizzard Inc. (NASDAQ: ATVI), and partnerships with other game companies.
China's new rules aimed at protecting video-game addicted kids poses another regulatory quagmire for #Tencent, as it continues to recover from last year's freeze on gaming approvals and its attempt to diversify hits roadblocks. By @cocojournalist #technews https://t.co/OwwxzLznBp

— Dean Napolitano (@NapolitanoDean) November 8, 2019
China has hundreds of millions of players expected to generate nearly $40 million in revenue for gaming companies. Market research firm Newzoo says China's games market is just behind the United States in the size of its market, with both coming in at just over $36 billion per year.
Effect on American Companies a Question
It's not clear how much of an impediment the move could be to other gaming companies seeking to participate in the Chinese market, which is already more difficult than in other parts of the world.
China must approve local licenses for foreign game companies, and earlier this year stopped doing so for a time, and then when it resumed, it did so with heavy restrictions on content, including measures aimed at prohibiting many violent scenes.
Analysts say many local Chinese companies, including Tencent, and NetEase, another Chinese partner of Activision, already have put limits on younger Chinese users.
Activision Blizzard shares were down earlier this week, though it wasn't clear that the Chinese announcement late last week was affecting the stock.
Markets Insider reported last month that Activision generated nearly $400 million in Asia in the first half of this year and expanded its 10-year partnership with NetEase, and has cited opportunity for growth in China as important.
Related Links:
How Video Game Stocks Perform Heading Into The Holiday Shopping Season
Sell-Side Likes The Outlook For Activision Blizzard, Take-Two Interactive
Posted-In: China Fortnite video gamesGovernment Regulations Tech Best of Benzinga
View Comments and Join the Discussion!