Resurgent Detroit: 5 Ways Detroit Is Being Green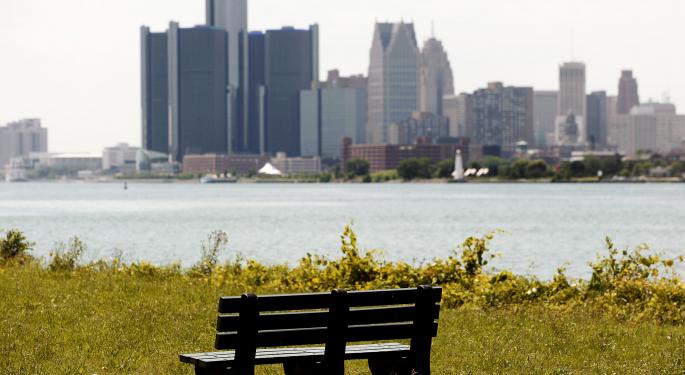 In anticipation of Benzinga's headquarters moving to the heart of Detroit, we'll be putting out a monthly series highlighting new establishments and exciting things going on in what will be our new home. To read last month's piece about fashion in Detroit, click here.
While the concept of being green -- environmentally aware and responsible -- is relatively new on a large scale, the city of Detroit has been engaging in sustainable, renewable practices for decades.
Both new and old organizations are promoting green practices through downtown Detroit and its surrounding neighborhoods. Here are just a few different ways people are keeping Motown eco-friendly:
Green Buildings
A member of the Quicken Loan family of companies, Bedrock Real Estate Services has received green awards for its buildings in downtown Detroit, including the Madison building (1555 Broadway), which was designed by local firm Neumann/Smith Architecture, and the Chrysler House (719 Griswold). Many of Bedrock's buildings also use biodegradable cleaning products, says the Detroit Free Press.
In addition, the company utilizes energy efficient and solar powered lighting, reclaimed materials, and "smart" technology which optimizes mechanical, electrical and plumbing systems. Parking garages have electric vehicle charging stations and Bedrock is even working with Detroit Dirt on plans for a future composting project.
"Bedrock's mission is to leave any environment we enter into better than we found it," says Darlene Strickland, Bedrock's Director of Triage and Transition. "We take green practices seriously and feel a responsibility to be good stewards over the environment."
"A truly #green city is one that gets greener because of economic development, not in spite of it." Read more: https://t.co/jBXdr4qNl2

— Bedrock Real Estate (@BedrockRES) April 27, 2015
Plant Life & Greenery
Since 1989, The Greening of Detroit has planted more than 85,000 trees in Detroit and nearby cities. According to the nonprofit's website, the neighborhood trees not only improve both air quality and real estate value, but also reduce storm water runoff and clean toxic soil.
The Greening of Detroit also engages in city garden projects, which includes installing urban gardens downtown and restoring local parks.
Detroit has more than 20 miles of vacant land, according to Greening of Detroit Spokesperson Trish Hubbell, and using green treatments (trees, vegetation and gardens) on some of the vacant lots will provide economic, environmental and social benefits to Detroit residents.
"We are committed to inspiring sustainable growth of a healthy, urban community through trees, green spaces, food, education, training and job opportunities," Hubbell told Benzinga.
Hey to all the awesome volunteers coming out this morning. We plant rain or shine. We promise it will be a good... http://t.co/vij6ydE65v

— TheGreeningofDetroit (@GreeningDetroit) May 9, 2015
Recycling
For a rust belt city to stay green, recycling is key. While Detroit doesn't have city-wide curbside recycling, there's a local center for home goods called Recycle Here! and funded by the City of Detroit through the Greater Detroit Resource Recovery Authority.
Even more than that, there's City Recycling: a full-service scrap metal recycler and processor. City Recycling has been buying and recycling ferrous and non-ferrous metals like steel, iron, copper and more for more than 25 years.
Make Every Day Earth Day! Choose 1 thing that is earth friendly and do that every day for the next year. Bee Green! pic.twitter.com/yaITVA6zYC

— Recycle Here! (@recyclehere) April 22, 2015
Renewable Energy
Detroit Renewable Energy isn't just a company -- it's an association of multiple green power companies.
Detroit Thermal provides steam for space heating, hot water heating and absorption chilling to more than 140 buildings in Detroit; Detroit Renewable Power processes up to 3,300 tons of municipal solid waste per day and turns it into fuel; and Hamtramck Energy Services offers third-party expertise in managing and staffing of several General Motors powerhouses.
"Detroit is a vital home to hundreds of thousands of people and thousands of businesses," CEO Steven White told Benzinga. "Its resurgence as a center for economic development and a safe, progressive lifestyle for its residents depends greatly on a clean environment, sustainable energy supply, and sound public and private infrastructure."
White added that Detroit Renewable Energy is honored to be a party of the iconic industrial and cultural legacy that Detroit represents.
Detroit Renewable Energy completes major #financing http://t.co/7Y4nIKJZOz #miscellaneous #detroitrenewableenergy

— Energy Next (@energy_next) August 14, 2013
Bike Share
Zagster supplies bike sharing programs for universities, businesses, hotels and multi-family residential properties across the United States. General Motors, DTE Energy and Quicken Loans -- all of which are headquartered in downtown Detroit -- are bikeshare partners of Zagster.
Since Zagster launched with Quicken Loans two years ago, it's seen dramatic growth in utilization, membership and bikes, Co-Founder and CEO Timothy Ericson told Benzinga.
"When Quicken Loans contacted us about bringing Zagster to Detroit, it was a no-brainer. To bring a bike sharing system to Motor City? We knew that we could work together to prove that bike sharing could work even here," Ericson said. "To date, we haven't used a single taxpayer dollar and the program is thriving."
When the weather is this good, everyday is #BiketoWorkDay! Check out @rallenMI cruising to an assignment in Detroit! pic.twitter.com/KHVQb3k4Uz

— Zagster (@zagster) May 7, 2015
View Comments and Join the Discussion!
Posted-In: Bedrock Real Estate DetroitTravel Success Stories Startups Small Business Exclusives General Best of Benzinga