Recent Bad PR Has Caused Cruise Prices To Plummet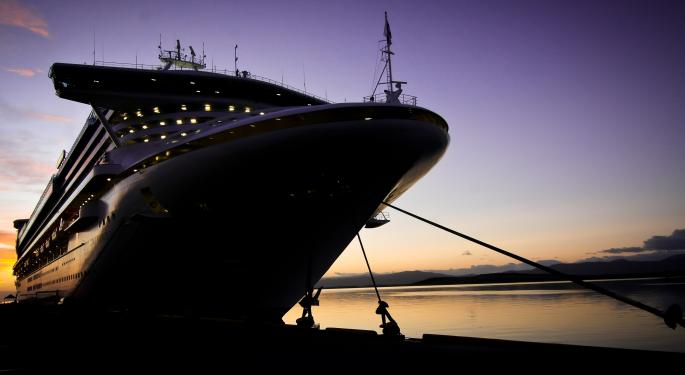 If you're thinking of booking a cruise for a future vacation, now might be the time thanks to a string of outbreaks that have caused cruise lines to drop prices to bargain-basement levels.
It all started with Royal Caribbean (NYSE: RCL). The cruise line was forced to cut a recent cruise short when nearly 700 people became sick with norovirus—a virus that causes gastrointestinal upset including vomiting, diarrhea, and fever.
In most cases the virus is not fatal or even serious, but when a third of the passengers on your ship spend more time in the bathroom than on your party deck, that's bad for business.
Related: Is An Outbreak On A Cruise Ship Cause For Investor Concern?
But that wasn't all. A Princess Cruises ship was forced to return to port early after 200 passengers fell ill with the same infection. This follows the Carnival "poop cruise" and the Costa Concordia tragedy still lingering in potential passengers' minds.
As a result, cruise lines have slashed prices. Royal Caribbean now has cruises that average $32 per night—yes, cheaper than one of those cheap motels. A four-night Bahamas Cruise is for sale on its website for $149 per person.
Of course, there are taxes, fees, and all of those enticing offers that will get your wallet open once you board the ship, but there's no denying that those sick passengers' loss is your gain. (Although those afflicted by the norovirus got a refund plus a free cruise in most cases.)
The cruise industry has made changes to the design of the ships and operating procedures that greatly reduce the chances of a "poop cruise" but when it comes to sickness, it's largely out of their control. Thousands of people in close quarters means one person boarding a ship with a virus could ruin the vacation of thousands of people.
If you purchase one of those bargain cruises, there are ways to reduce your exposure to the virus, according to a Royal Caribbean blog post. Wash your hands after using restrooms and before eating food. Also, don't shake hands during outbreaks, and wash laundry that may be contaminated by any bodily substance immediately.
Finally, visit the CDC's Vessel Sanitation webpage to view inspection reports and other important information before deciding on a cruise line.
Disclosure: At the time of this writing, Tim Parker had no position in the above mentioned stocks.
View Comments and Join the Discussion!
Posted-In: carnival CDC royal caribbeanTopics Travel General Best of Benzinga