How Much Is The Trump Organization Costing Taxpayers?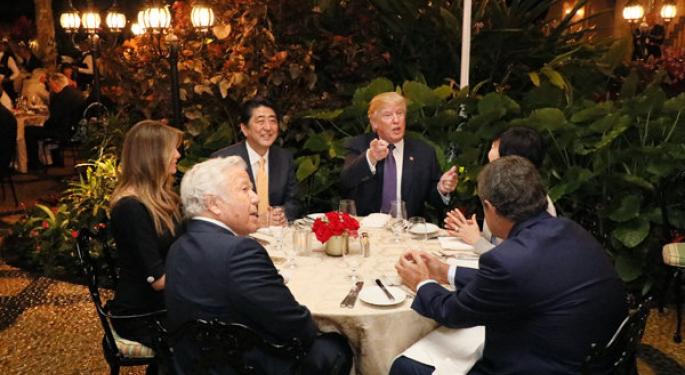 Donald Trump is by far the wealthiest U.S. president in history, but it hasn't stopped him and his family from running up Secret Service costs on taxpayers.
Protecting the president's sons and daughters around the clock has always been part of the job description for the Secret Service, but the costs associated with Trump's family are unprecedented. While he's in the White House, Trump has placed his businesses, including The Trump Foundation, in the hands of his two adult sons, Eric and Donald Jr.
Protecting On-The-Go Adult Businessmen Is Different
While Secret Service costs associated with President Barack Obama's daughters included escorting them around the Washington D.C. area, the Secret Service must now accompany Trump's sons on international business trips to some of the most exotic and expensive locations in the world. For example, the Washington Post reported that Eric Trump's recent trip to Uruguay cost taxpayers an estimated $97,830 in hotel expenses alone.
Since January, Eric Trump has attended business events in Uruguay, the Dominican Republic, Dubai and Vancouver, Canada. All the while, the Secret Service has been traveling alongside him and coordinating protection with local security forces and U.S. embassies.
"When you have a presidential family like the Trump family that is so involved in international business, the logistical issues, the costs and the security risks are more substantial than we're used to seeing," U.S. Naval Academy professor Brendan Doherty explained.
The New York White House
First Lady Melania Trump has also continued to reside in Trump's Fifth Avenue tower complex rather than move into the White House. A spokesperson for the First Lady recently denied reports that she will be staying in the $100 million New York apartment indefinitely. Instead, she reportedly intends to stay there only until the end of her 10-year-old son's school year. In the meantime, costs associated with travel back and forth to Washington and security costs associated with Secret Service protection in one of the most expensive and crowded residential markets in the world will continue to mount.
For taxpayers, the unprecedented security costs are unfortunately just part of the package when it comes to having a billionaire with a large business-minded family and expensive tastes in the White House.
Related Link: Could Trump Impede Michelle Obama's Health Initiatives?
Related Link: A History Of Businessmen In Politics
Related Link: It Seems No One Cares About The Nordstrom, Ivanka Trump Fiasco Anymore
_______
Image Credit: Prime Minister Shinzō Abe and President Donald Trump having dinner in Palm Beach, By 内閣官房内閣広報室 - 平成29年02月10日 米国訪問 -1日目 -, CC BY 4.0, Via Wikimedia Commons
View Comments and Join the Discussion!
Posted-In: Brendan Doherty Donald TrumpPolitics Topics Travel Top Stories Media General Best of Benzinga