Trump Cabinet Pick Profits Off Biotech Bill He Introduced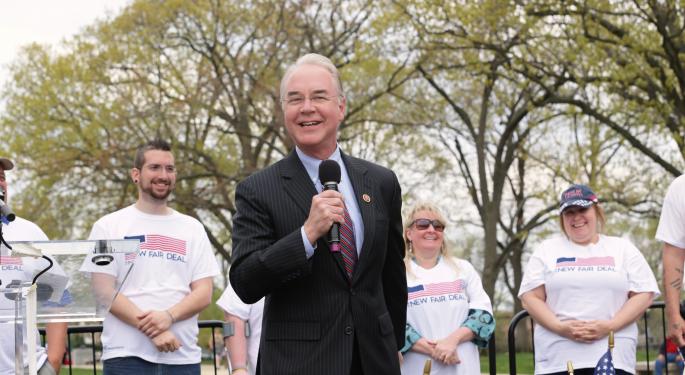 Even before Donald Trump is inaugurated as president, a scandal has come to rock the incoming regime. A CNN report has revealed that Rep. Tom Price, Trump's nominee for Health and Human Services secretary has unethically bought shares in Zimmer Biomet Holdings Inc (NYSE: ZBH) days ahead of introducing a legislation that would have benefited the company.
Shady Buy?
The congressman representing the Georgia state reportedly bought Zimmer Biomet shares, valued between $1,0001 and $15,000 in March 2016. So, what is the big deal? Isn't Price entitled to his choice of investment avenue, as with any ordinary U.S. citizen?
The devil is in the details. In about a week after his purchase, Price introduced the HIP Act, which seeks to delay until 2018 a CMS regulation, which would have hurt the prospects of Zimmer Biomet. The company is one of the two manufacturers of knee and hip implants, which might have been severely impaired by the new CMS regulation that was targeted by the HIP Act. The regulation concerns payments for procedures involving knee and hip implants.
Now that is using the public office for a personal gain, which may not go down well with everyone.
Returning In Kind
On top of this, Price was also beneficiary of generous donations from Zimmer Biomet. Returning in kind, the company made two donations amounting to $1,000 to the Republican's re-election committee, once when he wrote a letter to the CMS in September 2015, warning of the impact of the regulation, and the second time, three months after he introduced the legislation.
CNN's revelation now adds credence to a Wall Street Journal report that alleged that Price traded about $300,000 in shares over the past four years even while pursuing legislation that could impact these shares.
The latest revelation could come in the way of his confirmation even as the incoming Trump administration has a gargantuan task of replacing the Affordable Care Act with an alternative Republican plan. However, in defense of Price, an aide reportedly said Price's is a broker-directed account and he has no knowledge of the stock transactions.
Image Credit: By Mark Taylor (https://www.flickr.com/photos/n3tel/8655872032/) [CC BY 2.0], via Wikimedia Commons
Posted-In: cnn Donald Trump health and human services Tom PricePolitics Media General
View Comments and Join the Discussion!