The Top 5 Biotech Gainers Of 2014
This week brings to close yet another year of gains for the stock market, the sixth straight year in this bull run.
The benchmark S&P 500 started off 2014 at 1848 and as of Friday the index sat at 2088.
Some of the top industries of the year include airlines, semiconductors, hospitals, aluminum, Internet service providers and residential REITs.
Another industry cracking this year's top 10? Biotechnology.
With so many biotech names making the headlines this year, investors may find it hard to know which company's stocks performed the best.
Below is a list of the top-five performing biotech stocks of 2014.
Coming in at No. 5 would be Achillion Pharmaceuticals, Inc. (NASDAQ: ACHN).
After starting the year under $4 per share, Achillion increased by 278 percent over the next 12 months and closed Friday at $12.82.
In fourth place would be Bluebird Bio Inc (NASDAQ: BLUE) with a 320 percent increase during the same 12-month period of time.
Related Link: Is Sangamo The Next Biotech Stock To Break Out?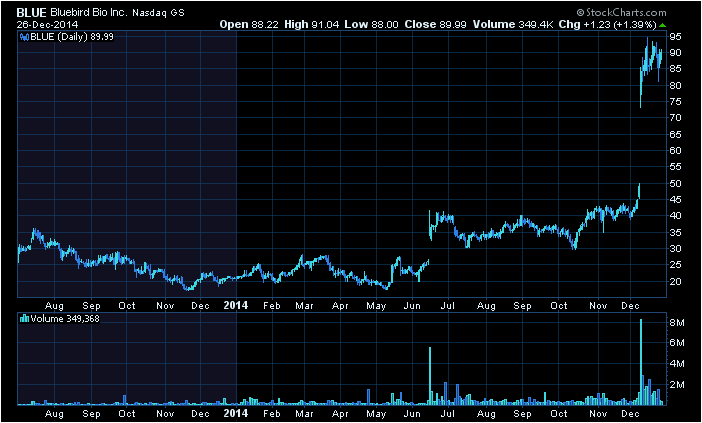 Bluebird ended last week at $89.99 after starting the year off at just under $21 per share.
Next up on the list would be TG Therapeutics Inc (NASDAQ: TGTX).
TG has increased by 321 percent during 2014, going from around $4 per share to start the year and closing Friday at $16.18.
The second-biggest biotech gainer of 2014 comes from Receptos Inc (NASDAQ: RCPT).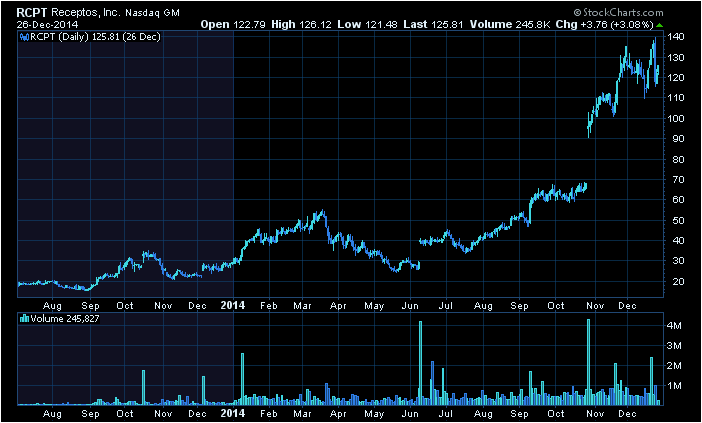 Receptos increased by 357 percent this year. Seeing the stock above $100 for the last two months may make it hard to remember that Receptos wasn't even a $30 stock at the beginning of 2014.
The No. 1 performance of 2014 by a biotech stock comes from Agios Pharmaceuticals Inc (NASDAQ: AGIO).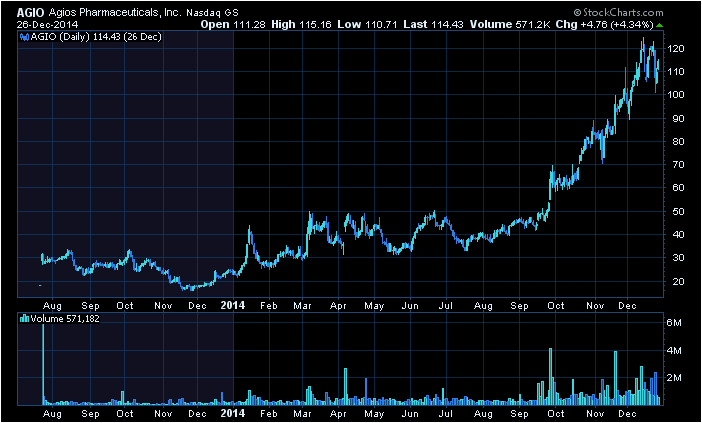 Agios has almost quadrupled over the last year having gained 371 percent. The stock closed on Friday at $114.43.
The biotech stocks considered for this review were confined to those over $5 per share that traded at least 500,000 shares a day based on a 90-day average.
Posted in: Biotech Health Care Technicals Trading Ideas General Best of Benzinga