If You Were A Free Agent, What Would You Do In Detroit With $324 Million?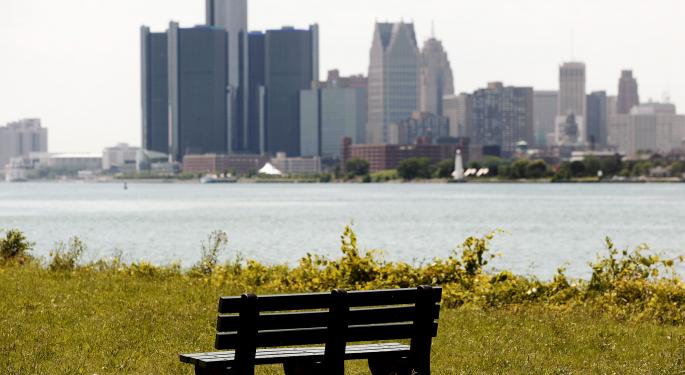 It has not been a happy winter for Detroit sports fans.
Cy Young winner Max Scherzer, a member of the Detroit Tigers from 2010-2014 and noted math/finance wiz, signed a $210-million deal with the Washington Nationals. Ndamukong Suh, a five-year veteran of the Detroit Lions and good friend of Warren Buffett, accepted the biggest contract for a defensive player in NFL history at $114 million with the Miami Dolphins.
These players certainly earned their record-setting deals, but that is little compensation for their teams and fans in the Motor City.
That got Benzinga thinking -- what exactly could someone do with $324 million (total combined value of the two contracts) in the city of Detroit?
Several area professionals weighed in with their opinions.
Startups
"I'd use that money to create an incredible experience for startups, both on the team side and company," said Ted Serbinski, ex-Silicon Valley entrepreneur, investor and managing director of Techstars Mobility.
"I'd buy a few buildings and create a campus-like environment for companies to live, work, play, and create in. I'd focus on bringing in or starting incredible food, beverage and lifestyle companies around them. I'd carve out a nice chunk of money to invest in startups, from seed stage to more mature companies. And I'd spend a lot of it on marketing the amazing power of Detroit and using that to attract the right type of folks to town."
Serbinski knows his plan sounds pretty familiar.
"If this sounds a lot like Dan Gilbert or Tony Hsieh (Vegas), well it is. Those guys are brilliant and doing much of the same thing I'd do with $324 million."
New York Times best-selling author Josh Linker told Benzinga, "I would focus on investing in startups. $324 million could launch hundreds of new companies and make a real difference. As they grow, the investment dollars create tremendous leverage by creating new jobs, diversifying our economy and keeping talented people in the state.
"Rather than a 1:1 ratio to cure past problems, I'd invest heavily in the future to drive economic prosperity and maximize the investment to create the biggest possible long-term impact."
Public Transit
"I would focus on public transit investment. Want to help make the M1 as effective as possible. The city needs effective mass transit and someone with that kind of spare capital should support any efforts to ensure it'd succeed," said Zak Pashak, founder and president of Detroit Bikes.
"Build charter schools, buy real estate, develop regional transit," said Mike Ferlito.
He is a partner with The Ferlito Group and owns an Anytime Fitness located in downtown Detroit.
Restoration & Creation
"Redevelop the Michigan Central train station in Corktown," said Amanda Lewan, founder and editor of Michipreneur, a website focused on news, events and other information regarding Michigan startups and businesses.
"I would be a world-class Shakespeare company, comparable to The Globe in London," said Sam White, founder of Shakespeare In Detroit. The company produces updated versions of plays written by William Shakespeare. The $324 million "would attract thousands of tourists to the city each year."
Founder and CEO of Healthy Detroit, Nicholas Mukhtar told Benzinga, "We'd funnel the majority of that money into our HealthPark initiative -- creating state of the art health hubs throughout the city with the goal of improving health outcomes for our residents.
"With over 350 parks in the city and a DRD budget of around $15 million for FY15, the influx of that kind of money would help us redevelop all of them -- providing unique economic development, community engagement, and active, healthy lifestyle opportunities."
Related Link: Resurgent Detroit: 5 Ways The Motor City Is Getting Fit?
Personal Use
"If private-sector billionaires gifted me with a lump sum windfall of $324 million, my first instinct would be to hire a financial advisor who specializes in high net worth individuals," said Bill Shea, Enterprise editor and reporter for Crain's Detroit Business.
"I'd then follow their advice, and seek ways to minimize the tax implications. I'd I would ditch my phone and erase all of my social media accounts, and no one would ever hear from me again.
"The net benefit to Detroit would be addition by subtraction, as my detractors would tell you."
What would you do with $324 million?
Brianna Valleskey contributed to this report.
Posted-In: Amanda LewanEntrepreneurship Top Stories Economics Be Your Own Boss Startups Exclusives General Best of Benzinga
View Comments and Join the Discussion!