To Succeed With Tumblr, Yahoo Has to Reverse a History of Questionable Acquisitions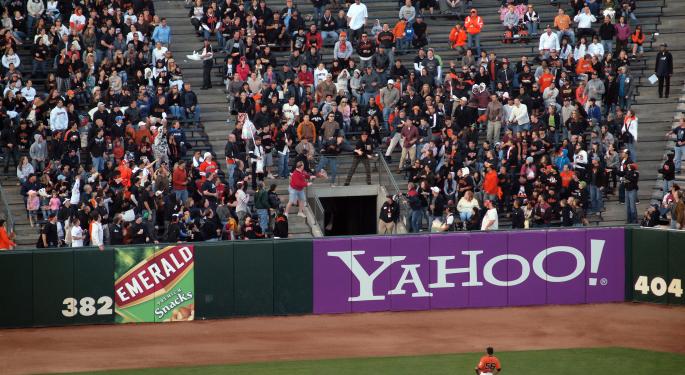 With the blessing of its board on Sunday, Yahoo (NASDAQ: YHOO) acquired Tumblr, the trendy social network most popular among teens, at a favorable valuation of $1.1 billion.
This means Marissa Meyer and company shelled out about a quarter of the company's cash on the chance that they can monetize the social network run by David Karp. The attempt at monetization comes as Yahoo hopes to appease the Tumblr faithful while simultaneously growing the site.
This wouldn't mark the first time Yahoo has swallowed up a booming startup, as its long list of buyouts display. Meyer has high hopes for Tumblr, and in the company's press release, Yahoo promises not to "screw it up."
But to achieve its high expectations, Yahoo will have to reverse the course of a long, miserable history of unsuccessful acquisitions. Here are nine of Yahoo's most notable acquisitions gone awry.
Follow Alex Biles on Twitter at @perfectlyaloof.
Posted-In: Broadcast.com DeliciousNews Entrepreneurship Rumors M&A Tech General Best of Benzinga
1. Broadcast.com (1999)

Mark Cuban founded broadcast.com with Christopher Jaeb and Todd Wagner as AudioNet in 1995. The company broadcasted talk radio live on the Internet and later added sports and even presidential conventions.

Broadcast.com went public in 1998, setting a one-day record for IPOs (at the time) by rising almost 250 percent from its opening price, climbing from $18 per share to $62.75.

Yahoo acquired broadcast.com for $5.7 billion in 1999, eventually splitting its services into Yahoo Launchcast for music and the now discontinued Yahoo Platinum for video. (Photo: Wikimedia Commons).

2. GeoCities (1999)

Yahoo bought GeoCities for $3.6 billion in 1999. At the time, GeoCities was the third-most trafficked website in the world, offering a web host and online community in one.

Yahoo let GeoCities simply sit there, rotting away like a summer squash in a fiery autumn before sounding its death knell in 2009. (Photo: ArsTechnica).

3. eGroups (2000)

Founded in 1997, eGroups was a large web community that allowed users to create their own email lists and subscribe to others, along with group calendars, chats and a file space.

By 1999, its 13 million users were exchanging over 1.3 billion emails a month. Following a merger with rival, ONElist, eGroups.com started work on an IPO, but not before Yahoo swooped in and acquired the company for $420 million in 2000.

eGroups would morph into Yahoo Groups, an obsolete dinosaur of a social network that must still attract some users, because it's still around today. (Photo: scripting.com).

4. Overture Services, Inc. (2003)

Overture Services was among the biggest names to offer pay-for-placement search services in the late 90s, driving huge amounts of traffic to sites like MSN and Yahoo that could afford to grant their content high placement in search results.

In 2003, Yahoo purchased Overture, fresh off a lawsuit against Google on account of similarities between Overture's services and Google's AdWords.

Around the same time of the acquisition, Overture partnered with an adware developer, the Claria Corporation. The partnership would prove to be contentious with Yahoo, as Claria's software would trigger pop-up ads with the same search results as Yahoo's. Yahoo would come out with the Yahoo Toolbar, which actually removed the same adware that formed the basis of the Overture - Claria relationship. This may have put even more stress between Overture's management and Yahoo.

5. Flickr (2005)

Flickr was acquired by Yahoo for $40 million in 2005 with incredibly high expectations.

For the next two years, Flickr would continue to grow, becoming the best photo management and sharing option available on the Internet.

But then it seemingly stood stagnant, as Facebook and Instagram superseded Flickr in the photo sharing department. As far as photo storage goes, outlets like Dropbox sprung up to meet demand.

As the story goes, Yahoo's desire to micromanage Flickr, coupled with a push for integration over innovation killed Flickr's potential. The Flickr community was overlooked and a top-down approach resulted in a disastrous mobile app.

Just look how quickly traffic dropped in 2012.

6. Konfabulator (2005)

Once a growing and thriving service, Konfabulator was a personalized widget service that allowed users to integrate open source apps of their choosing on desktops.

Re-branded as Yahoo Widgets, the management style of higher-ups bothered Konfabulator's founding engineers to the point where they began to quit by 2006. Yahoo Widgets was discontinued completely in 2012. (Photo: www.sizemoresr.com).

7. Delicious (2005)

Delicious was founded in 2003 (as del.icio.us) and swallowed by Yahoo in 2005 for $20 million. Yahoo did nothing with the site, which contained "popular" and "recent" pages, not unlike Reddit.

Upset at the new ownership, a steady stream of Delicious' users abandoned the site for alternatives, which is a trend that has continued even after Yahoo sold off Delicious to the founders of YouTube in 2011. (Photo: CrunchBase).

8. Jumpcut (2006)

Once a promising up-and-comer, Jumpcut.com provided free video editing and hosting.

Yahoo neglected its 2006 acquisition, eventually terminating user ability to upload videos in 2008 and completely discontinuing the service in 2009. (Photo: TechCrunch).

9. Summly (2013)

Under the reign of new CEO Marissa Mayer, Yahoo has devoured small startups nobody has heard of.

Perhaps the most newsworthy acquisition came in March with Summly, a news article optimizing app that Yahoo bought from a 17-year-old British developer. (Photo: gigaom.com)
View Comments and Join the Discussion!