This Day In Market History: Jackson Vetoes Charter Renewal For Bank Of The United States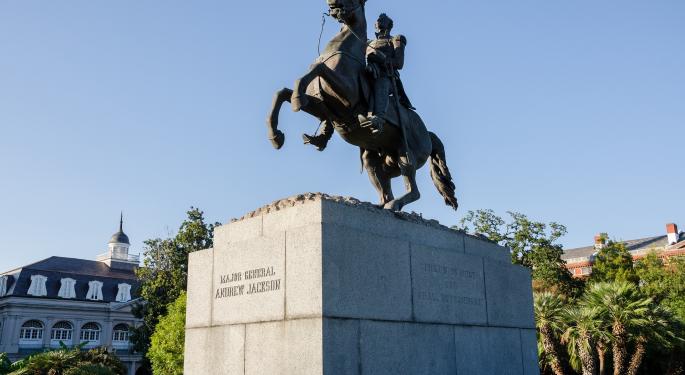 Each day, Benzinga takes a look back at a notable market-related moment that happened on this date.
What Happened? On this day in 1832, President Andrew Jackson vetoed a bill to extend the federal charter of the Bank of the United States — a move that eventually led to economic hardship.
What Else Was Going On In The World? The 24 states of the union housed about 7.4 residents per square mile. Postage delivery cost just 25 cents for shipments over 400 miles, and butter cost about 21 cents per pound.
The Collapse Begins: The BUS, which had been rechartered from Alexander Hamilton's first centralized bank, effectively lost its control over federal banking and its role in managing currency supply and interest rates.
"Controlling our currency, receiving our public moneys, and holding thousands of our citizens in dependence, it would be more formidable and dangerous than the naval and military power of the enemy," Jackson said at the time.
State-chartered banks were then empowered to issue currency, and the resulting bevy of bills soon caused price inflation, an economic bubble and, eventually, the panic of 1837.
After the bubble burst in 1836, more than 600 banks failed, and unemployment spiked to 25%.
View Comments and Join the Discussion!
Posted-In: this day in market historyEducation Top Stories Markets General Best of Benzinga