Buyer Beware: 5 ETNs To Play The Return Of Market Volatility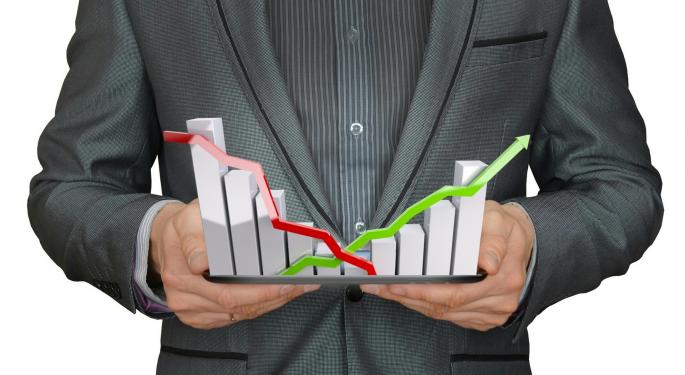 Financial market volatility was historically low in 2017, but volatility has roared back so far in 2018. Investors who have been betting big on volatility ETFs have scored some huge wins so far this year, but the volatility trade can also be very dangerous.
The Return Of The Volatility Trade
Following a steady burn higher throughout most of 2017, U.S. stocks ripped higher in the opening weeks of 2018. After starting the year at around 2,675, the S&P 500 rocketed to as high as 2,872 by late January. The rally came to a screeching halt, however, when the S&P 500 plummeted to as low as 2,532 by mid-February. Stocks again made an abrupt about-face, sending the S&P 500 back to as high as 2,801 by mid March. By the time April began, the index was back below 2,600 once again.
Overall, the S&P 500 is actually relatively flat on the year so far, down 0.6 year-to-date as of April 13. However, volatility has been a huge winner for aggressive traders.
Big Winners
After dropping 21.4 percent in 2017, the VIX volatility index has skyrocketed 62.6 percent so far this year.
As a result, investment products and funds tied to volatility have witnessed huge gains as well (price movement as of April 13):
Of course, smart volatility traders are well aware of the risks associated with these funds. They all suffer from severe decay over the long-term as a result of the constant roll-over of the contracts and derivatives they hold.
Buyer Beware
Volatility, and lack thereof, can be extremely unpredictable at times. Earlier this year, the surprise volatility spike in U.S. markets resulted in the liquidation of Credit Suisse's VelocityShares Daily Inverse VIX Short Term ETN (NASDAQ: XIV).
Trading volatility can be an excellent way to profit in a choppy market that is trending mostly sideways, but it's important to understand the risks associated with the trade before ever taking a position.
Related Links:
'Busiest Trading Day Ever': Brokerages, Retail Clients React To Volatility
Credit Suisse Will Liquidate The XIV Short-Term Volatility ETN
View Comments and Join the Discussion!
Posted-In: Psychology Top Stories Markets Trading Ideas General Best of Benzinga