A Closer Look At The NFL And Taxes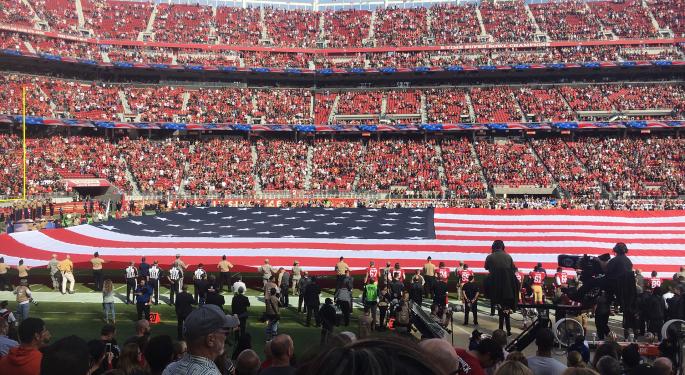 President Donald Trump ramped up his criticism of the NFL this week, calling out the league for taking advantage of "massive tax breaks" after repeatedly condemning the league for allowing players to protect the national anthem.
Trump failed to clarify which tax breaks he was referring to. Prior to 2015, the NFL central office had been granted tax-exempt status, but the league voluntarily decided to relinquish the exemption two years ago.
Stadium Construction Subsidies
However, on Tuesday, White House Press Secretary Sarah Huckabee Sanders said the tax breaks to which the President had referred are federal subsidies for construction and renovation of stadiums.
"If this industry is going to use money from American taxpayers to build the very fields they play on, then is it really too much to ask that they show respect for the American flag at the beginning of the game?" Sanders said.
Related Link: Trump Complains About NFL's 'Massive' Tax Breaks, Which The League Voluntarily Gave Up In 2015
While it's true that stadiums are often subsidized by the government, very few subsidies come from the federal government. Instead, the stadiums are often funded by local and state governments. Sanders said Trump isn't pressuring local governments and was simply pointing out a correlation.
The NFL's True Tax Break
On Wednesday, the New York Post reported that an additional provision in the federal tax code allows NFL owners to write off almost the entire purchase price of a profitable team over a 15-year period. This tax break has added roughly 5 percent, or about $122 million, to the value of the average NFL team since it was first implemented in 2004 during the George W. Bush administration.
The original tax break created way back in 1946 was reportedly aimed at helping all professional sports team owners offset the depreciating values of player contracts. The law was tweaked in 2004 to include the cost of team purchases.
Since neither Trump nor Sanders mentioned the depreciation tax break, it seems as though this provision is not the one Trump had in mind. However, it appears to be the one helping out NFL owners the most.
Collateral Damage
The New York Post reports that Major League Baseball owners have benefitted from the tax break far more than NFL owners have. The tax break has added an average of 19 percent in value to MLB teams.
If Trump zeroes in on this particular tax break in his Twitter war with the NFL, all professional team owners could suffer. There appears to be no meaningful federal tax breaks that specifically apply to the NFL.
Related Link: Trump Claims Puerto Rico's Bond Debt Will Be 'Wiped Out,' Here's Who'd Lose Big
Posted-In: Donald Trump George W. Bush nflPolitics Sports Top Stories Economics General Best of Benzinga
View Comments and Join the Discussion!