Does The Stock Market Respond To Presidential Inaugurations?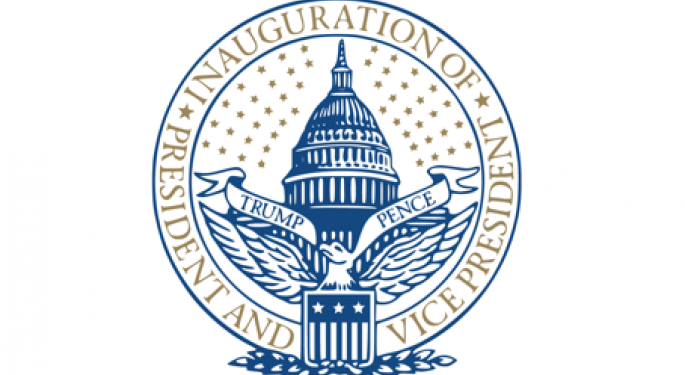 Two weeks after Donald Trump won the election, the Dow Jones Industrial Average, S&P 500 and NASDAQ all hit record highs. With his official swear-in less than a week away, many are eager to see if the market will respond as positively.
Recent history may justify pessimism.
In the days leading up to President Barack Obama's first inauguration on January 20, 2009, traders panicked.
Activity for the S&P 500 spiked with a trade volume of 7.8 billion just two days before the ceremony. Between the week preceding the election and the day following, the index fell 3.4 percent. On the day of inauguration, alone, it fell 5.2 percent.
Trump's fate may not at all resemble that of his predecessor, who championed very different economic policies. But history shows that even his economic doppelganger, Ronald Reagan, saw negative market activity on his first day.
How The Market May Respond To Trump's Inauguration
On Inauguration Day 1981, Reagan saw a 2.07-percent decrease in the S&P 500. According to Forbes, market values depreciated in the weeks preceding Reagan's first term, while the week following saw a significant rally.
The market appeared to warm to his policies leading up to his second inauguration, when the index leaped 2.23 percent. By the time Reagan completed his two terms, the index had risen 113 percent.
Trump's Reagan-esque fiscal policies emphasizing tax cuts, reduction of non-military spending and investment in infrastructure and military have many Americans reacting with financial strategies reflective of the Reagan Era.
Already, the two presidents had comparable market responses following their first-term election victories. Both saw 2-percent increases in the S&P 500 throughout the five ensuing trading days, and index values continued to rise for the rest of the month.
If the parallels continue, this bodes well for Trump.
And some believe the stars will align. According to the Forbes report, economists are justified to expect an even better market performance early under Trump than early under Reagan.
While Reagan took office during an economic recession with debilitatingly high 10-year U.S. Treasury rates (12.7 percent), Trump will inherit one of the lowest rates (2.33 percent) of all presidents, and economists point to low probability for recession. Reagan's policies ultimately improved the economy and lowered rates to 9 percent, but Forbes acknowledged that Trump's arrangement is even more conducive to economic growth.
Additionally, the author asserted that Trump's stimulus plan is more ambitious than that proposed by Reagan.
Still, some argue that with market valuations at all-time highs and interest rates at all-time lows the market has little room for improvement, which translates to a stagnant or necessarily depreciated economy with Trump-era market performances similar to or worse than those under Obama.
S&P 500 Trends From Reagan Onward
But the United States will walk this economic journey one step at a time, and the first major milestone is Inauguration Day.
Trends vindicate expectations for relatively poor performance in the S&P 500 on January 20. Not only Reagan but each of his successors shook the market on his first day in office and saw major volatility in the S&P index.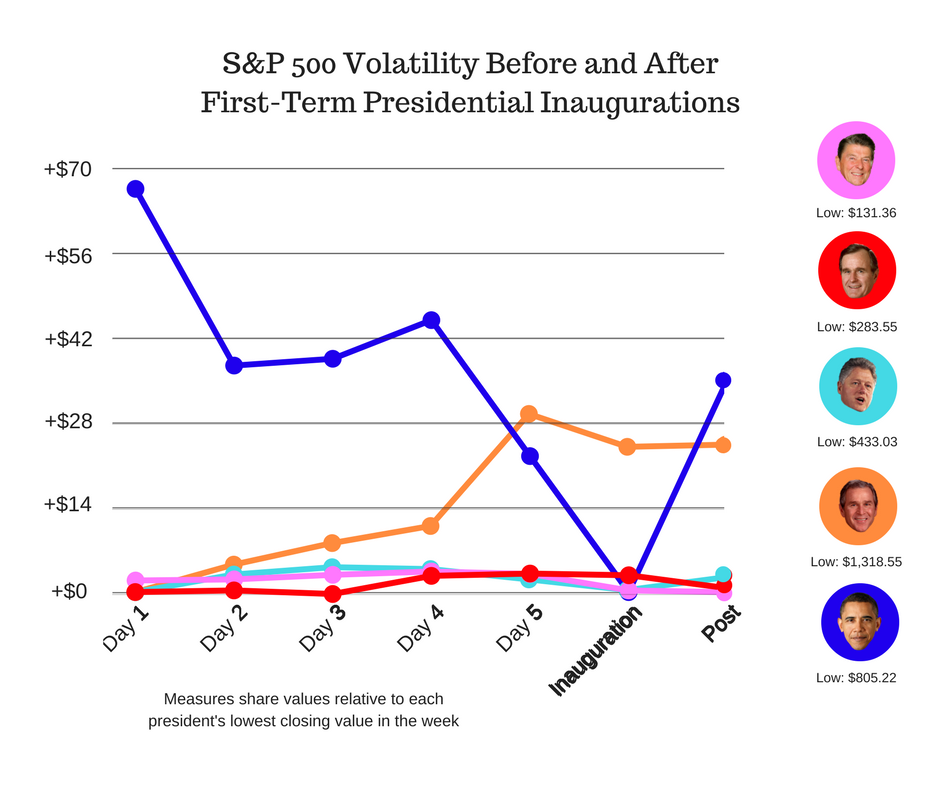 Overall, first-term inaugurations corresponded with value decreases. Reagan, for example, saw a $2.72 dip for about a 2-percent loss. George H.W. Bush saw a 0.1-percent decrease on the day with a 1.15-percent drop throughout the following day. The trend remained consistent for ensuing first-term commencements.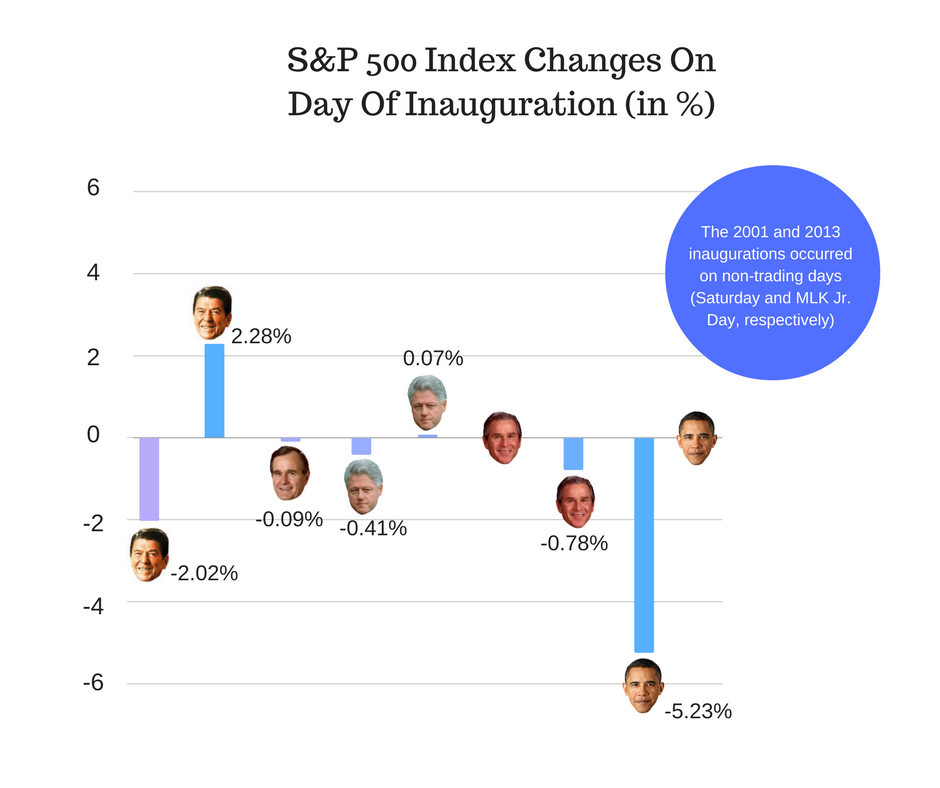 However, second-term inaugurations coincided with generally positive market activity — with the exception of George W. Bush, who saw an S&P drop of nearly 1.7 percent between the week preceding and day following inauguration.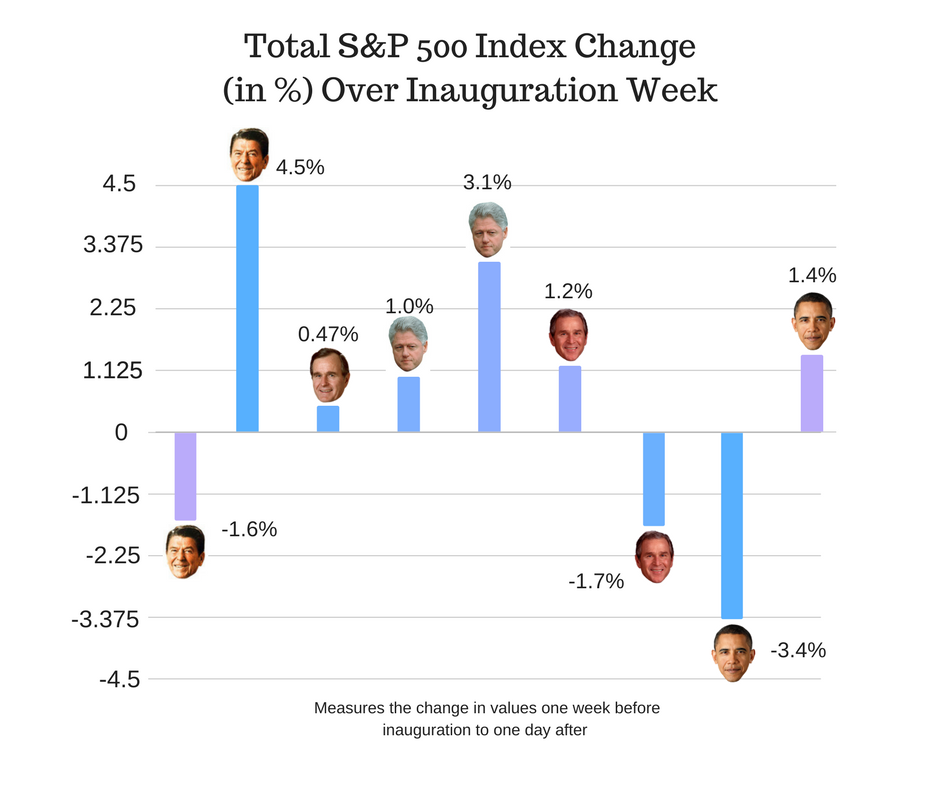 The other three second-term presidents — Reagan, Clinton and Obama — saw improvements in the S&P on, before and immediately after Inauguration Day.
In general, first-term ceremonies saw highest trade volumes in the days preceding, while second terms saw most activity on or following inauguration day.
Visit BZTeach for more educational content.
Image Credit: By 58th Presidential Inaugural Committee - https://www.58pic2017.org/, Public Domain, via Wikimedia Commons
View Comments and Join the Discussion!
Posted-In: 2016 presidential election Barack ObamaEducation Previews Politics Top Stories Trading Ideas General Best of Benzinga