A Look Back At Snap's Final Year As A Private Company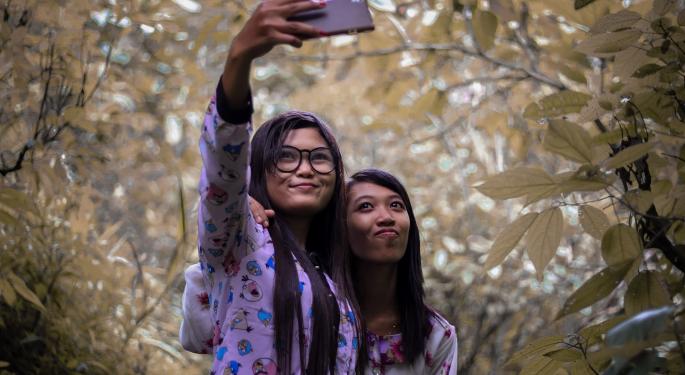 Snap IPO talks have gained momentum amid the release of a Wall Street Journal report that said the virtual messaging platform would position itself as the next Facebook Inc (NASDAQ: FB) in the roadshow planned for next year, distancing itself from Twitter Inc (NYSE: TWTR), which has not fared all that well as a public company.
Invest in IPO shares before the stock hits the market with ClickIPO. Check it out here
JOBS IPO Filing
Snap, which was earlier known as Snapchat, had confidentially filed for its IPO under the Jumpstart Our Business Startups Act of 2012 ahead of the U.S. presidential election — development initially reported by the Journal.
Roadshow Focus
The Journal reported last Thursday, quoting people familiar with the matter, that the company is likely to sell roughly 10 percent to 20 percent of the company. The company is expected to project its founder and CEO Evan Spiegel as a visionary, who understands the importance of creating products geared appropriately toward his millennial peer group.
Snap is likely to be marketed as a company that can evolve into a content and media powerhouse, justifying the $20 billion to $25 billion IPO valuation it is hoping for. In the roadshow, the company is likely to focus on stickiness or time spend, and its resonance with the 18–34 demographic, the Journal said. Valuation-wise, the company is supposed to trade at a premium of 26.7 times its ad sales — estimated at $940 million, higher than 19.4 times for Facebook and 13 times for Twitter.
In The Run Up To IPO
As Snap lives out its final days as a private company, let's look at some key developments that have happened in 2016, supposed to the last year as a private company.
Snap, which boasts of 150 million daily active users, with an average user spending roughly 25 to 30 minutes on the platform, has left Twitter behind in terms of users.
The company has expanded its service to include videos after starting out as a mobile messaging and multimedia sharing app, initially used to share impermanent images via private message "snaps" that can be viewed for a user-specified length of time before disappearing. The story feature or multimedia messages, known as snaps, consisting of a photo or a short video, edited with text, filers, stickers and other overlays have inspired Facebook's Instagram to have its own version. The latter has also enjoyed much success with the media innovation.
In September, Snap said it had developed a new type of camera, called Spectacles, marking a foray into hardware business. Ahead of the announcement concerning the launch of its Spectacles, the company announced a name change to the current Snap Inc. from Snapchat, with the change intended to accommodate additional products such as Spectacles. Recently, the company announced the opening of a technology office in the southern city of Shenzhen, China, for research & development on sunglasses.
To draw a parallel, Benzinga looked at what Facebook and Twitter did in their last year as a private company.
Twitter Ahead Of IPO
Twitter offered its shares in a public offering in late 2013. The shelf registration statement filed with the SEC revealed that the company was not profitable, posting a loss of $67.32 million in 2010, which widened to $128.30 million in 2011 before narrowing to $79.40 million in 2012. However, revenues were growing nicely, up about three times in 2012. Roughly 45 to 55 percent of the total expenses were on R&D. Monthly active users totaled 218.3 million in the three months ended June 30, 2013, up 44 percent.
Facebook's IPO
Facebook, which IPOed in May 2012, had monthly active users of 901 million at that time. The DAU count was at 526 million, and it had 3.2 billion likes and comments a day and 300 million photos uploaded each day.
From $777 million in 2009, revenues climbed to $1.97 billion in 2010 and $3.71 billion in 2011. Net income also rose nicely to $668 million in 2011 from $372 million in 2010 and $122 million in 2009. In September 2011, the company introduced Timeline, an enhanced and updated version of the Facebook profile. It also launched the next iteration of Open Graph.
Posted-In: Evan Siegel SNAP SnapChat SpectaclesEducation IPOs Media General Best of Benzinga
View Comments and Join the Discussion!