Which Top Business School Has The Best Traders?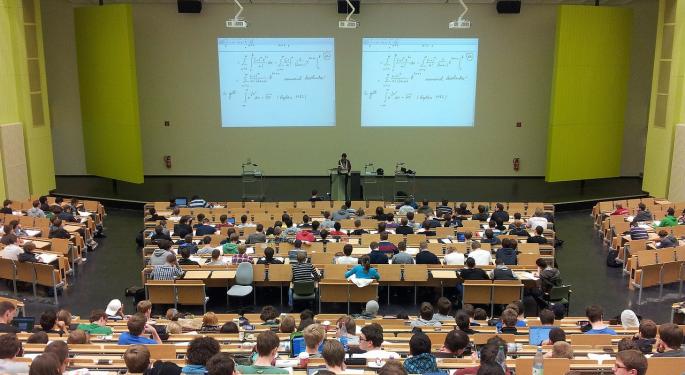 We know which business schools have the best reputation. But who actually produces the best money managers?
That's the question Peeptrade, a social platform for investors, is trying to answer with its University Challenge.
Teams of graduate students from the University of North Carolina, Indiana University, MIT, the London Business School, Georgetown University, INSEAD, Dartmouth College, Princeton University, the University of Chicago, and USC will compete to see which business school can produce the best portfolio.
"Our goal is to show how students from the best universities in the world would manage real portfolios," said Austin Sarles, Peeptrade's co-founder.
Each team will start with $10,000 of real money on October 3, which they will manage until December 2. Following that, each team will present their portfolio to a panel of experts in Chicago, where they will have to defend their strategy.
The panel, made up of hedge fund managers, asset managers and research professionals, will judge the winning school based on various criteria, including the execution of their strategy, how well the portfolio performed, and risk compliance.
The portfolios will be hosted on Peeptrade here, and will be updated in real-time throughout the competition.
Peeptrade, which just went live on Product Hunt after being released from beta, allows individual investors to post their portfolio and charge a subscription for others to view it. Just like any other investor on the platform, users will be able to follow along with the trades made by each team. Afterwards, the returns from the portfolio will be donated to a predetermined charity of the team's choice.
"At Peeptrade, we are committed to bringing transparency to the financial markets. We're thrilled we can celebrate our launch with the investment professionals of the future," said Juan Mendoza, the CEO of Peeptrade.
View Comments and Join the Discussion!
Posted-In: PeeptradeEducation General Best of Benzinga