Trading Binary Options Stops The Bullies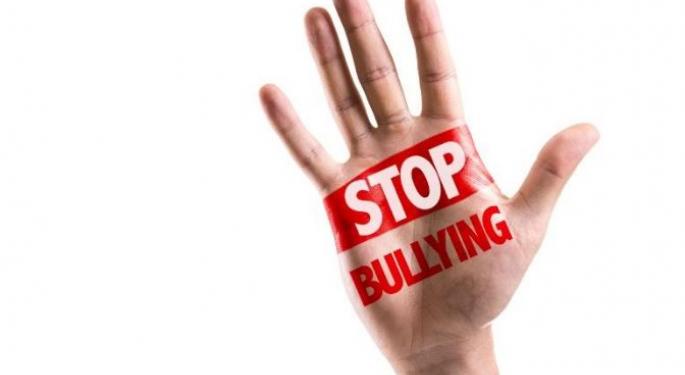 Trading binary options stops the bullies from being able to stop retail traders out of good positions. Unlike retail traders that are trading small contracts, the big boys are trading thousands of contracts and they need to reverse their positions discreetly. For the retail trader, with limited capital, the "big boys" are akin to bullies because they dominate the markets, quite often intimidating the smaller traders who cannot withstand the draw-downs created during this period.
Prior to electronic trading, distribution phases could take days to complete. Now they can occur in a matter of minutes creating large swings that also stop out the smaller traders. This is one of the reasons why so many retail traders use tools like Market Delta or Cumulative Delta to track the number of contracts being exchanged. The issue with these advanced techniques is they are so complex retail traders can actually miss a major portion of the move because they are busy analyzing.
Trading Binary Options - Prevents Retail Traders from Getting Stopped Out by the Bullies
Trading binary options allows traders to enter these phases without the risk of being stopped out. For example, on Friday, Crude Light was extremely overbought and the lower time-frames indicated an upcoming downward movement at the open. The following strike was available on Crude Light:
Crude Oil > 46.35 by 10 am New York time
Anticipating the downward movement, the retail trader could sell the binary option for a total risk of $47.75 per contract (excluding exchange fees). Regardless of what the bullies did at the market opening, the trader could not lose more than $47.75. True to form, the bullies ran price up to $47.78 and then dropped the market as quickly as they ran it up. While retail traders in Crude Light futures were probably stopped out, the binary option trader was correct in his analysis and made the maximum profit of $52.25 per contract (excluding exchange fees) because the expiration value was $46.11.
When trading binary options, retail traders are not at the mercy of the bullies. Instead, you can actually stay with your market positions while others are getting stopped out on the futures side.
Futures, options and swaps trading involve risk and may not be appropriate for all investors. Past performance is not necessarily indicative of future results.
View Comments and Join the Discussion!