Parchment's 2016 Student Choice College Ranking List Is Here, And There Are A Few Surprises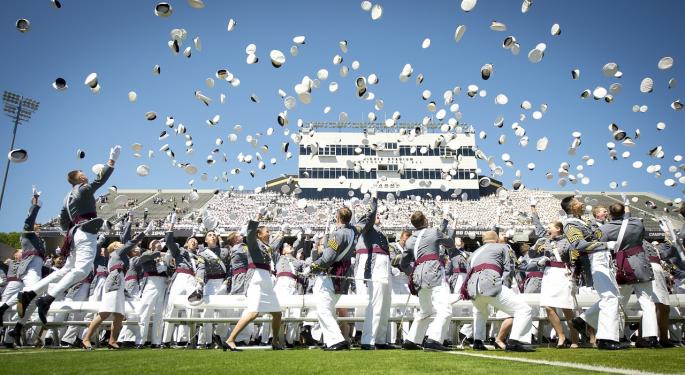 Parchment's 5th Annual Student Choice College Rankings is the only study that reveals college preferences and enrollment decisions as reported from actual college-bound students.
For 2016, several small liberal arts colleges were significantly higher rated choices.
Stanford remains number one, while Harvard dropped 39 spots in 2016 rankings.
Parchment's 5th Annual Student Choice College Rankings are out and some of the results are surprising.
Parchment CEO, Matthew Pittinksy, Ph.D. spoke with Benzinga about those results and what they say about college selection by students for 2016.
Related Link: Parents, When Your Kids Are College Bound, Don't Forget...
Benzinga: What do these rankings mean? What's the goal here?
Matt Pittinsky: The insight we were going after, in a world with many different ranking systems, was insight into the choices students make when they actually have a choice.
We think that's a helpful way to think about it, because that encompasses all sorts of information that students are processing including where the school is located, its reputation socially, the quality of its academic programs and more.
You could argue that all of the different rankings out there ultimately reflect themselves in the decision that a student makes, not only to apply somewhere, but then to choose to go there in the face of other places they were accepted.
The goal of the rankings is to provide a unique insight into how schools stack up in competition for students accepted to multiple colleges.
BZ: What do the results tell colleges and universities?
MP: The nice thing is that you can compare colleges and universities that often are split into different types in other ranking systems.
Small liberal arts colleges, big research universities and military academies are all treated separately. Most high school students are not monolithic in the kinds of institutions they apply to and are accepted to.
The student's choice is (often) between two colleges of different types. The insight for the college is how they fare compared to institutions that normally they're not compared against in (other) ranking systems.
BZ: What are some examples of how this "apples to oranges" comparison is reflected in this year's rankings?
MP: (For one thing) you see very mission oriented institutions like a military academy or an institution like Harvey Mudd rank highly. That's because students who apply and are accepted to them are attracted to their type of educational programs.
Students, even in the face of being accepted to other traditionally high quality institutions, are choosing them over the other options. This isn't something other ranking systems allow a military academy or Harvey Mudd Academy to see.
BZ: What other advantages does Parchment's ranking methodology have over other systems such as US News?
MP: First, US News is a much more mature and developed ranking system and we're not going to overstate where we are with just a few years in the development of our system. There is, however, a well-documented (practice) of institutions seeking to manipulate the rankings in US News by propping up one particular attribute or another.
They might drum up their numbers in applications so they have higher selectivity, rejecting all sorts of marginal applicants who maybe shouldn't have applied there at all. Or, they might trump up their spending on the faculty or library or something like that.
Our system can't really be gamed. The only way you could game our system would be to package financial aid so obscenely cheaply that a student who was accepted into multiple institutions was bought by a less selective institution.
That's a good manipulation, which I would be all in favor of, versus the kind of manipulation you see in other ranking systems.
BZ: How important is a higher ranking in college and university bottom line enrollment?
MP: It's a paradox. It is very clear from research that U.S. institutions care about ranking systems a lot. However, the research is not at all clear that students do.
Students, when you ask them what are the top factors that play into their decision on where to apply, and ultimately where to matriculate, see rankings as a source of information, maybe trivia, and it is what it is.
Maybe, when you get into the professional schools, the top-ranked medical or business or law schools, it still carries a lot of currency. However, it is not really a huge factor for students in making their admissions decision.
BZ: So, why do schools put so much effort into obtaining high rankings?
MP: One answer is that rankings play a role with alumni, with fundraising and in many ways become a proxy for quality.
Schools will point to an increase in their rankings as a sign the school is better on a relative or an improvement basis, and not necessarily because they think they're somehow going to convert students better.
There's much better research on how big a role your performance in NCAA rankings in basketball plays in convincing students to choose you over your competitors than there is in your rankings in US News.
BZ: What trends have you noticed this year?
MP: I would say one trend we see is continuing preference of smaller liberal arts schools over other types of institutions.
We also think there's a trend more toward affordable institutions. This is not surprising, given the economy and given the cost of higher education.
We think a preference for STEM type programs is also more evident. It's a little hard to disentangle completely because you have some institutions that have diverse programs. You don't know exactly why people picked them, but I would say (the selection of) Harvey Mudd, MIT, Military Academy, Caltech and University of Waterloo, I believe, is in part, driven by its engineering capabilities.
We also know from our inside look at the data that there's a regional bias that will exist in some of these choices. If I live in Michigan, University of Michigan or Michigan State are going to hold up well against institutions nationally.
BZ: What can be learned from student enrollment choices as opposed to the data that drives other ranking systems?
MP: We're talking about schools in a range. Part of this is that (students) try to counteract the silliness of where schools are in the pecking order. If you look at the top 50 choices of institutions, they're going to be generally overlapping with the top 50 or so (in other ranking systems).
This gives students permission to follow the mission or affordability or regional factors that play into their college choice.
Related Link: Why Back-To-School Matters, Even If Your Kids Are Grown
BZ: What else should people know about the Parchment Student Choice rankings?
MP: This year we added a peer colleges column. Now you can understand what other schools students applied to and tended to be accepted to.
In addition, you shouldn't over-interpret the data. There are some biases to how we do this. One bias is that we don't observe every kid in the country, every acceptance they receive, and every choice they made from those acceptances.
Finally, it's a little tricky to compare (choices) year over year over year because each year we are expanding, we are growing so quickly that each year we're getting a lot more data than the previous year.
At the time of this writing, Jim Probasco had no position in any mentioned securities.
Image Credit: Public Domain
View Comments and Join the Discussion!
Posted-In: Harvard Matt Pittinsky Michigan StateEducation Top Stories Exclusives Interview General Best of Benzinga