Tech On The Go Isn't Just For Casual Banking; Mobile Investing Snags Spotlight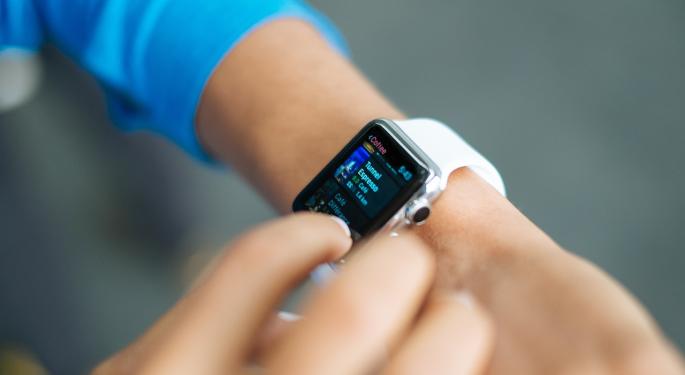 While mobile banking innovations have taken leaps and bounds within the last year, using always-accessible tech gadgets is not limited to the casual financer.
Mobile wallets have taken the average American by storm, providing banking options at the swipe on a cell or a touch on an Apple Watch. Robo-advisors have become increasingly popular among investors who are interested in an often-cheaper, less intimate financial advisor relationship.
And now, the popularity of mobile investing is taking off.
Using tech gadgets for investing purposes has increased within the past year, and investing and trading apps have become essential to active traders and casual traders alike.
The Trend
E*TRADE Financial Corp (NASDAQ: ETFC) recently released data that showed mobile investing activity is on the rise.
According to the report, 34 percent of all investors utilize smartphones and gadgets to invest, with 64 percent categorizing the quick accessibility of mobile investing as "critical" to their investing needs.
The trend also demonstrates the reliance on tech is not limited to younger investors. While 81 percent of investors who reported that investing on the go as essential were under the age of 44, the majority – regardless of age – self-reported that mobile investing is an indispensable tool.
Related Link: A Closer Look: Robo-Advisors Vs. Traditional Financial Advisors
Frequency Of Use
Of those who participated in the study, 49 percent noted that they use investing or trading apps at least twice a week.
The frequency of use has increased over the last year by four percentage points, and over the last quarter by five percentage points.
Most Valuable Uses
When considering which areas of investing are most valuable for traders on the go, the E*TRADE report illustrated that the most popular investing activities were checking stock quotes and monitoring portfolios (self-reported at 42 and 37 percent, respectively). Also popular was tracing market movement, coming in at 34 percent.
The Future
Participants noted that the accessibility of mobile investing is more than a passing fad, with 51 percent of all investors sharing that they plan to increase their mobile investing habits.
Kunal Vaed, E*TRADE's senior vice president of digital transformation and active trading platforms stated, "Investors have spoken — mobile is indispensable. Today's savvy investors want to be on the cutting edge of digital."
He elaborated, "They [investors] expect to effortlessly track market movements and manage their portfolios while on the go, from bite-sized information on wearables, to rich immersive content on smartphones and tablets."
Regardless of how you invest, it is imperative to realize that the innovations in the connected tech sector are rapidly reshaping the financial world. What once could only be done through expensive, time consuming avenues can now be accomplished from any place in the world at any time of day all through the device on your wrist or in your pocket.
As with all things financial, the more you know, the more in control you can become over your own financial well-being.
Image Credit: Public Domain
View Comments and Join the Discussion!
Posted-In: Kunal Vaed Mobile Banking mobile investing robo-advisorsEducation Entrepreneurship Tech Personal Finance Best of Benzinga