Active Traders: Bread-and-Butter Setups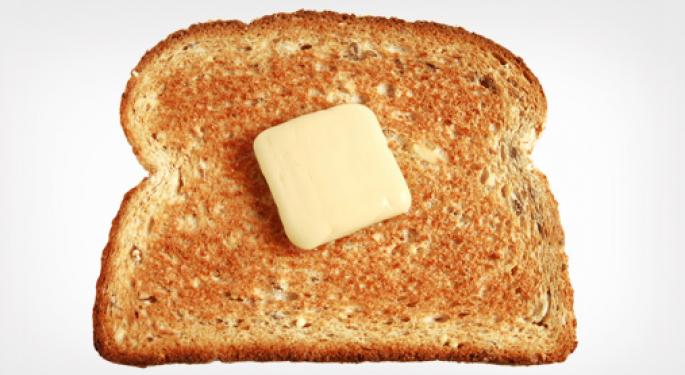 In the 30 years that markets have been in my life, I've met a lot of active traders. And yet I'm still impressed when I find one who can successfully trade with a deep roster of chart setups.
The fact is, those types—the Michael Jordans of trading—are one in a million. Does that mean the rest of the trading pack isn't skilled? Far from it.
Many skilled traders get there by sticking to a select few chart setups. They call them their bread-and-butter trades—those that they've become comfortable using. For many, it's a short list. And there's nothing wrong with that.
There are a number of factors to consider when developing your own bread-and-butter list. It may start with repeatability, such as a chart pattern that is commonly found across multiple time frames and that you can trade on a regular basis. Your bread-and-butter setup should also provide a favorable risk/reward ratio.
Related Link: Embrace The Quiet: Consider Low-Volatility Option Trades
Finally, a bread-and-butter trade should have clear criteria for failure, leaving no question about when to close it out and move on. Perhaps the most important thing to remember is that your bread-and-butter setups should be in sync with your trading style. You can experiment with a number of setups to see which work best with your particular trading personality. But here are a few common approaches to consider.
Flag Pattern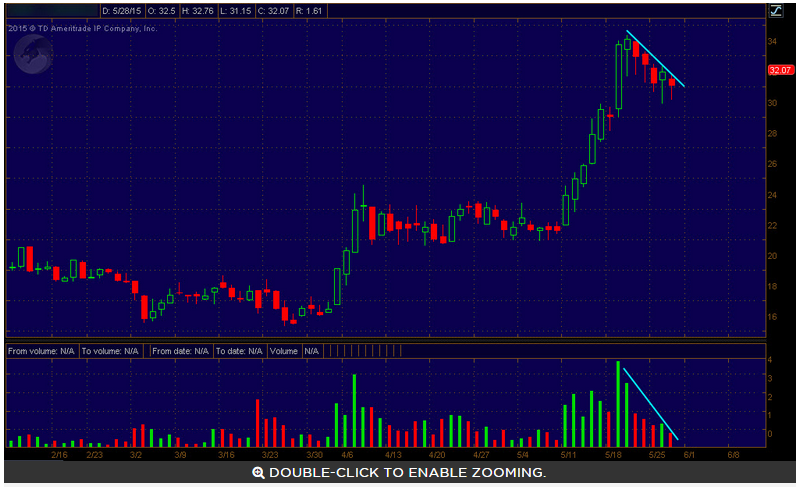 FIGURE 1: COLOR GUARD. A high, tight flag pattern is characterized by a rapid rise in price followed by a pullback into a narrow consolidation range. The security either moves sideways or drifts down slightly. Volume tends to dry up on the pullback (lower window). A buy can be considered when price breaks above the top of the flag (blue line, top window). Chart source: TD Ameritrade. For illustrative purposes only. Past performance does not guarantee future results.
Reversal Trade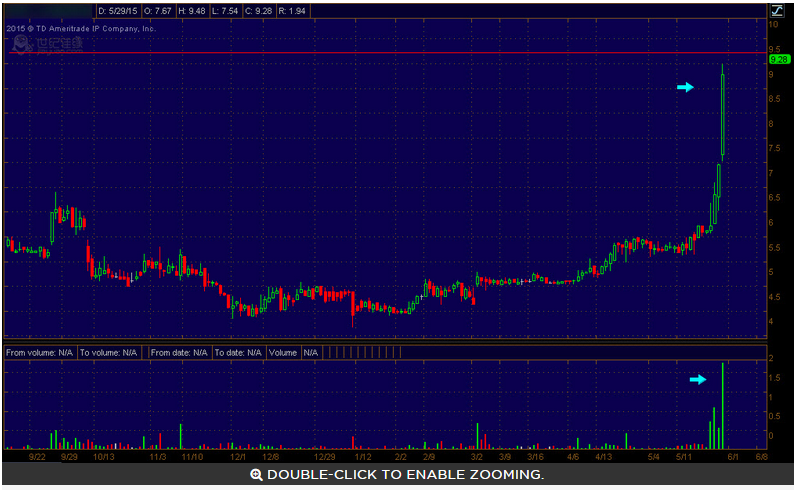 FIGURE 2: ABOUT FACE. When a stock is short-term overbought and moves into a long-term resistance level, it's common to see a sharp reversal. In this example, volume (lower window) spikes as it becomes overextended from the base (blue arrows). A common bread-and-butter trade would be to wait for the price to break above long-term resistance (red line) and then short the stock if it reverses below that. The opposite trade can be made when a short-term oversold stock moves into a long-term support level. Chart source: TD Ameritrade. For illustrative purposes only. Past performance does not guarantee future results.
Base and Break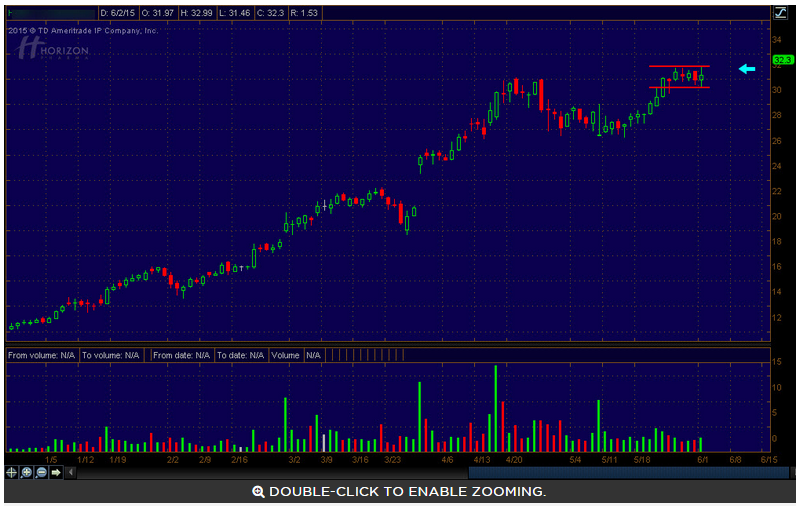 FIGURE 3: SIDEWAYS IS TELLING, TOO. Here, a stock in a well-defined uptrend has paused, pulled back, and then "based" sideways in a tight range. This range typically indicates a potential buying signal (a break above the top red bar, upper window), and when the setup would fail (a break below the bottom red bar). Chart source: TD Ameritrade. For illustrative purposes only. Past performance does not guarantee future results.
A word to the wise: Embrace the tedium. That's right, boredom can be a trader's friend. When "boring" becomes mechanical, guesswork is reduced and emotions stay out of the way. Bread and butter is comforting, just as you might expect.
This article was originally posted here by Brian Lund on June 30, 2015.
TD Ameritrade, Inc., member FINRA/SIPC. Commentary provided for educational purposes only. Past performance of a security, strategy, or index is no guarantee of future results or investment success. Inclusion of specific security names in this commentary does not constitute a recommendation from TD Ameritrade to buy, sell, or hold.
Options involve risks and are not suitable for all investors. Please read Characteristics and Risks of Standardized Options before investing. Supporting documentation for any claims, comparison, statistics, or other technical data will be supplied upon request.
The information is not intended to be investment advice and is for illustrative purposes only. Be sure to understand all risks involved with each strategy, including commission costs, before attempting to place any trade. Clients must consider all relevant risk factors, including their own personal financial situations, before trading.
Posted-In: Brian Lund The Ticker TapeEducation Opinion Trading Ideas General Best of Benzinga
View Comments and Join the Discussion!