EXCLUSIVE: This Company Is Bringing Supercomputers To Your Pocket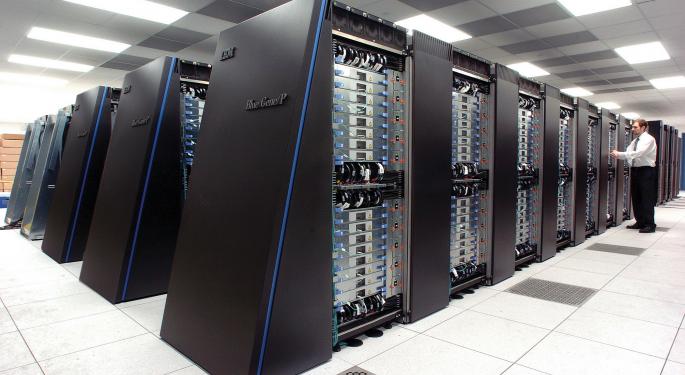 Who will be the next Apple? What company with what disruptive idea will turn the world of technology upside down? In this series, Benzinga interviewed CEOs of several technology startups that are making waves today in hopes of making a difference tomorrow.
Related Link: Adapteva Distributes Initial Production Versions of the Parallella Computing Platform
Adapteva, Inc. – The Parallella Project
Adapteva, Inc. CEO Andreas Olofsson imagines a world in which parallel computing is available to everyone – not just major institutions, governments and Fortune 500 companies.
"The premise of the company," he told Benzinga, "was that the future of all of computing would be parallel."
If so, that would be a sea of a change since for the past 50 years or so, according to Olofsson, everything has been serial.
Parallel Versus Serial
Put simply, the parallel computing process allows many calculations to be carried out simultaneously.
This contrasts sharply with traditional serial computing, in which calculations are carried out one after the other – in series.
Until now, Olofsson said, parallel computing has existed mainly in the world of supercomputers, where the ecosystem remains "the best hidden secret in the industry."
The Parallella Project
To change that reality and bring parallel computing into the mainstream, Olofsson and Adapteva created a Kickstarter campaign called The Parallella Project to "build up a new ecosystem around parallel computing … for everybody."
The Parallella campaign was successfully funded Oct. 27, 2012.
Available And Cheap Enough
According to Olofsson, "To make people adopt a new technology, you need to make something available and cheap enough."
Mission accomplished. Parallella, a high performance, 18-core, credit-card sized, single board computer is currently available on Amazon.com for $99.
Adapteva's Epiphany multi-core chips provide the computing power for Parallella.
First Come The Geeks
Since applications for this ecosystem do not, for the most part, exist at this point, the first wave of users has been early adopters including developers and programmers.
As Olofsson put it, "This is essentially a blank canvas."
In addition to "a whole bunch of hackers and enthusiasts," Olofsson said, "we're at all of the government labs and 200 universities."
"They understand this is the future," he said, "and they want to get in and try it."
The Next Wave
"Once developers and programmers have done their work," Olofsson said, "then the second wave can come along."
In its current form, Parallella is "not the board for people who just want a computer," Olofsson said.
"It's still a pretty good computer," he said, "even if you don't turn on the Epiphany on it," adding, "but not really anything to write home about."
A Future Imagined
The future, however, is where Olofsson's attention lies.
"Eventually anything that needs a lot of performance with very little energy," he said, "needs to be parallel."
"We build chips that beat Intel by 25x on energy efficiency," Olofsson said. "That's a big number. It's like driving from Argentina to Alaska on one tank of gas."
Ultimately, democratization of parallel computing – putting it in the hands of students and academics is a big deal according to Olofsson.
"If you think about the future of computing looking forward," he said, "this is the only way to go."
Related Link: IBM's Watson Coming to Smartphones Soon (IBM)
2015 And Beyond
"2015 is all going to be about getting this (parallel) architecture into an enterprise application," Olofsson said. "2015 will be the year for us when we are going to make an announcement there."
As for the long term, he said, "As we scale down, we will eventually have 64,000 cpu cores on a single chip the size of a fingernail."
That will definitely be something to write home about.
At the time of this writing, Jim Probasco had no position in any mentioned securities.
Image credit: Odie5533, Wikimedia
Posted-In: Adapteva Andreas Olofsson Inc.Education Exclusives Tech Interview General Best of Benzinga
View Comments and Join the Discussion!