#PreMarket Prep Guest List For The Week Of August 25, 2014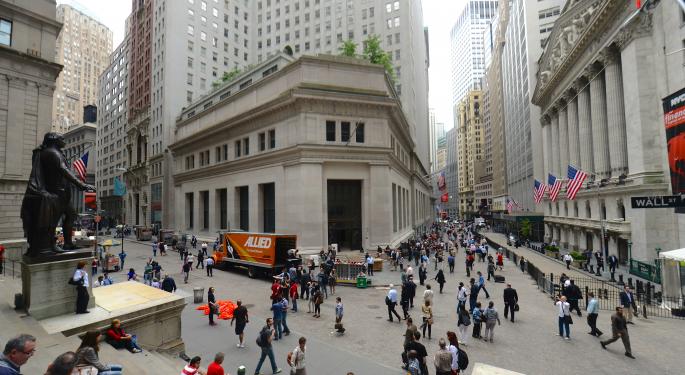 It's a special week on Benzinga's #PreMarket Prep broadcast, sponsored by OptionsHouse!
We're offering a ton of specials on Marketfy investor education products, so be sure to tune in at 8:00 a.m. EST Monday-Friday here to learn how to take advantage of these huge discounts.
Monday, August 25, 8:35 a.m.
Anne-Marie Baiynd (@AnneMarieTrades), Author and Financial Analyst
Anne-Marie Baiynd is a trader, author and financial analyst best known for her book, The Trading Book Course: A Practical Guide to Profiting with Technical Analysis.
9 a.m.
Kenny Glick (@HitTheBidRadio), Owner and Creator of HittheBid.com
Kenny Glick started his professional life as a stand-up comic but was lured into a "Boiler Room" operation by an admiring fan who thought his personable nature would be a good fit for "selling slime." His career began a few years before the dot-com bubble, but he actually had more success during the crash. More than anything, though, he strives to bring comic relief to trading.
9:15 a.m.
Tim Melvin (@timmelvin), Marketfy Maven and Author of the 'Tim Melvin Deep Value Letter'
The Marketfy Maven will be on to talk about long-term investments.
Tuesday, August 26, 8:35 a.m.
Nic Chahine (@racernic), Creating Income with Options Spreads
Nic Chahine will join the show every Tuesday to discuss the week's options outlook.
9 a.m.
Aurelija Augulyte (@auaurelija), Senior Analyst and Macro Strategist at Nordea Markets
Aurelija Augulyte's ultimate professional goal is to develop the highest possible accuracy in the feeling for upcoming financial market developments. She specializes in data analysis/market research, investment and hedging solutions.
9:20 a.m.
Phillip Streible (@PStreible), Senior Commodities Broker at RJO Futures
As a senior commodities broker, Phillip Streible's goal is to show clients how to anticipate, recognize and react to bull and bear market conditions through the use of technical analysis techniques that help them to define risk.
Wednesday, August 27, 8:35 a.m.
Harlan Pyan (@AllAboutTrends), Co-Founder of All About Trends
All About Trends is a subscription-based newsletter service focused on helping individuals secure consistent profits in the market by trading what they see, not what they think, hear or fear.
9 a.m.
Joseph Fahmy (@jfahmy), Director at Zor Capital LLC
Joe Fahmy has more than more than 17 years of trading experience during which he developed his investment strategy. He worked in New York City for a boutique research firm where he gained extensive knowledge of the technical analysis of stocks, market forecasting and risk management.
9:15 a.m.
Serge Berger (@SteadyTrader), Head Trader and Investment Strategist at The Steady Trader
Serge Berger has been an active trader since 1998. During his career, he's been a financial analyst, dealt in fixed income instruments at JP Morgan and was a proprietary trader in equities, equity options and futures.
9:30 a.m.
Tom Sudyka, President of Lawson Kroeker Investment Management and Portfolio Manager of the LK Balanced Fund
Tom Sudyke has more than 25 years of experience in investment management. Prior to joining Lawson Kroeker Investment Management in 1999, he was a managing director and founding partner of BPI Global Asset Management. Prior to founding BPI, Sudyka was a portfolio manager with several large midwest-based investment management companies.
Thursday, August 28, 8:35 a.m.
Fari Hamzei (@HamzeiAnalytics), Founder of Hamzei Analytics
Fari Hamzei joins the show every Thursday, bringing his wealth of knowledge on aggressive equity options and index futures trends.
9 a.m.
Emanuel Derman (@EmanuelDerman), Head of Risk at Prisma Capital Partners and Professor at Columbia University
Emanuel Derman is the author of My Life As A Quant, one of Business Week's top 10 books of the year, in which he introduced the quant world to a wide audience. His latest book is Models.Behaving.Badly: Why Confusing Illusion with Reality Can Lead to Disasters, On Wall Street and in Life.
9:30 a.m.
Bob Brinker (@BobBrinker), Editor and Publisher of the Brinker Fixed Income Advisor
The Brinker Fixed Income Advisor monthly investment letter covers a variety of fixed-income related topics including FOMC Monetary Policy, U.S. Treasuries, Certificates of Deposit, Municipal Bonds, No-Load Mutual Funds and Exchange Traded Funds.
Friday, August 29, 8:35 a.m.
Ezra Rapoport (@HFBondsTrader), Trader and Head of Automated Strategy and Development for Flammarion Capital
Ezra Rapoport is a high-frequency trader in futures and U.S. Treasuries markets. He has traded for some of world's largest sell-side institutions in addition to several well-respected hedge funds. In addition to being a full-time trader, Ezra is an active proponent of increased automation in markets and promoting the availability of automation to all market participants large, small and retail.
9 a.m.
Chris Vermeulen, Founder of AlgoTrades Systems
Through years of research, trading and helping thousands of individual investors around the world, Chris Vermeulen designed an automated algorithmic trading system for the S&P 500 index, which solves his client's biggest problem related to investing in the stock market: the ability to profit in both a rising and falling market.
9:15 a.m.
Alan Brochstein (@Invest420), Marketfy Maven and Author of "420 Investor"
Marketfy's 420 Investor will be be discussing the latest in cannabis stocks.
9:30 a.m.
Larry Doyle (@senseoncents), Author of "Sense on Cents"
Larry Doyle embarked on his Wall Street career in 1983 as a mortgage-backed securities trader for The First Boston Corporation.
View Comments and Join the Discussion!
Posted-In: Alan Brochstein Anne-Marie Baiynd Aurelija Augulyte Benzinga #PreMarket Prep Bob BrinkerEducation Pre-Market Outlook General Best of Benzinga