How The Arthur Anderson And Enron Fraud Changed Accounting Forever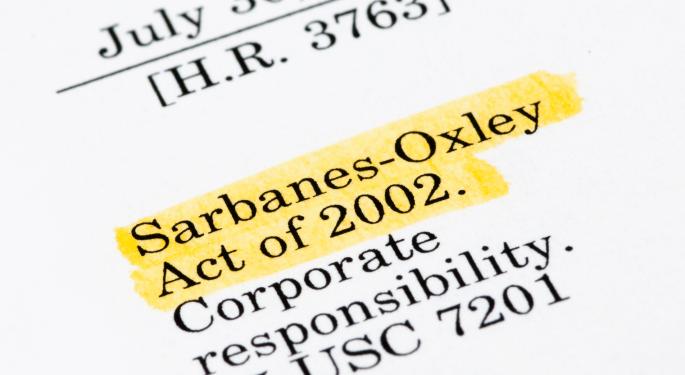 The Enron scandal in early 2001 forever changed the face of business. Enron, the once high flying energy trading company, was exposed as being little more than a slowly unraveling multi-billion dollar financial scheme. Eventually Enron cost employees and investors billions of dollars after the company was exposed and forced to go into bankruptcy.
But what made the Enron scandal so compelling was the fact that it brought down accounting giant Arthur Andersen, too. It was a truly amazing situation, a conflation of corporate wrongdoing which would change the accounting world forever.
Arthur Andersen's Role in the Enron Scandal
Due to the sometimes complex nature of financial matters, many may not be familiar with the details of Enron case or Arthur Andersen's role. While Arthur Andersen was not implicated in directly assisting Enron in cooking its books, the company was found to have been woefully negligent in its role of overseeing and auditing Enron's financials.
Additionally, Andersen was found guilty of obstruction of justice because it shredded documents related to its audits of Enron. When the scandal broke, the world was shocked that not only could a Fortune 500 company pull off such massive fraud, but one of the world's largest accounting firms looked the other way during the audacious crimes.
Sarbanes Oxley And Management Responsibility
In July 2002, the U.S. Congress enacted the Public Company Accounting Reform and Investor Protection Act, also known as Sarbanes Oxley. By that point there had been a stunning number of corporate accounting scandals, including Enron, WorldCom and a developing scandal involving Tyco.
Because many top managers of these companies claimed they had been unaware of the accounting discrepancies, Sarbanes Oxley required corporate leaders to personally certify the accuracy of their company's financials.
Other Important Components Of Sarbanes Oxley
To address the potential conflicts of interest which can arise, Sarbanes Oxley established a variety of requirements which govern auditing and accounting firms. Some of the notable requirements include auditor reporting duties and a restriction, which prohibits auditing firms from providing non-audit related services to companies which they audit. Provisions were also put in place to prevent corporate analysts from benefiting from conflicts of interest, including the public disclosure of any potential conflicts of interest.
The Legacy Of A Scandal
The legacy of Enron and Arthur Andersen will live long after the public has forgotten about the scandal. Especially in light of the 2007-2009 financial crisis, lawmakers are likely to continue to keep companies on a relatively short leash. And in the case that enforcement becomes lax, and the public forgets the lessons learned, there will surely be another giant corporate scandal to remind us all to remain vigilant.
View Comments and Join the Discussion!
Posted-In: Arthur Andersen Audit rules Enron Sarbanes Oxley TYCOEducation Markets General Best of Benzinga