Sense On Cents' Larry Doyle On The Next Financial Crisis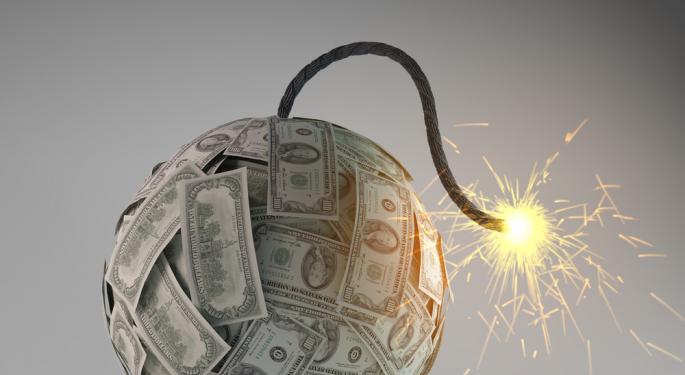 Sense on Cents' Larry Doyle doesn't think that enough is being done to prevent another financial crisis.
During an interview with Benzinga, Doyle said that he doesn't believe that a self-regulatory model (which is largely how Wall Street is regulated through FINRA) works to protect the interests of investors.
"That's not my opinion -- that is based upon overwhelming amount of documentation and references, which I include in my book," said Doyle, referring to his new publication, In Bed with Wall Street: The Conspiracy Crippling Our Global Economy.
"I lay out 14 specific reforms in the book. The immediate reforms are the need for increased disclosures and transparency in the system. More information for the benefit of investors in terms of investment offerings to drill down the ability to assess risks."
Doyle referred to transparency as being a "great disinfectant." He also said that we need significant protections in place for whistleblowers.
"There were whistleblowers on Wall Street who were willing to come [forward], and I highlight personal stories where these whistleblowers were ignored, intimidated or fired," Doyle added. "Those were whistleblowers both inside the industry, as well as regulators. That's just wrong."
Related: Tom Nix Survived Riots, Death Threats And Built A $45 Million Empire
Doyle also proposed an unusual strategy: he suggested that the self-regulator should be folded into the Securities and Exchange Commission. He acknowledged that investors would question that decision, noting that the SEC is "largely incompetent." But he said that he would only do it "in concert with what I would define as a financial regulatory review board."
Whether investors agree or disagree with his views, Doyle said that he publishes his ideas to inspire others to discuss and debate them.
Understanding What Went Wrong
Doyle launched his blog, Sents on Cents, in early 2009 to share his thoughts on the crisis. This eventually inspired him to write his book, In Bed with Wall Street.
"Having come out of the mortgage space, I understood what happened," said Doyle. "I think most people understood why this happened -- massive amounts of greed and excessive leverage within mortgages. But what really intrigued me was, 'How did this happen?' Meaning specifically, 'Where were the regulators and how did the industry get around or engage the regulators?' I was really intrigued by that."
Doyle compared the confirmation hearing of Mary Schapiro (former chairwoman of the SEC) to going down a rabbit hole.
"Before I knew it I found myself in the Grand Canyon," he said. "In the process of doing that, I unearthed and exposed what I considered to be significant, scandalous behaviors, ultimately leading to meaningful corruption within the regulatory system.
Related: Former GETCO Technologist Shifts To Video Games, Develops 'BandFuse: Rock Legends'
"That's not just my assessment -- those are the assessments of people whom I engaged and interviewed, both inside the industry as well as within the regulatory system. It's a fascinating exposé, and I felt ultimately compelled to write it because, to me, these are the greatest risks in the market."
A Neutralized System
Doyle determined that senior execs on Wall Street (along with their friends in Washington) have exchanged so much money and protection that it "neutralized, if not corrupted, the regulatory system."
"Ultimately, this is why I call it a conspiracy," he said. "Perhaps it wasn't, 'Okay, this is exactly what we're going to do.' But the end result was very much the same."
This has led to a "massive" debate about whether the industry needs more or less regulation.
"But what we really need are real regulators, and that's where I think the real concern is," said Doyle. "Right now we don't have real regulators upholding the integrity of the markets."
Check out a recap of Larry Doyle's guest spot by watching the video below:

Disclosure: At the time of this writing, Louis Bedigian had no position in the equities mentioned in this report.
Posted-In: In Bed with Wall Street: The Conspiracy Crippling Our Global Economy Larry Doyle Sense on CentsEducation Personal Finance Interview General Best of Benzinga
View Comments and Join the Discussion!